Leeds United celebrates Dia de Muertos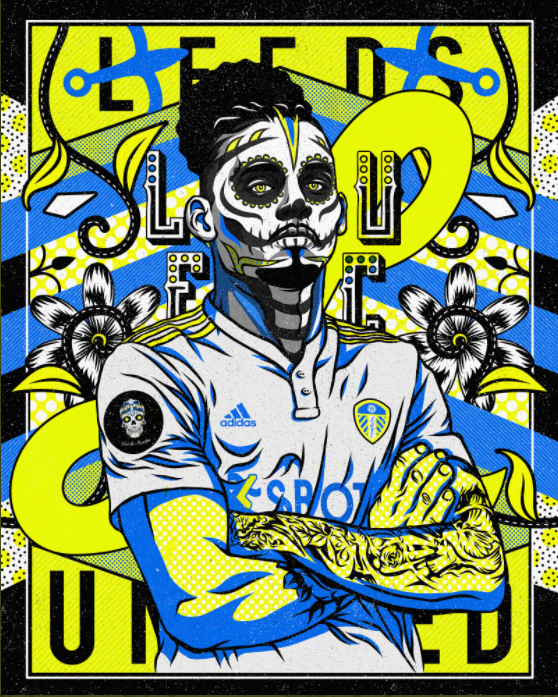 We observed blasts of colour and life-affirming enthusiasm at the beginning of November, which could only mean it was time to celebrate Dia de Muertos. With such a significant occasion on our calendars, the Samba Digital team felt it was only fair to spread the joy. Samba Digital worked hard to execute a massive Dia de Muertos campaign in Leeds; the first action inside this activation was altering the Twitter profile image on November 2nd for the Dia de Muertos badge produced by our design team. 
The most important moves were the change in profile photo and the special Dia de Muertos jersey. This is significant since it is the first time a club has allowed Samba to modify their profile photo. It was also the first time Samba was permitted to use any of our designs on a shirt. Leeds agreed and even enjoyed the concept in this case, giving us the go-ahead to proceed. We began by holding a giveaway contest in collaboration with @InvictosSomos, a well-known Mexican influencer.
A classic Dia de Muertos skull appears on this vital patch on the shirt. When the jersey was first being designed, Alex Pinto, the designer, was asked to incorporate some of the original badge's features. The original patch included more colours to the skull, as shown in the photographs below. The flower at the top of the Leeds badge is on the head, eyes, and chin of the skull within this inventive patch, as can be seen by supporters. The initials LUFC, in the same typeface as the rest of the design, were also included, along with blue stripes on the skull.
The Samba team had additional tricks up their sleeves to expand this activation, including: