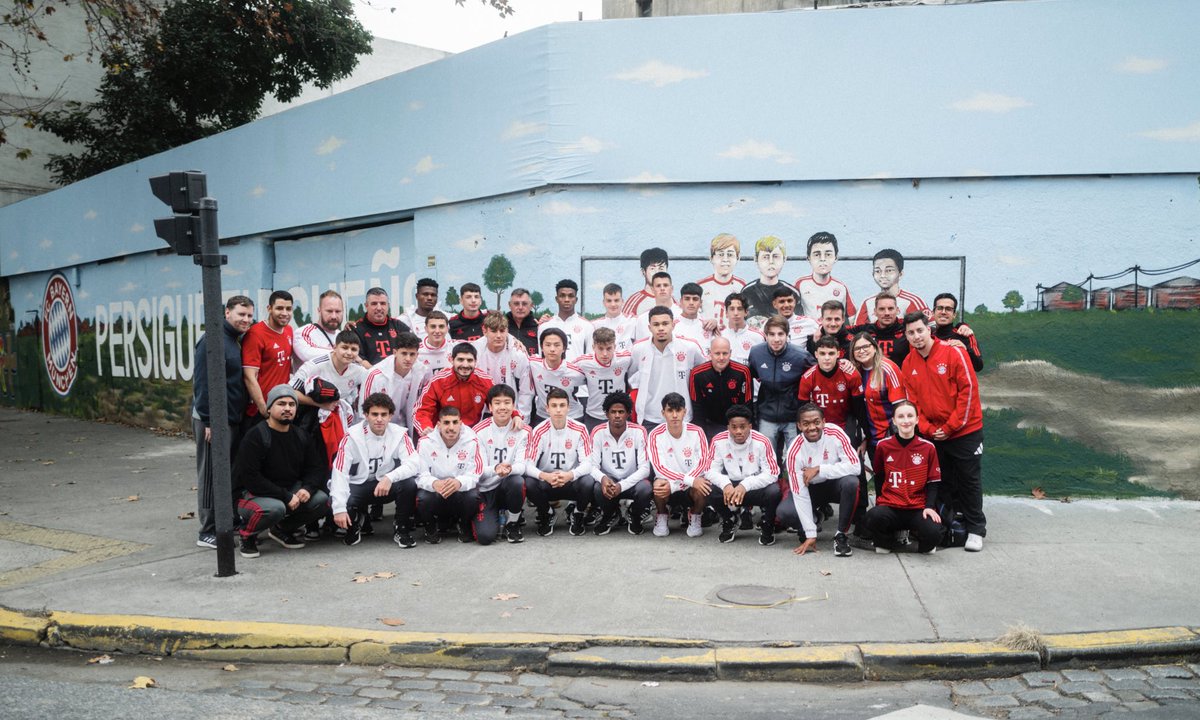 MISSION
Recognised as leaders in helping to build audiences in Latin America across a variety of initiatives in sport, Samba Digital was busy again earlier this summer, helping to increase the brand awareness of Bayern Munich in Argentina.
Across work with clients as varied as Napoli, Roland-Garros, Inter Miami CF and the Kansas City Chiefs, we have shown that our understanding of the heterogeneity of Latin America is key to all of our actions. We engage with new fan bases in language that is clear, concise, and familiar to them, helping share our clients' messaging in a way that is authentic, unique and engaging, using a combination of on-the-ground activations and social media savvy.
In this case study, we worked with the legendary German club Bayern Munich as their World Squad traveled to Argentina. Comprised of young talent from around the world, the squad, led by the legendary striker Roy Makaay, is made up of players from 18 different nations. With the support of the club, the youngsters came together to train and play in Argentina over a 12-day period.
Samba Digital's mission was to not only capture and share the experience on the club's social media channels, but to help spread the word about its potential and its importance in emphasising the importance of a multicultural endeavour, by focusing on the young players' connections to different areas of the world, including Mexico in this example:
🇲🇽 México 𝐏𝐑𝐄𝐒𝐄𝐍𝐓𝐄 🇲🇽

Isaias Galván, de @TigresOficial, y Carlos Colina, los representantes en el #FCBayernWorldSquad 💪#wedrivefootball #MiaSanMia pic.twitter.com/kVdGwLX3qR

— FC Bayern München Español (@FCBayernES) June 21, 2023
ACTION
The young players were kept busy during their time in Argentina, with plenty of training and no less than three friendly matches against legendary clubs Estudiantes, River Plate and Argentinos Juniors. Under the guidance of Makaay, the players used the time working within the framework of the club's resources to sharpen their play, and compete against their peers from some of the world's most-recognised producers of talent in a football-mad country.
🙌 𝗔𝘀𝗮𝗱𝗼, 𝗲𝗺𝗽𝗮𝗻𝗮𝗱𝗮𝘀, 𝗳𝗼𝗹𝗰𝗹𝗼𝗿𝗲 𝘆 𝗰𝗮𝗯𝗮𝗹𝗴𝗮𝘁𝗮

La pasamos de perlas con el #FCBayernWorldSquad en el día de campo 👏#wedrivefootball #MiaSanMia pic.twitter.com/P9EUVG9wru

— FC Bayern München Español (@FCBayernES) June 22, 2023
Samba supported this Recognizing the power of social media in connecting the team with their global fan base, we provided a dedicated local individual who accompanied the squad throughout the trip, skillfully capturing and sharing moments that resonated with their followers and we made sure to give the FC Bayern World Squad a taste of true Argentine culture by introducing them to the classic local experiences – like trying out Maté, indulging in a hearty Asado, and exploring all things Argentine.
In addition to this, our creative studio, Força, helped to create a mural – a fusion of football and art that is very common in Argentine neighborhoods. We teamed up with a local artist create a mural (see banner image) that showcased the Bayern Munich World Squad, an indelible expression of the club on the lively streets of Buenos Aires. When the mural was finished, the players left their mark by signing the mural, showing their love for the city and its footballing energy,  a way for them to be remembered in Argentina.
❤️ 𝐌𝐈𝐀 𝐒𝐀𝐍 𝐌𝐈𝐀 🤍

Visitamos el nuevo mural del #FCBayern en la Ciudad de Bueno Aires y nos reunimos con fanáticos argentinos. 🎨🇦🇷

¡Gracias por acompañarnos! #FCBayernWorldSquad pic.twitter.com/u4BC9GrahG

— FC Bayern München Español (@FCBayernES) June 24, 2023
RESULTS
40 posts on X, totaling 1.8M impressions
13 posts on Instagram, totaling 660k engagements
Engagements and collaboration posts with corporate sponsor Volkswagen
PRESS COVERAGE
The team's trip was covered by many outlets across Latin America and even the United States including TNT Sports, Olé, and Bavarian Football Works.