Napoli win a historic Serie A Title!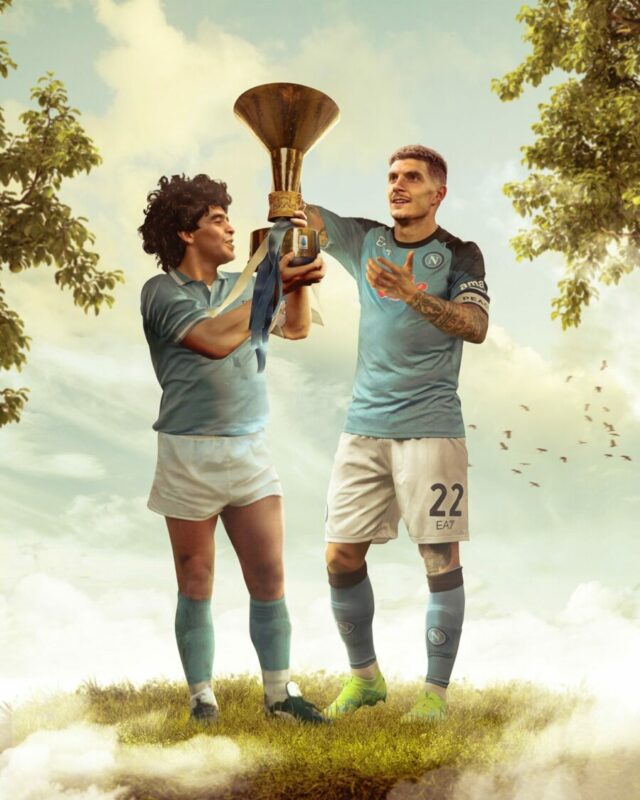 Mission
Samba Digital are, simply put, experts in engaging with clients' followers on a meaningful way no matter the geographic location. We've recently shown our ability in Brazil for Ligue 1, in Mexico for Oppo and in Argentina for Chelsea.
While these activations are eye-catching and have made a big impact for our clients, our work within the normal sphere of social media is also key, and nowhere has that been as apparent recently as in our work supporting Serie A champions Napoli in Spanish, primarily Latin America.
The Italian club won their first title in more than thirty years, and we were there every step of the way, fusing the club's legendary past with the success of the present day through a clever combination of social media tactics. Whether it be the beautiful designs produced by Força, our in-house creative studio, or clever use of copy to engage, the growth and excitement over the club's results has been nothing less than superlative.
Action

Napoli are far from being a small club, but in the past thirty years, Italy has been largely dominated by the Milan clubs and Juventus. Thus, their winning a third title was a momentous occasion, and one made even more poignant in being the first one without Diego Maradona, a player who is a cult figure in Argentina and as such, has a strong resonance with fans there.
Maradona is among the game's most legendary players, and his time at Napoli saw him help win the club's other two league titles. His tragic passing, in 2020, was a momentous occasion for the club, but the current generation of players would be offered the opportunity to follow in his footsteps whilst writing their own story at the same time.
¡33 años después! 🏆🇮🇹 pic.twitter.com/WkoAktkoWJ

— Oficial SSC Napoli (@sscnapoliES) May 4, 2023
Here, we see an image created by Força, our in-house graphic design team, of Maradona celebrating the title with current captain Giovanni Di Lorenzo. Evoking a romantic painting, the illustration uses a sense of realism in its depiction of the two players, but places them in a supernatural setting, emphasizing the connection of the past and the future. The copy similarly makes the connection, saying "33 years later," underscoring the effectiveness of simplicity.
💍 𝗖𝗔𝗠𝗣𝗜𝗢𝗡𝗜 𝗜𝗧𝗔𝗟𝗜𝗔𝗡𝗜 🇮🇹 pic.twitter.com/EVQgmyh8aF

— Oficial SSC Napoli (@sscnapoliES) May 4, 2023
Next, we played on the American tradition of rings being given to title winners. This simple but effective graphic is again a product of Força and it plays on the idea that fans in Latin America are voracious consumers of all sports while also embracing the past.
¡Hermanos Xeneizes! 💙🫂💙💛 @BocaJrsOficial https://t.co/cUcbkQsl5e

— Oficial SSC Napoli (@sscnapoliES) May 4, 2023
In this example, we show how strong relationships with other clubs can be key in growth. Our community manager, Pablo Lee Gonzales, has made a point of this in his work with a variety of clients, and here, he takes a word of congratulations from Boca Juniors, Maradona's club in Argentina, and simply quotes it. This relationship, of course, is one built patiently over time, but it also shows how building a connection patiently and consistently can pay off — this tweet had the day's second-most impressions.
Finally, here is an example of how success can happen without special graphics, but simple context. This tweet, which received nearly 800,000 impressions is a real-time reaction to the goal that sealed the title for Napoli. Rather than boilerplate text, the reaction here is a natural one that shows the speechless excitement of the fans — such is their joy that they can't express it in actual words:
ASOFASNOJDFASJNDJAKOSDOAKSNASOFAJSDNA SNDFJMCDASOSIIIIIMHEEEEEENNNNNDASM DASMM DADAKODMASDMCASDADASDADADDADSDMASMDASKDAMKDMAKDKASMDASKDADACDADSADSAASD

— Oficial SSC Napoli (@sscnapoliES) May 4, 2023
Results
The numbers for our work tell the story in clear fashion — on the day on which the club sealed the title alone, we recorded more than 8M impressions on Twitter, including more than 1.5M from the title post (below).
But beyond the big numbers for that day, we also harnessed this energy to show concrete growth in followers, as well as impressive engagement rates, across the season as a whole:
Twitter:
• 45817 followers gained (14.8% increase)
• Nearly 65M impressions over the season, with an engagement rate of 3.12%
Facebook:
• 55998 followers gained (6.64% increase)
• 19.3M impressions over the season, with an incredible engagement rate of 7.3%
¡SOMOS CAMPEONES DE ITALIA! ⭐️⭐️⭐️

💙 #ForzaNapoliSempre #TuttoPerLei pic.twitter.com/UvolwG8KJG

— Oficial SSC Napoli (@sscnapoliES) May 4, 2023