Despite a dip in LATAM club rankings, Flamengo and Corinthians remain on top
On a monthly basis, we rate clubs from Brazil, Mexico, Argentina, Uruguay, Chile, and Columbia in our LATAM club rankings. August witnessed a new high since the rankings were created, thanks to the return of matches in Argentina. Unfortunately, this winning streak has come to an end, as September saw a dip in interactions. This reduction resulted in a loss of slightly over 43 million interactions in these six main nations, a 12.5% decrease from August's record-breaking performance.
Instagram has dropped 12% as a result of this substantial loss of about 79.65% of all interactions. Only one club got lucky in this 12% decrease. With well over 600,000 additional interactions, Chile witnessed an increase. Twitter and Facebook, on the other hand, did not do as well, with Twitter losing 16.5% and Facebook losing 12% respectively. We might blame this decrease on the fact that the World Cup qualifiers were held in September. This, combined with the fact that only three games were played, may have contributed to this drop.
Leaders Again
Despite these dips, there are still winners on the other side. Flamengo is on top of the rankings, with Corinthians coming in second this time. Despite a decline of over 10 million interactions compared to August, Flamengo had its fourth-best year in 2021, with 59.7 million interactions. But it was Corinthians' performance that attracted attention. With the exception of Flamengo, the São Paulo team had the highest performance of all clubs, with 41.2 million interactions. Prior to Flamengo, the previous club from São Paulo, which had 38 million interactions in May.
Read more about the most recent LATAM rankings, which show Flamengo breaking a new record while Facebook interactions drop.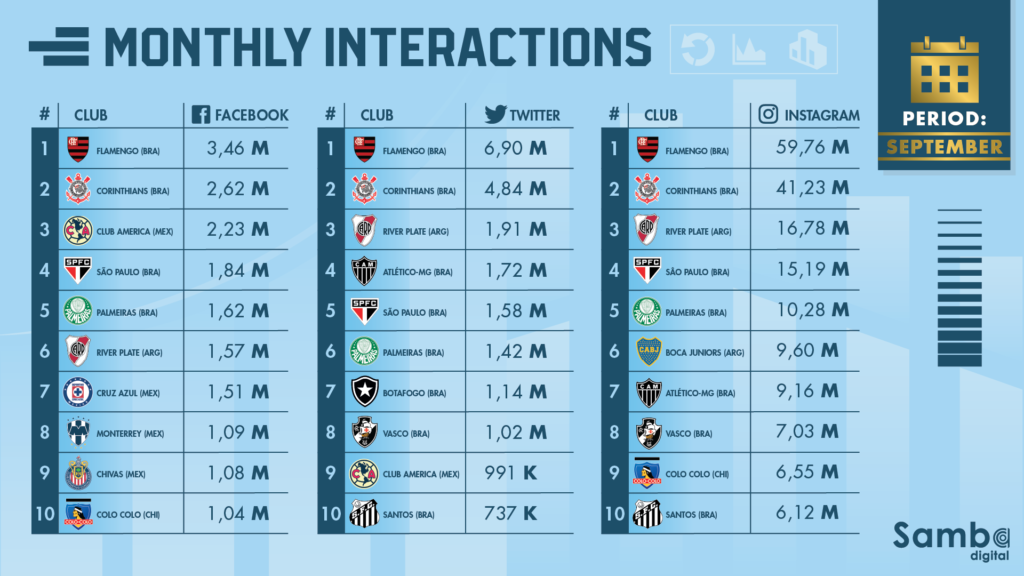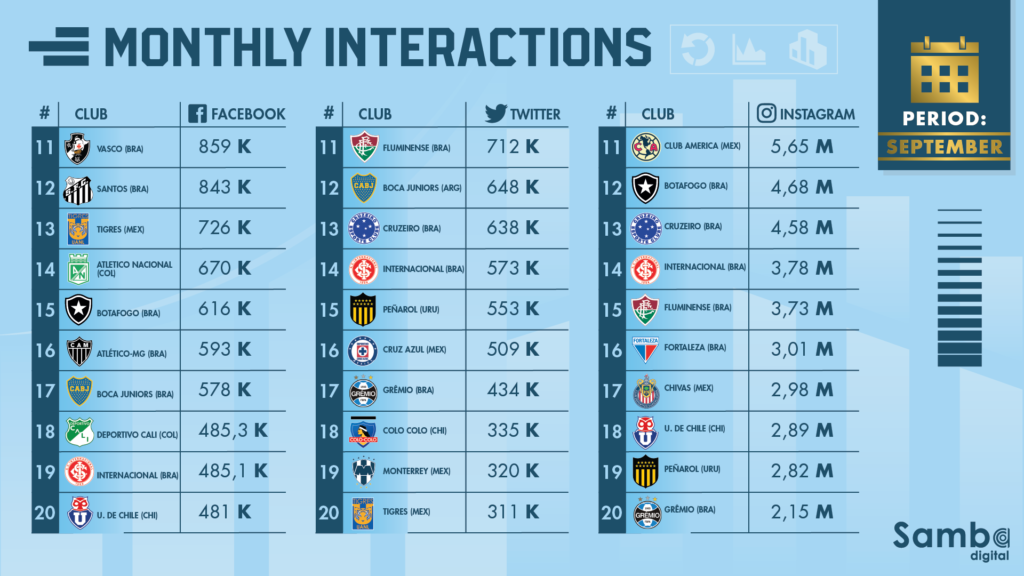 Speaking of São Paulo, River Plate surpasses
We should talk about SPFC while we're thinking about São Paulo. We can see a pattern forming as they gained 21 million in July, 20 million in August, and 15 million in September. The decline in digital performance on SPFC's Instagram meant that the club had been surpassed by River Plate and had equaled its performance in March when it had the same 15 million interactions.
Argentina is dominated by Rivers
Even if it wasn't the finest monthly performance, River Plate stands out among Latin American clubs with 16.78 million Instagram engagements, equal to third place, and 1.91 million Twitter interactions, also gaining third place.
They should be impressed since their performance on Twitter and Instagram is nearly double that of their rivals Boca Juniors. Boca even saw a decrease from 12.1 million to 9.60 million engagements. Despite the dip, the club moved up to sixth place on Instagram, owing to Atlético MG's loss of 7 million interactions from August to September.
Peaks of each country
Of course, we must include the monthly leader, Flamengo, who set a new record in Brazil by qualifying for the Copa Libertadores final by defeating Barcelona twice. We discovered that there were 7.13 million interactions in a single day, which is rather impressive. This would put them ahead of their archrival Vasco, with a monthly performance of 7.03 million.
River Plate hit its monthly peak on a day when the Argentine team played at Monumental de Nuez, outside of the Copa Libertadores, which helps to minimize the number of interactions. On the 10th, a post honoring its forward Julián Lvarez, who is available to the Seleço and was at home, had a remarkable 2.96 million interactions.
River Plate's Interaction Rate draws attention
River Plate's engagement rate with its followers of 2.88% stands out among the month's top achievers. This is especially impressive since it is larger than any Brazilian squad. This performance stands out since it outperforms even Palmeiras, the Copa Libertadores finalist, with an engagement rate of 2.71%, making them the best in Brazil in September.
Videos
Boca Juniors is the team in Argentina that has the most videos. There were 97 videos in all, with a total of 11.46 million views. This achievement outperforms River's 10.28 million engagements, despite the fact that River only posted 59 videos.
For comparative purposes, the figure in Brazil is significantly greater. Flamengo had the most videos with 269, followed by Corinthians with 177. Flamengo received 44.4 million and Corinthians received 28.5 million, making these results even more striking.
Learn more about our LATAM Rankings in July as matches begin, with Flamengo maintaining their lead.
Mexico
When it comes to engagement with football clubs, Mexico, which has traditionally relied heavily on Facebook, appears to be following the lead of other nations that use Instagram as their primary social media platform.
Mexico had 30 million interactions in September, with Instagram accounting for 58% of those. In direct comparison to August, however, the number of Mexican contacts fell to around five million. Club America has fallen out of the top ten Instagram accounts as a result of this. Thanks to this drop, Colo-Colo, a Chilean team, entered the top 10 at Club América's 11th spot. Unlike Cruz Azul in August, Club America also dominated among Mexicans on Twitter. With an impressive 991k members, the club is on the verge of reaching the 1 million milestone.
On Facebook, Mexican clubs compete almost on an equal footing with Brazilian clubs, with four clubs placing in the top ten. The same brand is used by the Brazilians, with Colo-Colo and River Plate rounding out the top ten. The domain of Club América has 2.23 million Facebook interactions. Cruz Azul, on the other hand, was the most popular Mexican club in August, with 2.59 million interactions.