Flamengo sets a new record as Facebook interactions decline
Monthly, we rate clubs from Brazil, Mexico, Argentina, Uruguay, Chile, and Columbia in our LATAM club rankings. After the return of matches in Argentina in July after a temporary delay, a new high was reached since the rankings began. This is a tremendous feat for Flamengo, who has always been a strong club in our rankings. This new record has surely boosted Flamengo's reputation, considering the squad did not even reach these figures when they were declared Brazilian champions at the end of February. Incredibly, this team racked over 69 million Instagram interactions, the new record in our leaderboard. As a result, Flamengo has maintained its great reputation by setting a new record for all Latin American teams. Flamengo had already won 63 million, a record for any team at that point in time.
To learn more about Samba's Monthly LATAM Rankings, including Flamengo's continued dominance as matches restart, click here.
Few clubs have been able to break this new record, with only São Paulo getting close in May, with 38 million on Instagram, demonstrating how significant this achievement is. Unfortunately, it is not all good news for all these teams this month; Colombia is the only country without a representative in the Top 20. Colombia came up short with just more than 13.79 million interactions, causing the team to drop out of the Top 20.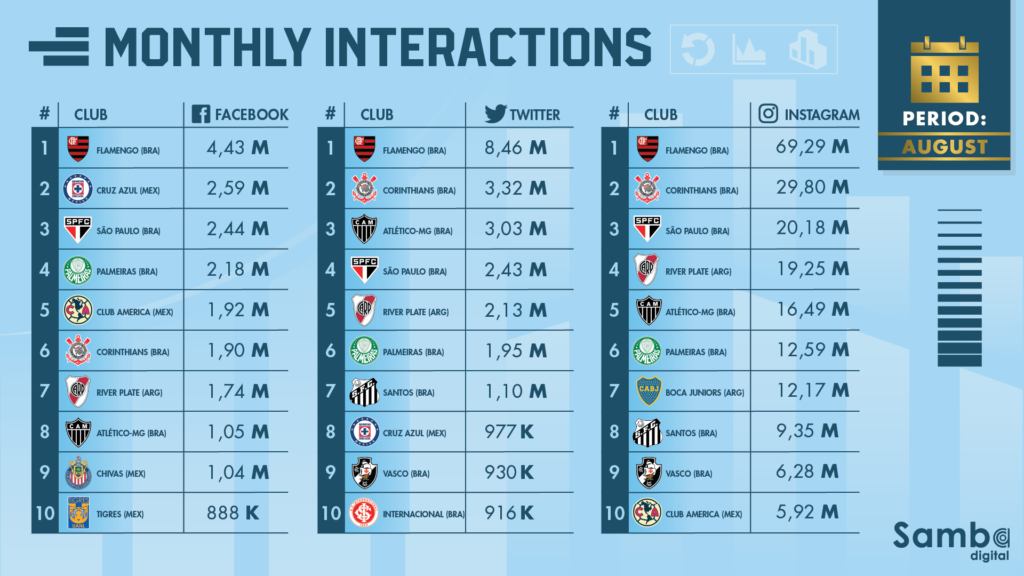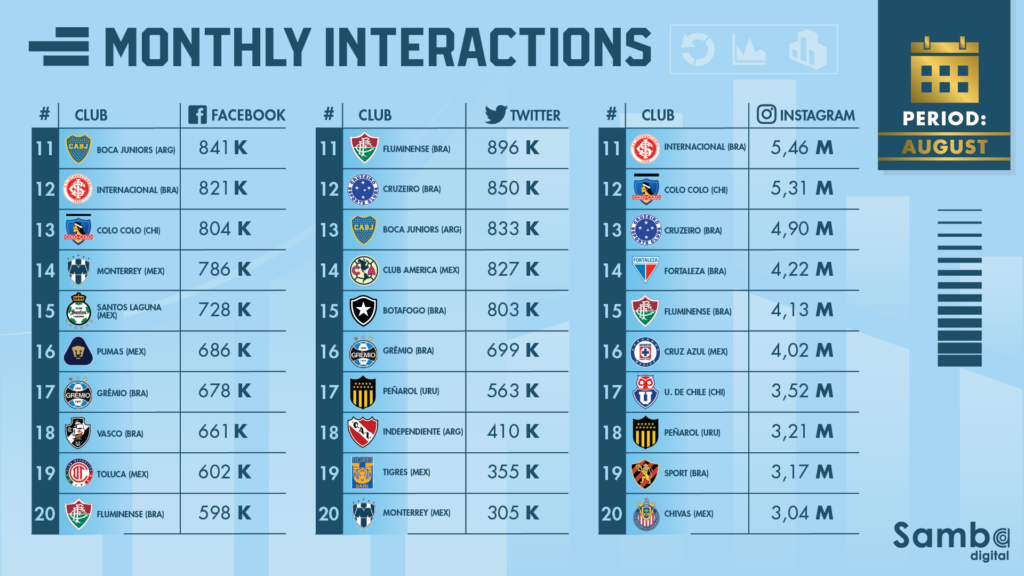 River and Argentina
River Plate's elimination from the Copa Libertadores in favor of Atlético-MG has resulted in a decrease in interactions for the Argentine squad. Despite having 24 million Instagram engagements, River saw a 22% dip in interactions on July 2nd. Argentina's social media activity has decreased across all three platforms as a result of their absence from the Copa Libertadores semifinals.
When it comes to Instagram interactions, Boca Juniors witnessed an increase of just 21%. A similar gain of 13% was seen on Twitter, despite a decrease from 11th to 13th place in the rankings. This is not all, they also saw a significant drop of 17% on Facebook, ​which rose from 12th to 11th place in the rankings from the previous month.
Consumption division
Even with a smaller user base, Twitter already outperforms Facebook in Brazil, accounting for 30% of all interactions. In Argentina and Uruguay, the same is true, with Twitter having more interactions than Facebook. In Mexico, Twitter still has a long way to go. This popular platform only represents 32.7% of all interactions between Mexican clubs on Facebook. On the topic of this platform it's worth recalling that until May, Facebook was the most popular social network in Mexico. However, this platform didn't keep its crown for long as it was overtaken by Instagram in June, July, and August.
General Numbers – Twitter
Like Instagram, Flamengo also smashed the monthly record with 8.47 million interactions. After winning their second consecutive Brazilian title, Rio de Janeiro's club gained 8 million in one month, breaking the previous record set by the club. Again, River Plate and Cruz Azul were the only non-Brazilian teams to make it into Twitter's Top 10. In terms of River Plate, they have managed to climb to the fifth rank despite a decline of 700,000 interactions from July's second spot.
Although Cruz Azul had 200 thousand fewer interactions, it went from tenth to the eighth rank in a matter of weeks. Due to this small improvement, they even passed Rio de Janeiro Vasco and Fluminense in the standings. Both Colombians and Uruguayans were unable to reach the 20th rank this year. Not only that but both Colo Colo and Atlético Nacional saw elimination from the ranking with 206,000 and 202,000 interactions respectively.
Find out more about our Monthly Rankings, in which we rank sports betting houses, with Sportsbetio taking first place.
An year of decline for Facebook
Users appear to have abandoned Facebook when it comes to communicating with their clubs. August has the fewest interactions of all the months since the beginning, with 37.55 million compared to 69.2 million in January. Only in the month when football was temporary on hold in Argentina and Colombia did Facebook triumph.
Chile
When it comes to rankings, Chile does not typically place in the Top 20. However, it surprised the world by placing Colo Colo at 13th with 804,000 interactions. After a great performance in both the Copa Chile and Chilean Championship, fans have a reason to be optimistic. Thanks to their performance Chile's interactions have grown on all three platforms. Impressively they increased by 30% on Facebook, 32% on Twitter, and 22% on Instagram when compared to the previous month.
Uruguay
Peñarol took advantage of Uruguay's statistics, accounting for nearly 70% of the country's total Instagram interactions. With these impressive percentages in mind, Peñarol finished 18th as a consequence of the results. In terms of Twitter, Uruguay is ranked 17th, with 66% of all interactions coming from Uruguay.