Sportsbetio on its way to the top as Bodog climbs the leaderboard
More and more sports betting companies are joining the movement to drive the Brazilian sports industry forward in today's world. Sports betting companies, who typically advertise on club shirts through direct sponsorship are now expanding. They are now incorporating themselves into the rising digital market through their own digital projects. With the growth of these digital ventures booming, Samba Digital decided to assess how some of these companies with Portuguese profiles performed in April.
April comments
Samba's analysis included 16 sport betting accounts, all of which have established Portuguese profiles on three major social media platforms: Instagram, Facebook, and Twitter. In April, all 16 Instagram profiles created a total of 164.2 thousand interactions.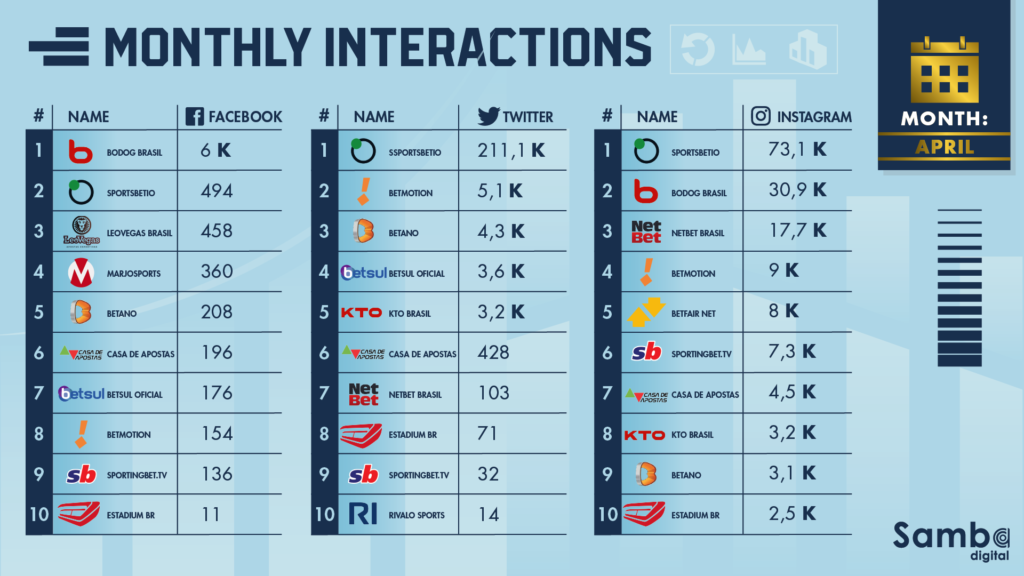 Sportsbetio is one of these 16 accounts, and it has been dubbed one of the most famous Instagram accounts in the last month. Meanwhile, Bodog, which has the most daily interactions, could give Sportsbetio a run for its money. With a single post featuring BBB 21's decisive moment on April 13th, they were able to produce 15.2 thousand interactions.
Bodog not only had the most daily interactions but also had the second-best April performance. They produced 14.4 thousand interactions with only one post, promoting Flamengo vs. Palmeiras in the Supercopa do Brasil final on April 9th.
All 16 accounts were active on Instagram in April, resulting in an incredible 807 posts on this social media platform alone. Estadium has been particularly busy, posting 160 times in April alone, accounting for 19.83 % of all entries.
Meanwhile, on Twitter, Betsul had the highest rate of engagement per tweet. This sports betting profile was able to publish ten posts a month, with a great engagement rate of 9.5 %. This isn't the only positive news from Twitter. KTO and Sportsbet, with 731 and 564 tweets, respectively, became the two profiles in their Portuguese profiles with the most posts among sports betting houses. These two profiles combined to create 1295 posts, accounting for 63% of all posts examined.
GET IN TOUCH
To find out more about Samba Digital, get in touch with us via our Contacts Page.