Samba Weekly Trends in LatAm and the US (06/11/20)
This week has been a muted one in terms of big news stories from the sports and social media worlds (unless you're following the US election of course). But it has been a big moment in Mexico where celebrations took place for one of their most traditional dates…
Dia de Muertos
This week saw the annual festival in Mexico, Dia de Muertos (Day of the Dead). A day which is one of celebration of those who came before. There were many great examples of posts coming from European clubs, including;
The above shows the special day being celebrated on the big screen at Spurs state-of-the-art stadium on the day of the Premier League game Vs Brighton.
SPORT BUSINESS NEWS
Brazilian football fans will be able to watch Ligue 1 (France) matches for the who of this season for free. Without a broadcast deal in the territory this opportunity to expand the reach of the league in a huge footballing territory is a great approach to take – L'Équipe
Great news for basketball fans! The NBA looks set to go-ahead on 22nd December after the players union came to an agreement with the league – SportsPro
ESPN confirms hundreds of layoffs in COVID fallout. In a time of transformation for many companies, including the biggest media companies, layoffs and restructuring has accelerated as they work to cope with shifts in revenue and consumption habits – SportsPro
WE'RE HIRING!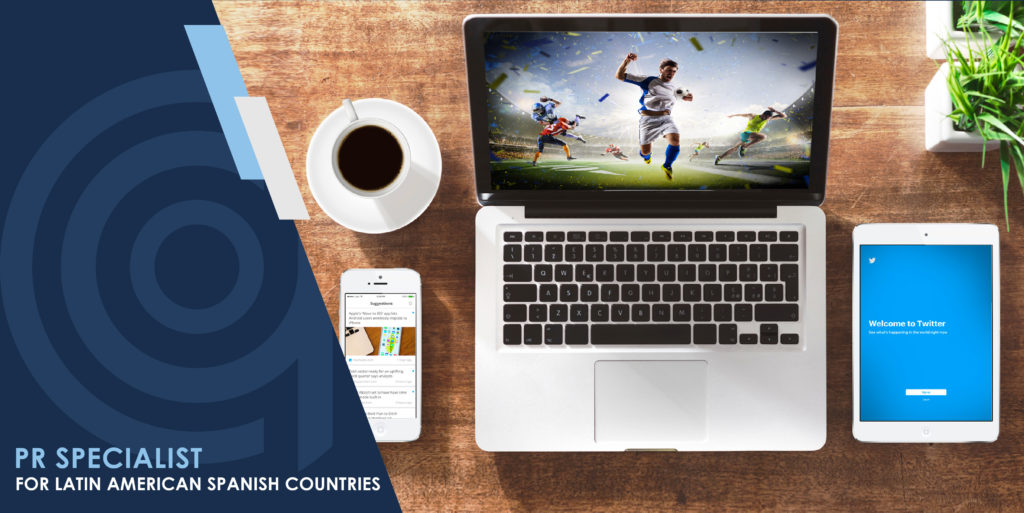 SOCIAL MEDIA UPDATES
Manchester United have become the latest team to join TikTok. Traditionally cautious when it comes to new platforms, they have jumped on relatively early compared to other clubs in the Premier League. You can find them on www.tiktok.com/@manutd – ManUtd.com
Twitter's own stories format, Fleets, is set to be expanded in the coming weeks. One to keep an eye on after the initial testing in Brazil and then India and Italy.
THE BRASILEIRÃO SOCIAL MEDIA TABLE BY SAMBA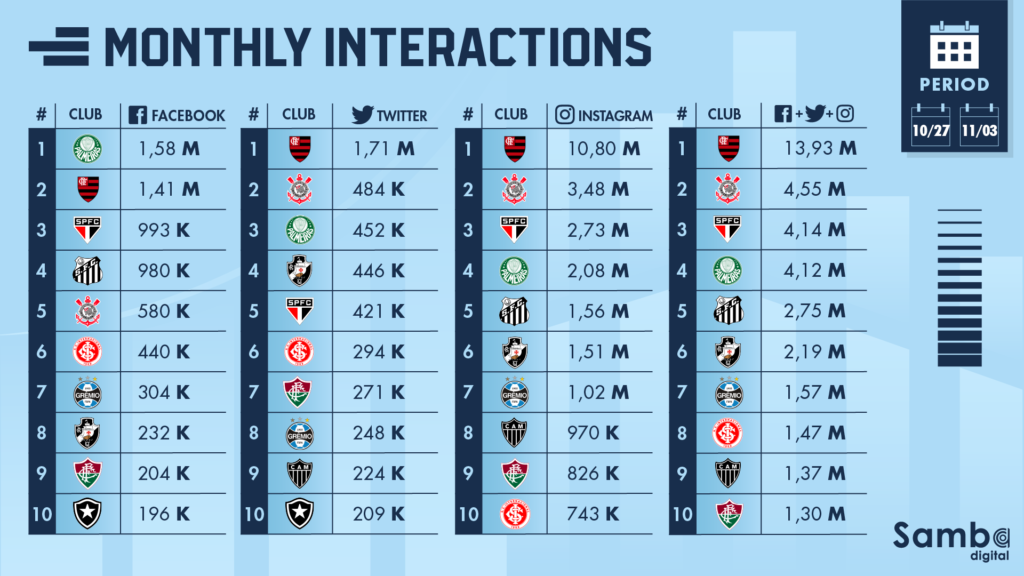 For the first time since the Ranking was created, Flamengo was defeated. Palmeiras is the #1 in Facebook Interactions between October, 27 – November, 3
Atletico's recent performance inside the pitch is mirrored in the Interactions Ranking. No victories, no interactions from supporters.
São Paulo's interactions increased in the same intensity that your players played against Flamengo. Brilliant performance!
Out from Libertadores, Copa do Brasil and Copa Sul-Americana, club as Fluminense and Atlético-MG, with any matches in the middle the week, see their numbers reduced compared with other important Brazilian clubs.
Losing to São Paulo by 4×1 made the Flamengo's interaction in Monday (the day after) made Flamengo's numbers become normal in comparison to other clubs.
After a week that was State Champions, Fortaleza's numbers plummeted. Last ranking, the club had more than 2 millions interactions and this week the club had 35% of that interactions.
KEEP INFORMED WITH OUR SAMBA ARTICLES
👉 BRASILEIRÃO STARTS TO BUILD AN INTERNATIONAL IMAGE, WHILE "GRINGOS" COLONIZE FANS AT HOME
GET IN TOUCH