Brasileirão starts to build an international image, while "gringos" colonize fans at home
While Brazilian clubs continue to stumble in their attempts to organize a strong championship, international clubs are working hard to increase their presence in the country. Taking the opportunity to win new fans, especially the younger ones.
It is a kind of "colonization" of those who are increasingly disillusioned with the domestic product and prefer to adopt teams from other countries to call their own. Big brands as Liverpool, Manchester City and PSG benefit from the fact that they have Brazilians in their squad and attract more and more attention on social networks.
But the gap between the teams here is so big that even smaller European teams are looking to take advantage.
Everton, Napoli, Tottenham, Monaco, Eintracht Frankfurt and Lille are examples of teams that are far from being giants in Europe, and that are already reaping good results on social networks here.
They even hire specialized agencies to do the work that is often put on the back burner by Brazilian clubs. 
"Football is something relevant in the Brazilians culture and this makes Brazil an interesting place for expanding brands aimed at this segment. The presence of the main Brazilian players in European teams increased the interest of the Brazilian public in watching these historic clubs in their domestic leagues and makes the creation of local content an effective way to build a relationship"

Frédéric Fausser, CEO of Samba Digital, one of the main agencies that produce content for these teams here in the country.
"Attentive to what happens in the world and, mainly in the networks, we combine the brand of our international customers with local issues and subjects that are happening in that moment to allow us to expand the brand presence more and more and connect locally".
In a survey carried out between July 1 and September 22, PSG Brasil had 1.9 million interactions on Twitter. This number puts the French club in front of 11 Brazilian Serie A clubs: Grêmio , Botafogo, Bahia, Athletico-PR, Sport, Fortaleza, Ceará, Atlético-GO , Coritiba , Red Bull Brasil and Goiás.
São Paulo, Fluminense and Santos are close. Each of them had, on average, 2.2 million interactions in the same period. And look that we are talking about a profile that is not the main one of the team and was created exclusively to dialogue with Brazilian fans.
And it's not due to a lack of people
You can't even say it's because of a lack of Brazilians on social media. It is due to lack of interest.
In 2019, a GlobalWebIndex survey showed that Brazil is the second country in minutes of use per user on social networks, only behind the Philippines.
In the same year, figures published by World Internet Stats indicate that Brazil has almost 150 million internet users, behind only China, India and the United States.
According to Twitter's own figures, Brazil is its second largest audience, behind the Americans. And yet the "country of football" fails to make it reflect on the networks.
Those who are over 45 and have no children may not even believe in this influence and minimize the impact on children. But recent studies show that the passion passed from father to son gains more and more strong competitors when forming a fan-consumer link.
A survey by the NPD Group in 2019 showed that at least 60% of children who access YouTube later buy – or make their parents buy – a product influenced by what they saw on the social network. And this is replicated among football teams.
Shortly after winning Atalanta in the Champions League, PSG sold, in Brazil, 1110% more shirts in the survey carried out by Netshoes. The final audience with Bayern Munich was the largest in 30 years on closed television.
Meanwhile, buying a kit from a Brazilian club abroad is as difficult a task as finding a bar showing South American games.
It is clear that the Brazilian inability to organize a strong championship impacts on the economic fragility of the clubs. With more debts than revenue, teams lose their stars to the first offers that come, losing both the chance to win more fans and money in the long term, not only at the time of transfer.
Gustavo Herbetta, founder and CCO of marketing agency Lmid, and a former superintendent of the Corinthians area , thinks that this long-term problem will only get worse.
"What makes this child still choose a Brazilian club? The link with their parents. And when these children, who will inevitably choose to cheer for a European squad, are the parents? In the long term, a term that is difficult to understand in Brazilian football, we run the risk of losing a large part of our fans. Therefore, internationalizing today becomes much more of a defense and nationalization movement ".
Brasileirão looks to enhance brand abroad 
While the 'gringos' are becoming increasingly organized, Brazil is struggling to get the basics right. It is so difficult for someone from abroad to have an interest in watching the Brasileirão that the clubs had to sell the international broadcasting rights of the championship for a negligible price. The bet they are taking is that interest will increase, driving up viewing and the value in the end will increase.
Herbetta understands that Brazil has lost its entry point to try to improve its penetration in the foreign market, and that now it needs to find other strategies.
"English clubs first conquered Southwest Asia: China, Korea, Japan. And this was already the first lost Brazilian brand opportunity – Flamengo in Japan, with idolatry in relation to Zico and Alcindo. There could be a spark. to go back in time and conquer territory", he analyzed. 
"The most ironic thing to certify that Brazilian clubs have lost the opportunity of internationalization is to know that the most international product of world football is Brazilian: the Brazilian National Team! More than 50% of the entire fan base of the selection on social networks are from outside Brazil. Most of the national team shirts produced by Nike are sold outside Brazil."
The question that remains is how a "gringo" will become interested in a Championship where two of his main teams did not know if they would play until 10 minutes before the scheduled time for the ball to start rolling. On Sunday (27), the game was set to be aired to almost 90 countries.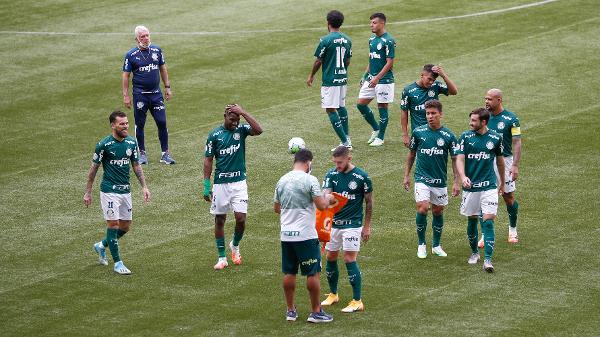 The confusion caused the audience of one of the most attractive games in the championship to be disappointing. Palmeiras Vs Flamengo, which marked the meeting of the last two champions, registered a worse audience than the match between Palmeiras and Grêmio last weekend.
Never has a product had so many tools to drive value for itself around the world especially through social media. Not only does Brazil have difficulties in grasping this potential, but it also faces some old-fashioned mindsets in the biggest clubs in the country.
To state just one example, Palmeiras recently found it difficult to produce exclusive content for their networks because their coach, Luiz Felipe Scolari, thought that this took away the privacy of his group. The stance was endorsed by Alexandre Mattos, Palmeiras' Board Manager at that time.
"The announcement of the sale of the international rights of the Brazilian Championship, made by the clubs recently, is a small first step, but fundamental for others to be taken further. Making the next moves together, and not individually, may be a way to recover time and dilute the investment, just as the Premier League currently operates in the USA and La Liga in Latin America ", concluded Herbetta.
Taken from original article by Danilo Lavieri in oul.com.br