Sorare: NFTs will still have value even if licenses expire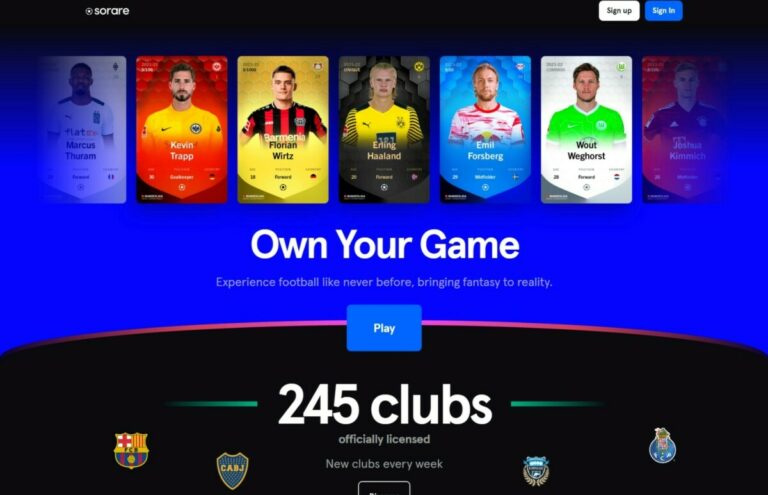 The blockchain-based fantasy sports game Sorare has stated that licensing issues would not crop up in the future.  The agreements designed by the company will create success for all the parties involved and individual players can still own any non-fungible tokens (NFT) if deals do expire.
Having acquired more than 200 licenses around the world, including Major League Baseball (MLB), Major League Soccer (MLS), The Bundesliga, and La Liga. Sorare specifically believes in maintaining exclusivity which is vital for the integrity of the game and its economy.
Exclusivity allows the company to control the scarcity of digital player cards used in its fantasy game. A player may purchase digital cards directly from Sorare or via a third-party marketplace like OpenSea.
Sorare's comments   
Ryan Spoon the chief operating officer at Sorare said it was in everyone's best interests to ensure success.
"Our relationships are grounded in a couple of things [such as] shared, long-term incentives,"
"These are not one-year terms so there's a shared desire to hit [targets] and exceed them. That is a mutual benefit and decisions are made that benefit [all parties] – the league, the players, the users, and us as well.
"There are very short-term decisions we could make that wouldn't necessarily result in long-term success or longevity. The user has to come first and if we do that then all other parties will succeed.
"Having exclusivity is important because having too many cards on the market can decrease the value. It impacts both gameplay and the value of these tokens to others.
"Our licensing deals are long enough to be able to grow and hopefully find some success. If we do a really good job then we are both motivated and incentivised to continue this. The deal might be structured slightly differently, it might be more expensive, but if we do a good job then we will continue on the path together."
Sorare will continue to support any cards minted as part of an expired license to a certain extent, but Spoon stressed there will still be some collectible value to these cards just like conventional trading cards and stickers do.
"The cards you buy [on Sorare] are no different to physical cards in that there are examples of companies that have lost that licence, but you still own the card," he said. "But we're going to succeed and we're going to do this with [our partners], build a fan base and it's all in our interests to do that."
The value of NFTs when license expires
Due to the relative scarcity of Sorare cards, they are valued as collectible items, but their utility will vary depending on the card's value. If a license for the cards were lost, Sorare would no longer be able to mint new NFTs, and the existing cards would lose their functionality and value.
Learn more about Sorare adding SPFL license to its NFT portfolio