Meet The Savannah Bananas: A Masterclass in Sports Marketing Innovation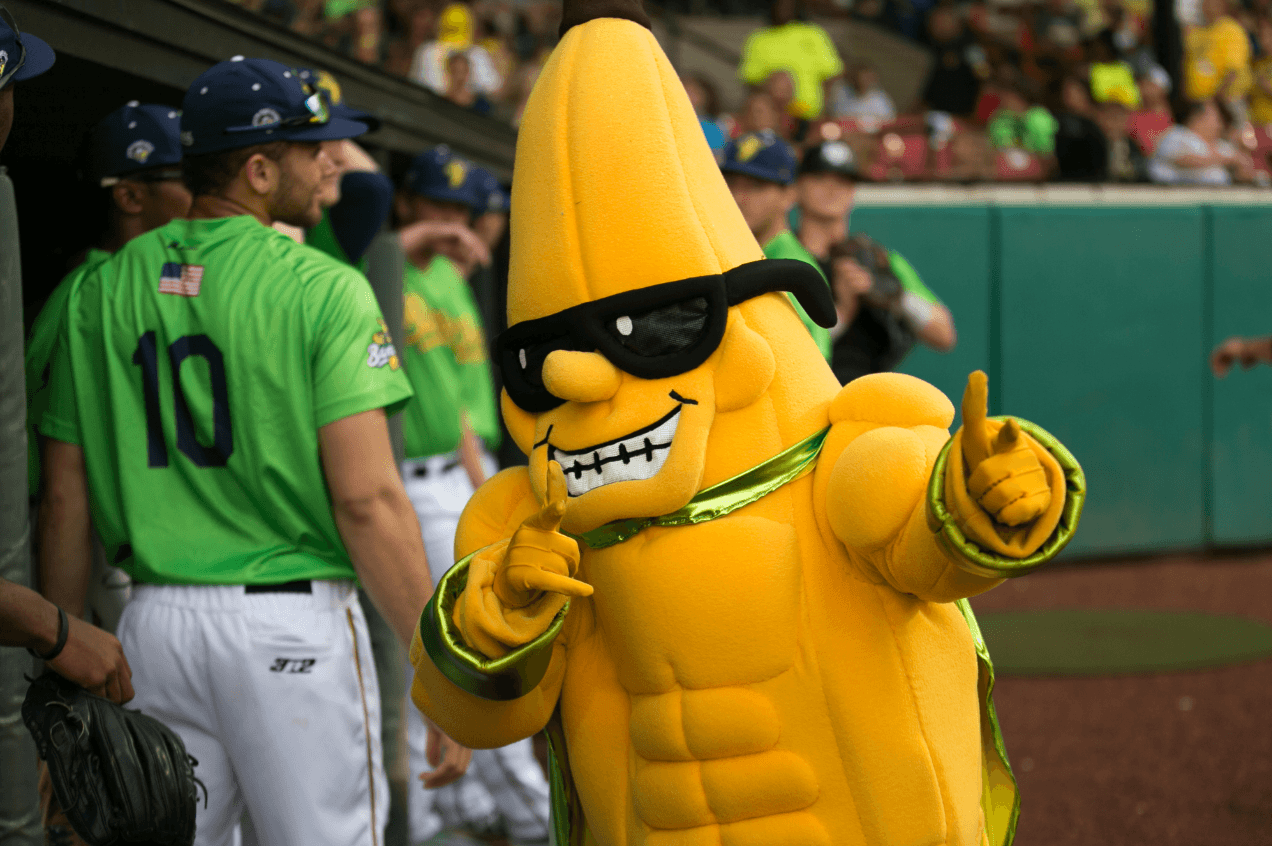 Sports marketing hasn't always been known for its innovation, but as the digital age continues to evolve, more brands and clubs are pushing their promotional efforts to new creative heights. The Savannah Bananas are no exception.
A Georgia-based US collegiate baseball team, this wacky bunch is shaking up the world of baseball, one head-turning stunt at a time.
While the 'Bananas' are all about having fun and grabbing the attention of keen baseball fanatics wherever they go, this eccentric squad is driven by a razor-sharp promotional strategy.
Yes, the Savannah Bananas are a masterclass in sports marketing and here we're going to take a look at how they get the job done.
The Savannah Bananas: flipping baseball on its head

While baseball is one of the world's most exciting spectator sports, lackluster marketing campaigns and a lack of in-game fan engagement have plagued the game at times. But, there is a beaming light on the horizon—and it's bright yellow.

The Savannah Bananas are a bold new breed of baseball team that exists to pack an entertaining punch at every game.
Talking to the LA Times on the subject, Team Manager Jesse Cole (who acts as a ringmaster during every appearance), said:
"We've always been very clear about our goal," he says. "We exist to make baseball fun."
A clearcut brand mission that drives everything the Savannah Bananas do in terms of performance and promotion across every channel and touchpoint.
At a time where MLB attendance is dwindling, the need for sports marketing innovation in baseball is at an all-time high. And, the Savannah Bananas are flipping the game on its head (for the better).
The key elements of Savannah Bananas sports marketing strategy
Now that you know a little about the mighty Savannah Bananas, let's get under the skin of the team's savvy sports marketing strategy.
Visual branding
First of all, the team's striking name not only rolls off the tongue in a simple rhyming couplet, but the noun banana offers plenty to play with when it comes to visual branding.
From the playful animated logo to the striking yellow team strips and circus-like ringmaster suits, the Savannah Bananas have developed a brand identity that is unmistakable.
Developing a strong visual identity is vital to stand out from your competitors—and it will form the foundation of every marketing communication you share with your audience. 'The Bananas' have got this aspect of their sports marketing strategy just right.
Messaging and tone of voice
Many baseball brands adopt a dry corporate tone of voice when it comes to messaging and communications, but the Savannah Bananas are breaking the mold.
With content, copy, and videos that aligns with the team's core mission of 'bringing fun back to baseball', the 'Bananas' brand tone of voice is light, cheeky, punchy, and incredibly conversational.
Above, you can see that the team outlines its mission in a way that's clear, concise, and human. There's no fluff and no jargon, but the messaging is natural and inviting. Across channels, the team also injects a little humor and personality into its content—but never at the expense of the fans. A real home run.
Social media
In addition to turning heads and sparking droves of social media engagement with its strong visual branding and its cheeky tone of voice, the team also builds brand awareness through consistency and cohesion across every channel.
In a relatively short space of time, the team's Instagram following alone has reached the 696 thousand follower mark. By starting conversations, sharing highly-entertaining visual content, working with relevant influencers, and offering fans behind-the-scenes glimpses of the team on tour, the Savannah Bananas are winning on every aspect of the social media front.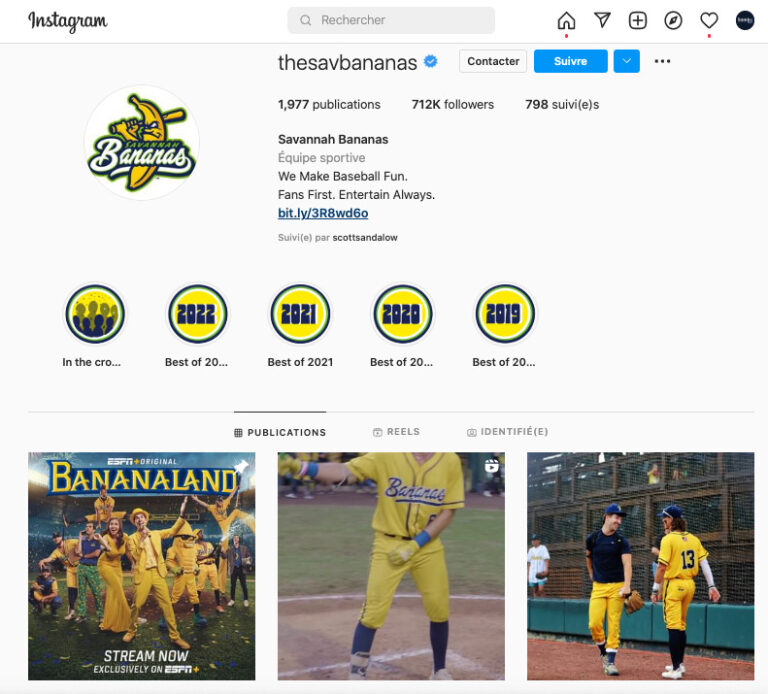 Fan engagement
The key ingredient to the team's growing cross-channel marketing success (aside from the obvious) is its unwavering Fan First philosophy.
By placing fans at the heart of its ground-breaking baseball game Banana Ball (an extra fast-paced and more playful version of the traditional game) as well as every single marketing communication, this forward-thinking baseball giant has accelerated its commercial growth in a few short years.
The team even has its very own (incredibly detailed) marketing playbook to ensure that everyone involved in the process leads with the team's fan first philosophy. The key reason why the team's marketing efforts resonate with a huge cross-section of baseball fans.
Final thoughts…
Sporting niche or sector aside, to win on today's commercial battlefield and keep your fans on side, you have to be more bananas. This means:
Creating a striking visual identify
Being consistent and persistent across marketing channels
Adopting an original and conversational tone of voice that truly speaks to your fans
Placing your fans or audience at the beating heart of everything you do
Pushing boundaries and being creative. Do it and say it better than competition
The Savannah Bananas are a true sports marketing inspiration. We hope this helps you with your efforts and for inspiration, check out these four innovative sports marketing examples in action.