Samba Weekly Trends in LatAm & the US (30/10/20)
There is only one place to start today when it comes to showcasing great content in the Americas…. Diego Maradona's 60th birthday. A World Cup winner and the idol of Argentina and Naples, his landmark birthday is being celebrated around the world.
Napoli coach Gennaro Gattuso had a special message for the great man…
FIFA took their Pele celebrations from last week and transformed their World Cup account into one for Diego.
English club Tottenham Hotspur remembered when Maradona played for the club in a benefit match organized by fellow Argentinian Ossie Ardiles back in 1986.
And Ossie had a message for him as well…
Away from Maradona now, and we saw how a local touch is so important when creating compelling content on social media. This simple post from Liverpool tapped into this approach by using just a 'J' – which in Portuguese reads 'Jota'. This play on words really highlights the importance of that local knowledge, and the fans loved it!
And finally, this is a great 2 minute summary using the Stories format by Major League Baseball of Game 5 in the recent World Series. A series that LA Dodgers came out victorious in. Click here to see http://stories.mlb.com/live/635887.html
SPORT BUSINESS NEWS
LaLiga has opened an official account on Twitch, becoming the first major European sports competition to join the global streaming service. The Amazon-owned platform is becoming a new home for sports as it expands beyond gaming, taking its hugely engaging platform (and community) in to challenge the more traditional rivals – LaLiga
Cabify is now River Plate and Boca Juniors sponsor and to celebrate their comeback for domestic football they created a cool new commercial spot. They are also sending "choripan" (sausage sandwich, typical matchday food in Argentina) to influencers and journalists – Instagram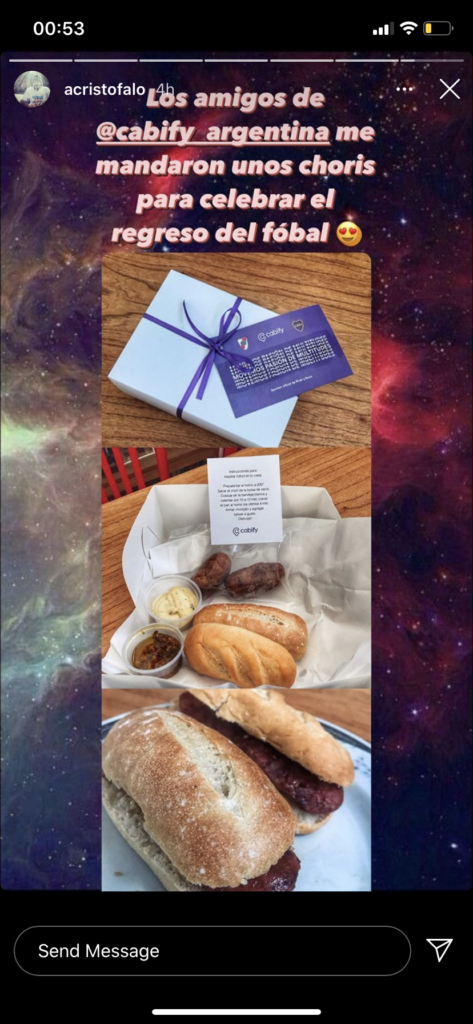 Guarana Antarctica, the second largest soft drink brand in Brazil created a batch of 30 millions cans available for brands to advertise on. The unique rule set though was for the company interested to put their logo in this batch was that they need to invest in "Girls in The Pitch", a social project that give girls the opportunity to be a professional football player. – Facebook
SOCIAL MEDIA HEADLINES
Manchester United have become the latest team to join TikTok and expand their social media footprint. Traditionally one of the slowest off the mark when it comes to new platforms, they have become a lot more active with content such as their podcast, revamped app and great use of highlights – ManUtd.com
THE BRASILEIRÃO SOCIAL MEDIA TABLE BY SAMBA
KEEP INFORMED WITH OUR SAMBA ARTICLES
👉 BRASILEIRÃO STARTS TO BUILD AN INTERNATIONAL IMAGE, WHILE "GRINGOS" COLONIZE FANS AT HOME
GET IN TOUCH