Inspiring World Cup Social Media Marketing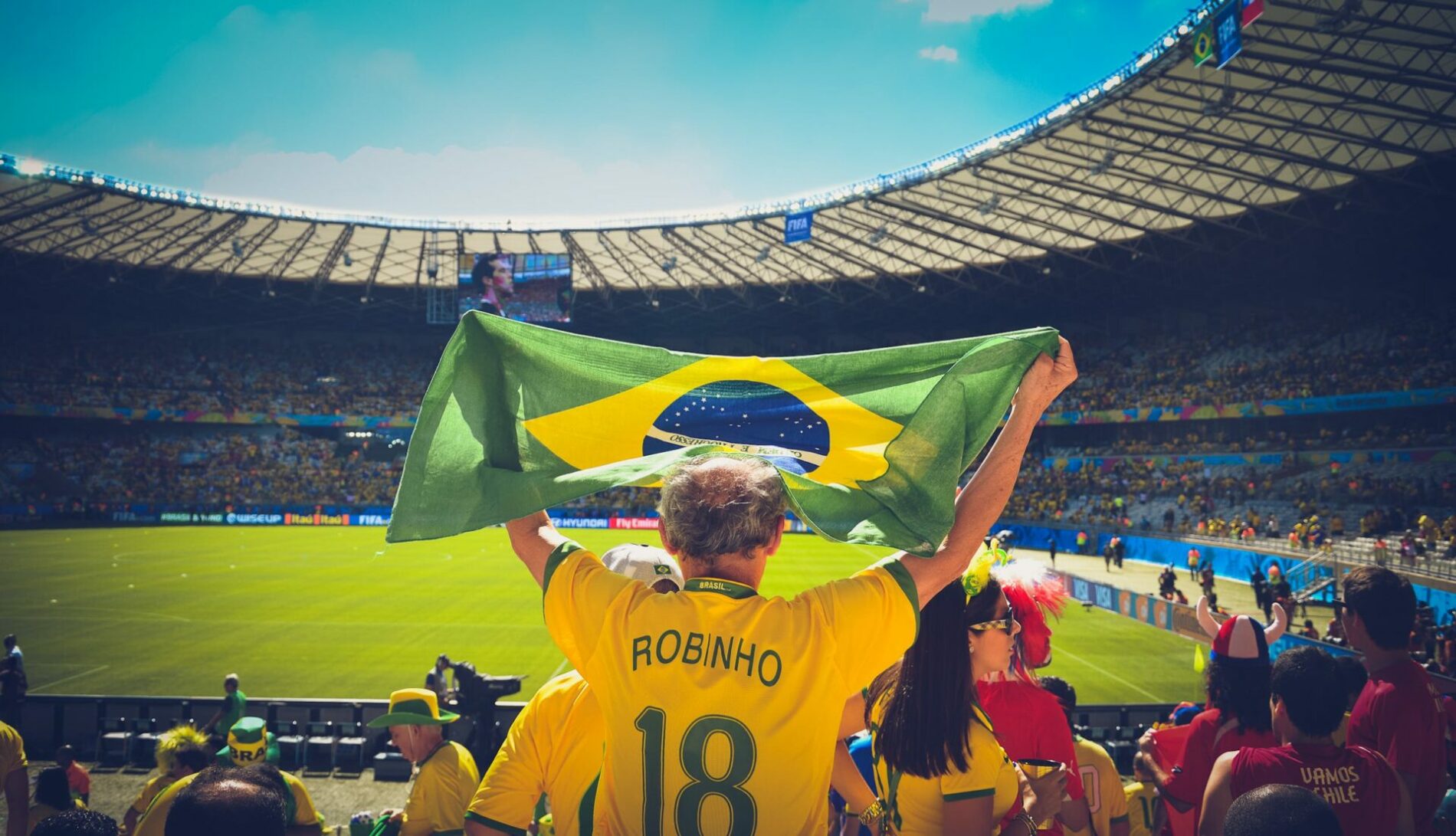 The World Cup is in full swing and fans across the globe are immersed in the highs, lows, and unrivaled sporting action in this most prestigious of tournaments…
Aside from the controversy surrounding this year's World Cup, there is still a lot of social media engagement from clubs, brands, and sporting institutions alike. Yes, the brand-boosting power of social media is a key component of this year's soccer spectacle and here, we're going to explore how teams and brands are using it to their advantage.
The power of partnerships
Viewership across channels has ramped up across channels with each passing day of the tournament. As engagement increases, social media influencer campaigns and brand partnerships are starting to take centre stage. In the US, renowned entertainment media outlet FOX has teamed up with actor Jon Hamm to release a series of light-hearted World Cup-themed ad content, complete with a Christmas twist. In doing so, Fox has boosted its brand reach while gaining maximum marketing traction from seasonal consumers — a savvy promotional move.
Amplifying its well-crafted ad content across its most engaged social media platforms in collaboration with Jon Hamm, FOX is attracting viewers to its soccer offerings in their droves.
Lesson: By working with relevant influencers or partnering with brands in your niche, you can increase your social media reach and engagement tenfold, growing your audience in the process.
World Cup player involvement
Another strand of influencer marketing, this World Cup has sparked a rising number of player involvement concerning social media-backed marketing campaigns.
Breaking down barriers
Players featuring in ads isn't exactly a new phenomenon, but with a multitude of social media platforms to work with, an increasing number of players are sharing the campaign content they're involved with while interacting with fans online.
This original and action-packed ad campaign from Pepsi features the likes of Lionel Messi, Pogba and Ronaldinho go head-to-head with local football fanatics in a nutmeg competition. Sporting the catchy tagline 'Thirsty For More', Pepsi amplified its ad content with the hashtag #Thirstyformore.
With the ad's stars posting, sharing, and interacting via various social media channels, this has emerged as one of the most successful campaigns of the tournament.
RETRO campaign: social media account takeovers
In a genius move of player-based social media engagement, Nike took over Ronaldo's Twitter account in 2014(with permission, of course) to turn the heads of football fans everywhere. The colossal sports apparel brand released an ad featuring Cristiano Ronaldo and asked the superstar to tweet a link to the ad via his personal Twitter account—a profile with 26.5 million followers. As a result, the ad earned more than 78 million views on YouTube in just one week.
Although this is an old campaign, it's worth mentioning as it was incredibly innovative at the time and still holds up as a powerful social media marketing tactic today.
Lesson: By taking an 'all hands on deck' approach, you can use social media as a vessel for breaking down barriers between fan and brand. By being active on social media and joining in discussions while you run your campaigns and encouraging everyone involved to support you across channels, you will maximize your results, earning consumer trust in the process.
'Snackable' in-app content
Naturally , most social media engagement is driven by mobile. As such, football fans the world over share footage, content, and regular updates with their peers. To create a deeper level of personal engagement, clubs and brands are delivering small snippets of content including replays, real-time footage, interesting facts, and insider updates throughout the tournament. Doing so adds an extra dimension of excitement and interactivity to the World Cup fan experience, cementing trust, loyalty, and awareness in the process.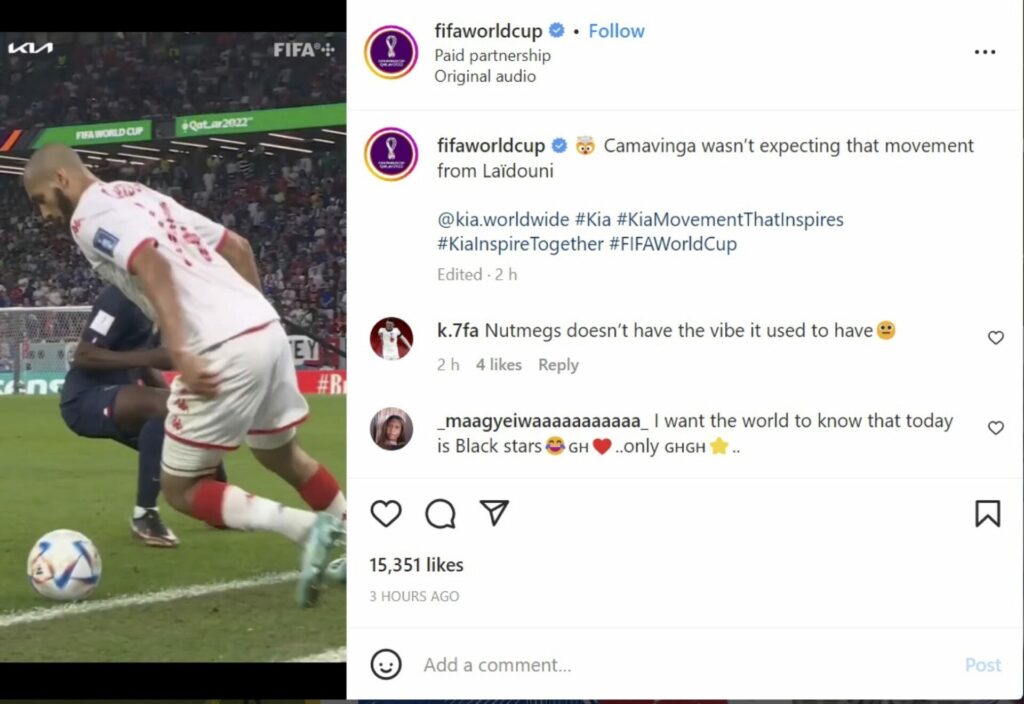 FIFA, for example, are serving up a wealth of action-packed 'snackable' content to drive fan engagement. By cross-promoting its posts, Reels, and Stories with its various sponsors as well as the teams taking part, the tournament organiser has created a hugely-engaged promotional eco-system for brands and clubs alike to leverage.
Lesson: When it comes to sporting events in particular, committing to serving up regular batches of snappy content aimed at your target audience while interacting with other brands, clubs, teams, and players will result in a big win.
In for the win…
"Social media is the ultimate equaliser. It gives a voice and a platform to anyone willing to engage."—Amy Jo Martin, marketing expert
Used wisely, social media is a powerful promotional vessel for sports clubs and brands. By taking inspiration from these leading World Cup 2022 initiatives, you will get ahead of the sporting park—and stay there. Armed with the right strategy and a collaborative mindset, you will be able to use the next big event or tournament in your sporting niche to your brand-boosting advantage.
We wish you the best of luck and for more promotional pearls of wisdom, read A New Approach to Storytelling in Women's Football.