Esports and the path to monetization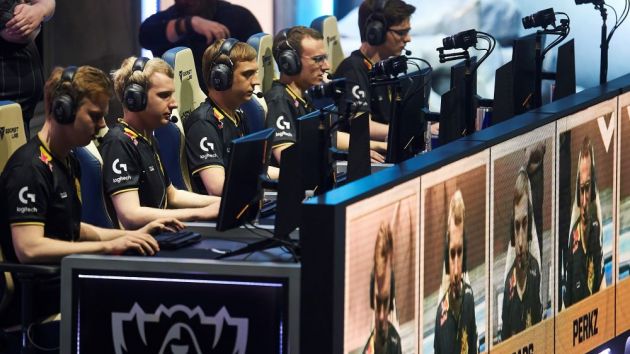 Over the past decade, we have seen a rapid and exponential growth in esports globally. From sports simulation games like FIFA and NBA 2K, to mainstream titles such as League of Legends and Free Fire.
According to the PwC Sports Survey in 2019, esports remains significantly under-monetized compared to traditional sports. A survey by Newzoo showed that the average revenue per fan is expected to reach $2.47 in 2023. So, the average monetization is going to be about 4.7% which is lower than the growth of esports revenue, which is about 15%. According to Deloitte's Consumer Report, 26% of total views are paid for esports content.
All these stats reveal a single question: how can esports be better monetized?
Streaming
According to Twitch, last year the highest-paid streamer earned $2 million and the top 20 streamers each earned more than $1 million. Most of this revenue comes from subscriptions (80%), ads (16%) and donations (4%). The highest female streamer "Pokimane" earns around half a million dollars per year.
With more than 8 million streamers making live content every month, most of them are what you'd call 'micro streamers' – those who have approximately an average of 150 views per session. For streaming platforms such as Twitch and YouTube, their allocation of revenues depends on the generated content, hours streamed and the number of views.
For esports, this is one of the ways in which we see more players (talent) getting involved as they look beyond media rights and prize pools. Players streaming in between tournaments can potentially be a large income stream for them and their team.
Brand involvement
Until a few years ago, esports advertising was focused on brands that have a relation with technology such as Samsung, Intel, Razer and a few others. The interest from outside started to peak when Mastercard signed a sponsorship with League of Legends in 2018. And one of the most interesting recently is the Spotify partnership with the same title.
Many people consider the esports environment complicated with few regulations around sponsorship or media rights, all of which creates barriers for brands. However after some brand starts tapping on this opportunity, realizing that they can target Millennials and Gen Z through this new avenue.
We have seen a brand like Burger King, Gucci and Bumble to engage with esports and also, we have seen a rapid growth of companies offering solutions like Stream Hero.
Casual viewer monetization
We need to understand that the difference between traditional sports and esports is the audience. Although in traditional sports we know that fans follow a specific team for example, an esports audience splits between the gaming enthusiasts and the casual viewers. Professional are those dedicated in a game or two, while casual will follow a variety of streamers. Newzoo estimates that in 2020 viewership is 495 million, and it will grow to 646 million by 2023 with 55% being casual and 45% being enthusiasts. Monetization focuses on enthusiasts mainly but it is estimated that casual viewers may unseal an extra $2 billion over the next 5 years.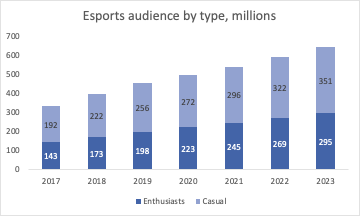 Fan engagement monetization
People are shifting from PC and consoles to mobile as increased internet coverage and better connectivity have created a more connected and engaged fan. Next year this will go to another level as engagement tactics include quizzes and rewards to expand the revenue to give to consumers to participate. The "predictions" feature launched by Twitch, allowing viewers to bet against the outcome of the game is one example. The winner wins channel points, unlocking potential rewards available from streamers. Solutions like Sport Buff allow for the tapping into this eCommerce side of revenues. Like traditional sports, esports fan engagement is a key driver that will bring long-term success.
The growth of esports looks promising in the next few years. Although there are still complexities and barriers in regards to regulations and rights there is no reason why sports businesses should not consider them. The key for monetization is the alignment of brand values with streamers and continuous fan engagement.
GET IN TOUCH