DFB officially launched its channel on TikTok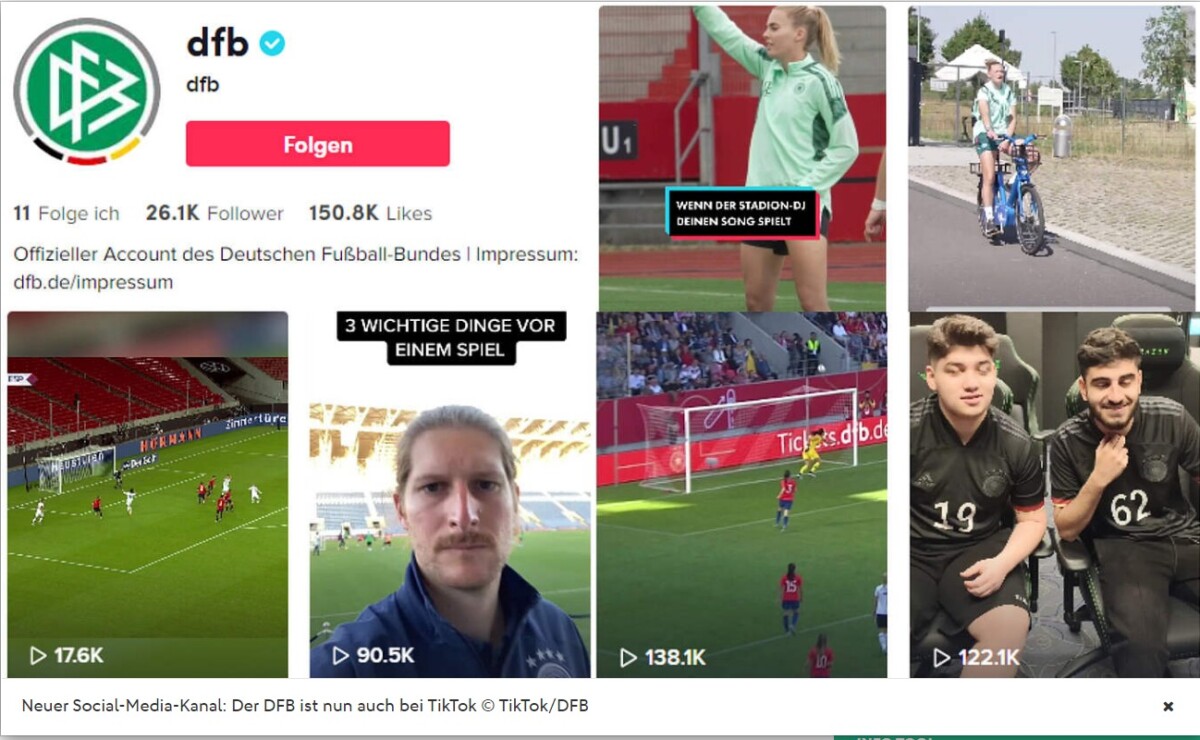 The DFB officially launched its channel on the social media platform TikTok. With the start of the UEFA Women's EURO in a few days, the official DFB TikTok channel will initially focus on content that revolves around the women's national team however moving forward short videos related to the men's national team, the DFB Cup, the 3rd division league and eFootball will be featured on the channel as well.
With TikTok's adaptation to current trends and challenges, fans can expect to see new cross-branded content and brand-based insights such as behind-the-scenes footage, partner content, and influencer partnerships. The 14 short videos on the TikTok channel already has garnered more than 150,000 likes.
Comments made by both parties
"Football inspires people across generations. With our TikTok channel, we want to interact more closely with Gen Z," . "With the fast-paced and viral trends of short-form content, we want to establish the platform as another innovative touchpoint and inspire the community with our content in the tone of voice of the platform." Dr. Holger Blask, Managing Director of Marketing and Sales at DFB GmbH & Co. KG
"We are very pleased to welcome the DFB on TikTok. The appeal of the sport is an elementary part of the content system on TikTok. This is shown by 10 billion hits for the hashtag #football. It was a great pleasure for me and my team to to be able to accompany the DFB over the last few weeks with the first steps" Dennis Papirowski, Head of Partnership and Community, TikTok DACH.
Bundesliga initiative with TikTok
By targeting Gen Z, the DFB's TikTok channel shares brand-relevant messages. Translated into current TikTok trends, they will be played out regularly from now on. The launch of a TikTok channel to address a young target group follows the relaunch of the DFB website on the video streaming platform Twitch, which took place in March 2022. The placement of DFB and partner-driven content on TikTok and Twitch creates the greatest possible added value for young football fans and the online football community.
Learn more about Bundesliga roping in OneFootball, Sorare, and Topps as their official NFT partner