Celebrating Día de los Muertos: A Cultural Bridge Between Teams and Their Fans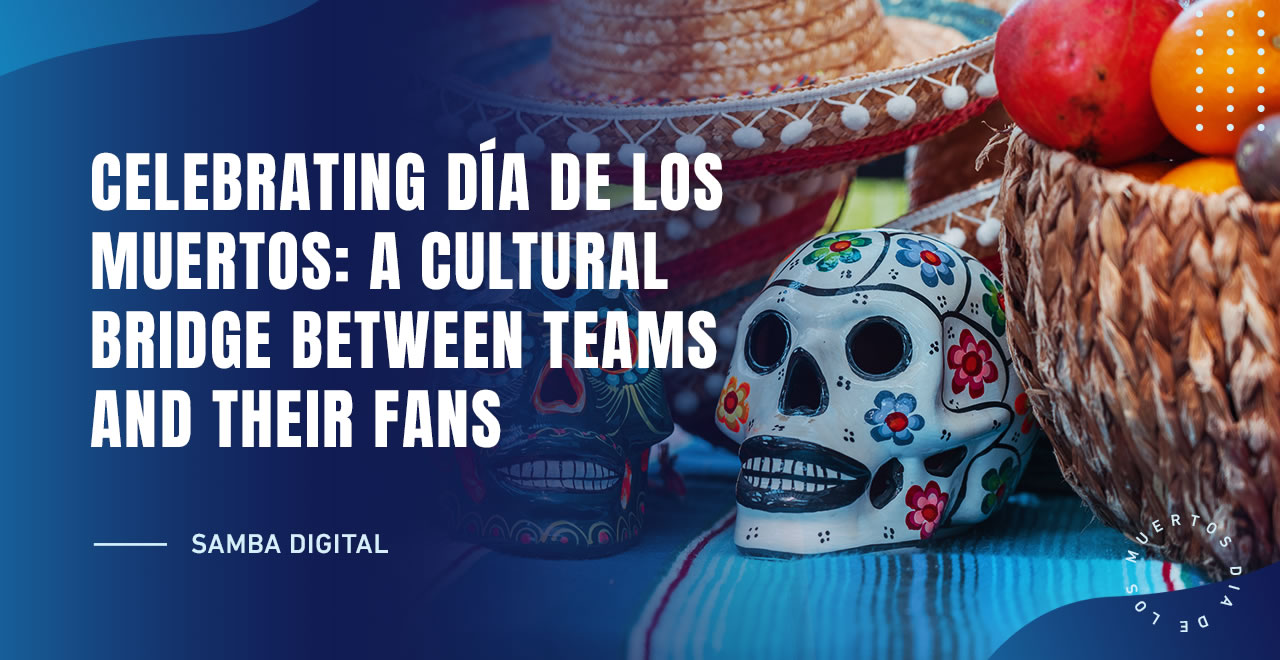 Here at Samba we have the privilege of working with a diverse range of clients, each having millions of followers worldwide. In the last few years we have been growing their audiences and making an impact in Latin America and as of recently, we have been boosting their presence in Mexico. We have recognized the importance of celebrating cultural holidays in Latin America to create connections, foster community engagement and promote cultural awareness amongst their Latino fans. 
One cultural holiday that is of great importance is Día de los Muertos which is deeply rooted in Mexican culture, where families come together to remember and celebrate their loved ones who have passed away. By participating in these celebrations, sports teams demonstrate that they understand the importance of tradition of their fans, as well as players.
Creating a unique and bespoke graphic for this cultural tradition allows teams to engage with their local Hispanic and Latino communities. It shows that they are not just interested in winning games but also in building strong, meaningful relationships with their fans. Moreover, it allows the teams to be active participants of the celebration while deepening their sense of community. Here are some graphics we have created for our clients this year in celebration of Dia de los Muertos:
¡Un fondo de pantalla especial para una fecha especial! 📲

¡Feliz Día de Muertos para todos nuestros hinchas mexicanos! 🇲🇽❤️💙 pic.twitter.com/cgYIzYHSMt

— Paris Saint-Germain (@PSG_espanol) November 2, 2023
𝙈𝙞𝙚𝙣𝙩𝙧𝙖𝙨 𝙫𝙞𝙫𝙖, 𝙩𝙪́ 𝙩𝙖𝙢𝙗𝙞𝙚́𝙣 𝙫𝙞𝙫𝙞𝙧𝙖́𝙨 𝙥𝙖𝙧𝙖 𝙨𝙞𝙚𝙢𝙥𝙧𝙚 𝙚𝙣 𝙢𝙞 𝙧𝙚𝙘𝙪𝙚𝙧𝙙𝙤. 🙏🇲🇽

Feliz #DíaDeMuertos pic.twitter.com/7pS48UjKYD

— AS Monaco ES 🇲🇨 (@AS_Monaco_ES) November 2, 2023
💛💚Hoy no queremos dejar pasar una tradición mexicana que nos encanta, porque nos conecta con esos seres queridos a quienes nunca vamos a olvidar.

¡𝔽𝕖𝕝𝕚𝕫 𝕕í𝕒 𝕕𝕖 𝕞𝕦𝕖𝕣𝕥𝕠𝕤🇲🇽!#NCFC💛💚 pic.twitter.com/9eCYq5j0G9

— Norwich City FC en español (@NorwichCityES) November 2, 2023
Entre flores, colores y sabores recordamos a los que ya no están. Con risas, bailes y canciones los mantenemos vivos en nuestros corazones. 🏵️🕯️💀

¡Feliz #DíaDeMuertos para la familia mexicana y toda la nación Blue en Latinoamérica! 🎊 pic.twitter.com/jKhG7Lf8XP

— Chelsea FC en español (@ChelseaFC_Sp) November 2, 2023
𝑭𝒊𝒆𝒔𝒕𝒂 🪅
𝑪𝒐𝒍𝒐𝒓𝒊𝒅𝒐 🎊
𝑻𝒓𝒂𝒅𝒊𝒄𝒊𝒐́𝒏 🕯️

💀 Con mucho respeto celebramos #DiaDeMuertos junto a todos nuestros amigos en México 🇲🇽 pic.twitter.com/skt3T5bXs2

— Tottenham Hotspur (@Spurs_ES) November 2, 2023
𝙍𝙚𝙘𝙪𝙚́𝙧𝙙𝙖𝙢𝙚. 𝙉𝙤 𝙡𝙡𝙤𝙧𝙚𝙨, 𝙥𝙤𝙧 𝙛𝙖𝙫𝙤𝙧. 🙏
𝙏𝙚 𝙡𝙡𝙚𝙫𝙤 𝙚𝙣 𝙢𝙞 𝙘𝙤𝙧𝙖𝙯𝙤́𝙣 ❤️
𝙮 𝙘𝙚𝙧𝙘𝙖 𝙢𝙚 𝙩𝙚𝙣𝙙𝙧𝙖́𝙨. 🎶

Feliz #DíaDeMuertos 🕯️☠️🇲🇽 pic.twitter.com/kHUFIVdvgL

— Leeds United Español (@LUFCes) November 2, 2023
En honor a nuestra familia mexicana por el #DíaDeMuertos 🇲🇽

Hoy, y siempre, recordemos a aquellos seres queridos que ya no están con nosotros ❤️ pic.twitter.com/XmGwFgZbc5

— West Ham Español (@WestHamEspanol) November 2, 2023
We previously produced a campaign with Leeds United in which we created an amazing Dia de Muertos jersey and took over the profile photo of the Club's main account with it. Our design studio, Força, meticulously incorporated Dia de los Muertos motifs into Leeds United's visual identity. The club's distinctive crest was beautifully reimagined to include marigold flowers, sugar skulls, and other traditional Day of the Dead elements. This fusion of cultural aesthetics and sporting heritage was a visual masterpiece, paying homage to both the club's legacy and the revered Mexican tradition. Our work with Leeds United can be further explored through our case study, which provides a comprehensive look at the project's execution and impact.