LEEDS UNITED CELEBRATES DIA DE MUERTOS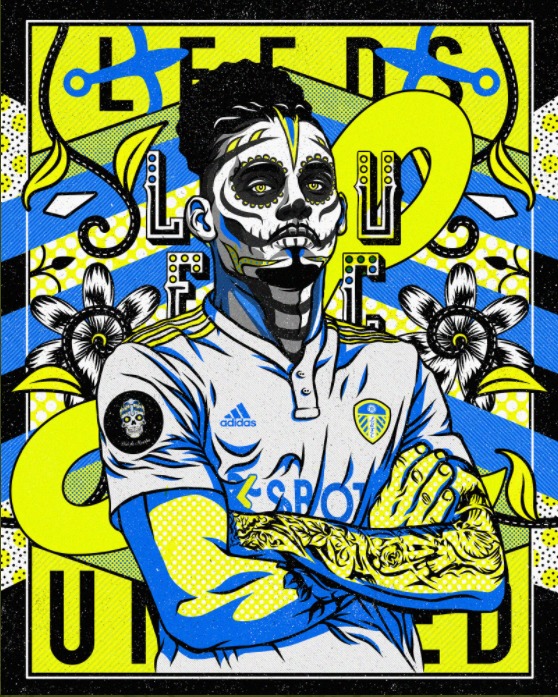 Mission
What better way to show your Mexican fans how important they are to your club than by celebrating Dia de Muertos with them.
Samba created an amazing Dia de Muertos jersey and took over the club's profile photo with it. The campaign really caught the imagination of Leeds' Mexican fans, and resulted in over 1 million social media impressions and a phenomenal 52,275 interactions.
Action
The most important moves were the change in profile photo and the special Dia de Muertos jersey. This is significant since it is the first time a club has allowed Samba to modify their profile photo. It was also the first time Samba was permitted to use any of our designs on a shirt. Leeds agreed and even enjoyed the concept in this case, giving us the go-ahead to proceed. We began by holding a giveaway contest in collaboration with @InvictosSomos, a well-known Mexican influencer.
A classic Dia de Muertos skull appears on this vital patch on the shirt. When the jersey was first being designed, Alex Pinto, the designer, was asked to incorporate some of the original badge's features. The original patch included more colours to the skull, as shown in the photographs below. The flower at the top of the Leeds badge is on the head, eyes, and chin of the skull within this inventive patch, as can be seen by supporters. The initials LUFC, in the same typeface as the rest of the design, were also included, along with blue stripes on the skull..
The Samba team had additional tricks up their sleeves to expand this activation, including:
¡No es un disfraz, es cultura! 💀💐

Así nos preparamos para el #DíaDeMuertos pic.twitter.com/9h6OQ2mNCm

— Leeds United Español (@LUFCes) November 1, 2021
METRICS
Leeds and Samba were both delighted by the concept, which resulted in an impressive 1,104,640 impressions and an incredible 52,275 interactions. It was also stated that Leeds had produced ten jerseys, and Victor Orta, the club's Sports Director, loved the concept and even held one in his hands. This enticing jersey has also been utilised for purposes other than fashion. Leeds even used this shirt to launch a competition with 433.
This exciting competition can be seen here, with Raphinha clutching the much-discussed jersey.
¡Una playera especial, para un día especial! 🕯️ 💀 🇲🇽

Leeds United x #DiaDeMuertos pic.twitter.com/DcIN21dexK

— Leeds United Español (@LUFCes) November 2, 2021
👋 @JuniorFirpo03, con nuestra playera especial 💀, saluda a nuestros fans en México 🇲🇽 en este #DíaDeMuertos. pic.twitter.com/HMYmCutuYO

— Leeds United Español (@LUFCes) November 2, 2021