The Social Media Market Of Argentina
The South American nation of Argentina has become a popular social media market for not just the continent alone but in all of Latin America. For the third-largest Spanish-speaking country, the tool of how social media and football play a part goes down more towards the passion the fans have and even at the time, connect some humor with it as well.
Here's a look at how Argentina plays a huge part in being marketable for Spanish-speaking football fans.
Popularity
For the sport of football, it reigns as king in Argentina. Hands down the most popular sport due to its success for club and country, the nation has two FIFA World Cup titles in 1978 and 1986 and has produced many great legendary names in the history of this sport. Names such as Diego Maradona, Lionel Messi, Mario Kempes, Gabriel Batistuta, Sergio Aguero, and many other names that have made their mark on the sport around the world.
Despite the population difference from bigger nations such as Mexico and Colombia, it is without a doubt that Argentine pop culture has been able to connect into social media and even more so, on its football clubs. This is also because many Argentines are connected on social media as well as the popularity that clubs such as Boca Juniors, River Plate, Racing Club, Independiente, San Lorenzo among many others have had as well.
With many Argentines also playing in some of the biggest clubs in the world, it has given a sense of representation especially when one (like Messi) has been constantly recognized as one of the best players in the world for more than a decade and has also cemented himself as one of the greatest players of all-time.
Representation and Identity
For the sport of football, the humor and being able to relate to some of the many Argentine-related jokes has allowed for some Spanish speaking social media accounts to try and build an audience based on cultural lingo.
One key example was Eintracht Frankfurt's Spanish Twitter page using a cunning tweet of a last-minute goal in a game that ended 3-1 using the tweet "Y va el tercero.." which translates to "here comes the third (goal)." The reason why that phrase has gained popularity in Argentina given that it is the same phrase was used by a commentator during the 2018 Copa Libertadores Final in which makes reference to Gonzalo "Pity" Martinez's third and final goal to help River Plate defeat bitter rivals Boca Juniors to capture the Copa Libertadores.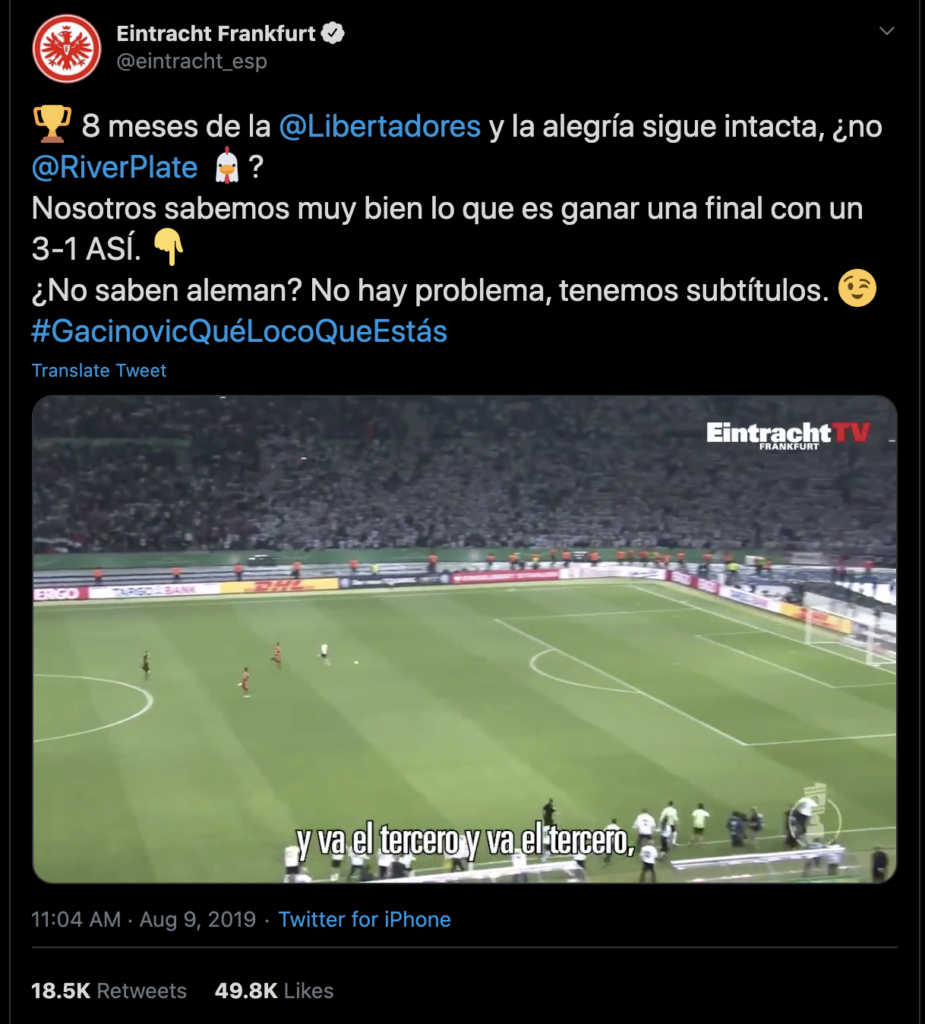 It's surged in popularity and created a new audience for a team in Germany that has only one Argentine in it the team because they are familiar with the trends in Argentina, they find a way to capitalize on it and succeed.
As Samba Digital's Spanish Social Media Manager Pedro Caffa puts it, having that understanding of what is popular in Argentina can go a long way when creating content and seeing the results.
« Looking at it, I find it to be an advantage because it allows us to be familiar with what key dates are out there and trying to capitalize on it when needed."
For more information on how many of these Spanish-speaking social media accounts have been able to capitalize on these trends, make sure to contact us at Samba Agency's contact page.