The Haaland Effect: Manchester City break new ground in Asia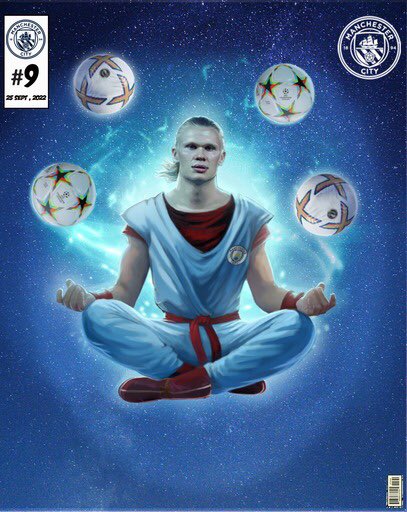 Notions of fame in east Asia are sometimes skewed by the media in the west — one is tempted to think of Sofia Coppola's Lost In Translation, with Bill Murray's character maintaining his celebrity status despite having slipped to being a relative unknown in the United States. But while Murray's character made a living as a celebrity whose global reach had faded, what happens when someone of international renown joins a football club?
It's something Manchester City have found out this season in the form of Erling Haaland. The Norwegian striker's phenomenal start to life in the Premier League has him smashing records at every turn, further burnishing his reputation as a force on the pitch, but what about his impact on social media? The difference may be most apparent in Asia, of all places.
City have a history on the continent, with Chinese international Sun Jihai having made more than one hundred appearances for the club. However, as his time with the Citizens ended in 2008, the team have lacked the sort of player that was capable of making a global impact on social media, in its nascence at that point, despite a raft of talented players passing through their doors.
Turning a corner
Traditionally, though, even with Sun among their past, City have spent most of their time looking up at the likes of Arsenal, Liverpool, and Manchester United. There are (or have been) player links to Asia across each of these clubs, in the form of players like the Korean Park-Ji Sung, or Japan's Takumi Minamino or Takehiro Tomiyasu. However, each of these players holds a significance for just part of Asia, even as their club's respective followings surely increased as a result of their arrivals.
Too, Liverpool and United have a strong history of success in the age of global television. Liverpool were strong in the seventies and eighties before United had a prolonged period of success under Sir Alex Ferguson, picking up many fans globally along the way. But even with that historical edge, recent data collected from those clubs active in Indonesia and Japan on Twitter bears out the "Haaland Effect."
Here are their Twitter metrics covering June, when Haaland joined, through the end of September.

Comparing the five clubs in Japan, City, without having the advantage of a Japanese player that Arsenal do and that Liverpool did, managed to post both the second-highest engagement rate and the highest percentage of follower growth. This latter figure is arguably the most important metric for commercial purposes. Looking at City's feed in Japan, it's clear as well that Haaland is a firm favorite, as even Tweets announcing his scoring routine goals are more popular than those announcing results.
ハーランドの怪物ゴール!

🔵 1-0 🟠 #ManCity pic.twitter.com/BVyqoZX8tL

— Manchester City (@ManCityJP) October 22, 2022
In Indonesia, while not all of the Premier League's biggest clubs have Twitter accounts, the difference in growth is also clear, with City pushing 9% over the period since Haaland's arrival, more than tripling the return over the same period for Liverpool. This shows that like players from the past such as Thierry Henry, Wayne Rooney, or Cristiano Ronaldo, Haaland is box office, pure and simple. His being placed in an already-successful (and entertaining) side only increases his appeal.
Terima kasih untuk Cityzens Indonesia yang tak lelah mendukung hingga tengah malam meski perjuangan kali ini tidak menghasilkan poin penuh.

Selamat beristirahat semua. 🇮🇩💙

#ManCityIndo pic.twitter.com/a4pULAJCtG

— Manchester City (@mancityIndo) October 16, 2022
Obviously, the lesson to be learned here for commercial growth may seem like an obvious one — a true superstar helps boost a club's profile in eastern Asia. But given the dramatic effect it's had on City's social media, much like Haaland's impact on the pitch, we knew it would be impressive, just perhaps not by such a wide margin.