TESTING OF CELEBRITY VIDEO APP 'SUPER' LAUNCHES ON FACEBOOK
Facebook has been busy with new features including Instagram Reels, influenced by TikTok, and its upcoming plan to challenge Clubhouse with its own audio-focused feature. The social networking site has now launched a live test of their 'Super' app, thanks to their competitor 'Cameo'. Cameo allows users to pay for video chats with celebrities as well as to request shout-outs.
You can browse a list of upcoming live streams on the new 'Super' website, which you can enter by signing up. Users can also tap any event which redirects them to a dedicated event page, which includes a countdown before starting your chat.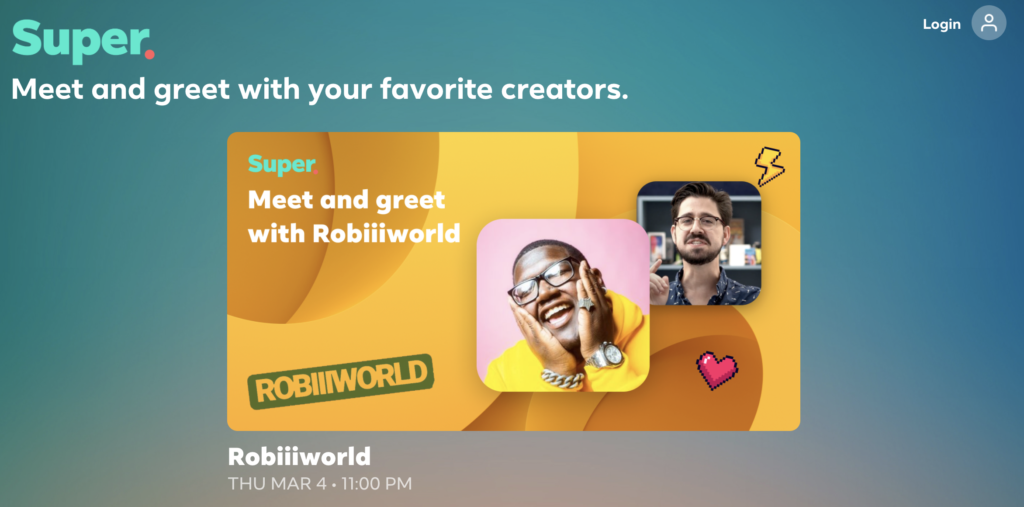 Where do I sign up?
Surprisingly, users will not sign in to this via their Facebook accounts during this testing stage, but you can sign in through Super's platform. Becoming a member of this platform enables you to express your interest in a celebrity's exclusive one-to-one chat. In the testing process, these popular one-to-one chats are free. Sadly, the celebrities could charge you for more in the future.
There are currently only small video chat examples, indicating that this site is still in the testing process. To fulfill the dream of meeting celebrities, a fully functional platform is being built to encourage users to ask questions. For sports clubs, this is a great opportunity, as fans will ask questions to their favourite players. Such fans will gain true insight into their favourite athletes. Creating small relationships like this will build a true commitment to the sport. But that's not all, celebrities can create video messages, originally created by 'Cameo' for their fans.
Users can tip their chosen guests to ask questions or simply speak with them through digital gifts or by paying for a live streaming session. Celebrities have not yet been launched on this platform. But celebrities can sell their goods through their video call, from athletes, singers, artists, social media influencers, from signed posters to football jerseys to their fans.
Close competition
The Facebook team created a separate app for 'Super' instead of integrating the platform into Facebook. This may have caused the developers issues as they did not have Facebook's scaling advantages. However, 'Super' events will be advertised directly on Facebook, increasing the outreach capabilities of this up-and-coming platform. Facebook users will have the option to connect to 'Super' through Facebook in order to find out more. These updates from Facebook give them a competitive edge because of their number of users, making 'Super' a real competitor for 'Cameo'.
The whole reason for the creation of this platform had to do with the battle against the popularity of 'Cameo'. 'Cameo' has increasingly increased in popularity in recent years. With an average of 2,000 video requests per day, they have started developing a capital funding feature. This existing popularity allows new features to improve their popularity with their users. 'Super' is still in the development process, leaving us in a suspense for its launch. However, looking at the prototype with the inclusion of Facebook and Instagram,' Cameo' may be looking at a close rivalry.
GET IN TOUCH
To find out more about Samba Digital, get in touch with us via our Contacts Page .