Snapchat: home to engaged and interactive sports fans in 2020
Snapchat has released great new insights into the engagement of live sports. This data can illustrate the importance of using Snapchat to sports clubs that have not already taken advantage of this opportunity.
You don't realise what you've got until it's gone, I'm sure the sports fans will agree. Sports is and will continue to be a big part of our lives. This has been demonstrated by the engagement of sports fans via Snapchat when they are unable to attend games physically.
What did Snapchat's insights show?
On average, 17% of Snapchatters around the world have started watching through Snapchat because they are unable to attend games during the pandemic.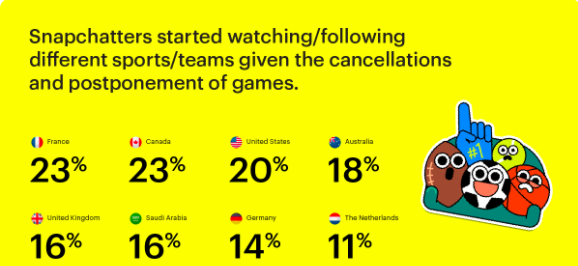 Not only do these fans stream sports content, they also generate sports-based content. For example, 38% of users watch highlights and or bonus clips of other sports content when watching the game. And 30% of users share their stories while watching sports.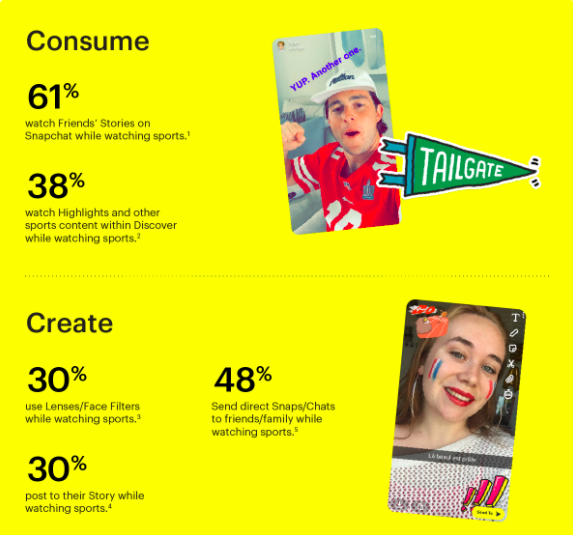 While the experience of watching sports is currently unconventional, users of Snapchat are just as happy to see their home teams and favourite sports back in the swing of things. Snapchatters have the ability to explore teams that they might not have known through Snapchat's Discover tab.
This platform is more important to us now than ever before. It offers us a sense of normality and comfort as we can connect with friends and family who we can't see at the moment.
The importance of sport to Snapchat users
In March 2020, major sports leagues, including the NHL, MLB and NBA, announced that their seasons would be postponed. Football leagues in a variety of countries continued to play, but did not play in front of a crowd.
However, in September 2020 as sporting activities started to run again, 52% of US Snapchat users were delighted to have their sport returning to their lives, with a third of them being more patriotic to their team than ever before.
In the United Kingdom, 44% shared this passion, with a quarter feeling more appreciative of sports and the enjoyment it can offer. Sport fans using Snapchat were ecstatic when they could watch sporting events like the good old days. One-in-four and one-in-six users are following a new team or even a whole new sport. It also highlights the future success this is redeemable for sports clubs when using Snapchat.
The return of sports games was greeted with massive cheers from fans, but the players could not hear them. In the US, 40% of users of Snapchat do not enjoy alternative methods of watching.
Similarly, in the United Kingdom (35%) and Canada (28%), share this perception of doubt with the current viewing method. Altogether, a third of Snapchat users share a common view that empty stadiums and recorded crowds impede the enjoyment of watching the game.
What do Snapchat users want when watching sporting events?
People don't only want to watch the sporting events, they want the whole experience that goes with it. Snapchatters from the United States, Canada, the United Kingdom and Australia have asked that the players have microphones to hear their viewpoints on the game as well as virtual fan sections. The ability to hear players and see virtual fans helps viewers gain a little nostalgia from the modern way of watching.
At the moment, fans are making the social media platform a second-screen destination while watching sport. In the US, for example, 29% of users send snapchats to their group chats while they watch. Some, 28% to be precise, watch their friends' stories, and 20% make their own stories. The highlights of the Discover page are in use by 26% of users.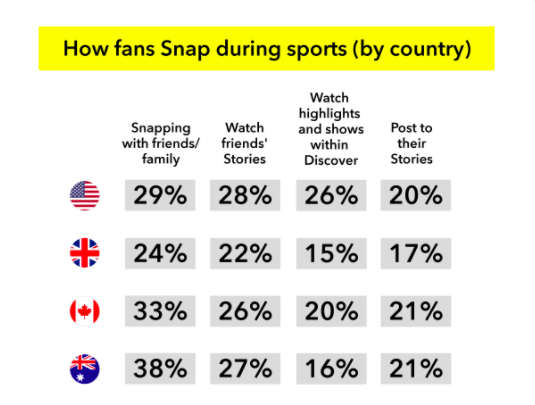 However, fans still want to improve their experience, which is why they prefer Snapchat as their channel for sporting events. Over a third of all users of Snapchat want sports teams to use Snapchat as a vessel for more content. For example, a behind-the-scenes experience of events or the opportunity to experience certain stadiums through augmented reality.
Using Snapchat as a way to watch and learn more about sporting events or other sports is a perfect opportunity for a sports club. Fans would like to see and hear more about them! This platform would allow clubs to increase their interaction with current fans and allow more potential fans to discover them. Sporting fans are going to Snapchat to engage, so why wouldn't clubs use it to their advantage?
GET IN TOUCH
To find out more about Samba Digital, get in touch with us via our Contacts Page .