Samba Weekly Trends in LatAm and the US (8/7/20)
Each week we take a look at the latest social media news and best practice examples from across LatAm and the US. If you want to get these direct to your inbox then do sign up for our articles Alert and/or the Newsletter via the right hand side of this screen.
LatAm users prove to be the world's biggest social media fans
According the GlobalWebIndex, the daily time spent by users on social media still belongs with those from LatAm regions. Back in 2012 the average time spent per day was 2 hours 40 minutes and this has increased yo 3 hours 32 minutes in 2019. The Middle-East is closing in fast though as users there averaged 3 hours 10 minutes per day last year.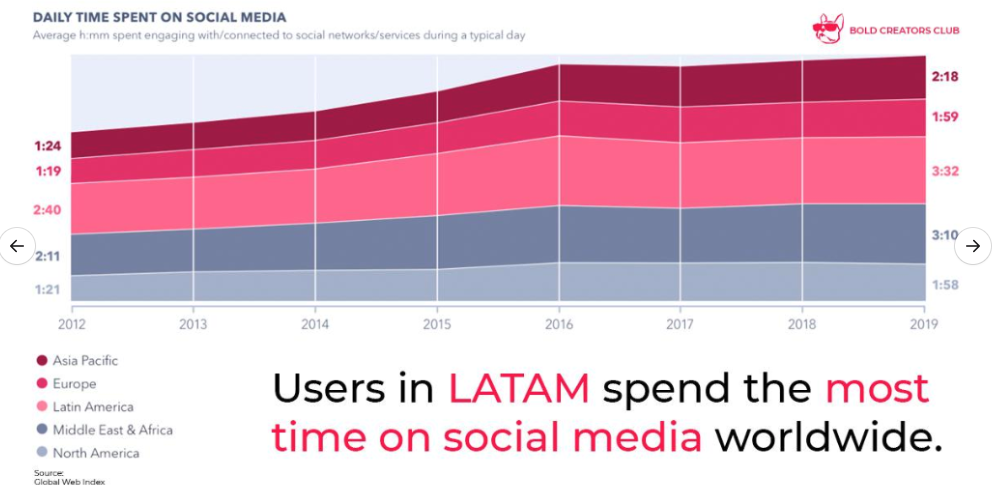 Making new fans ahead of the MLS is Back tournament
New York Red Bulls this week looked to gain more Mexican fans ahead of the MLS is Back tournament, by writing a tweet to each club and become their favourite club in America. This is a tactic that Bundesliga clubs used to target fans of teams in the UK, taking advantage of there being sport in their country but with leagues still suspended elsewhere.
The MLS is Back Tournament kicks off today (8th July) at the ESPN Wide World of Sports Complex in Florida.
Flamengo tops the Brazilian charts
The Rio de Janeiro based club saw more interactions during June than all the other clubs put together on Twitter. It is a strange time for football in the country as COVID-19 still affects much of it and the league is still to restart, but it shows the amount of work that has gone into the platform by the club and the results it is gaining.
TikTok faces potential US ban
It has been a tough few weeks for the world's most popular app after the shock news of Chinese apps being banned in India and it pulling out of Hong Kong, with the latest revelation is that there is a potential ban being lined up by the US government.
According to Fox News during their interview with Secretary of State Mike Pompeo, "the Trump administration is considering restricting United States' users' access to the Chinese social media application TikTok over concerns it is potentially being used by the Beijing government as a means to surveil and propagandize people."
This is a story to keep an eye on in the coming weeks.
To find out more about Samba Digital, get in touch via our Contacts Page