PALMEIRAS, CHAMPIONS OF THE BRAZILIAN CUP, REMAIN A RUNNER-UP TO FLAMENGO
Despite Palmeira's victory at the Copa do Brasil finals, Facebook, Twitter, and Instagram are all down, following Flamengo's amazing victory at the Brazilian Championship the week before. The total number of interactions decreased by 38%, resulting in 27.8 million interactions. Instagram was hit the hardest, with a 40% drop overall, whilst Facebook and Twitter both fell by 33%.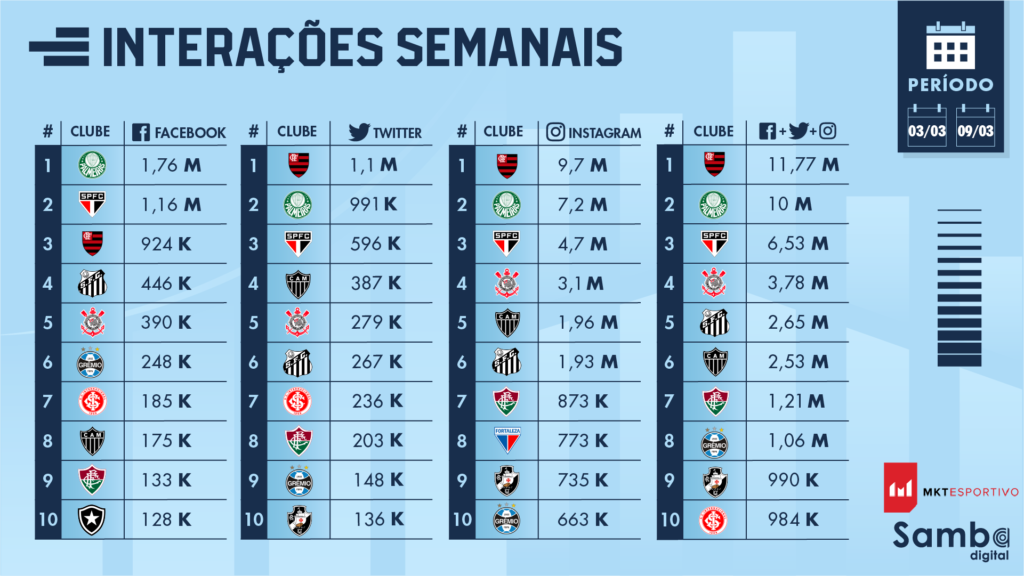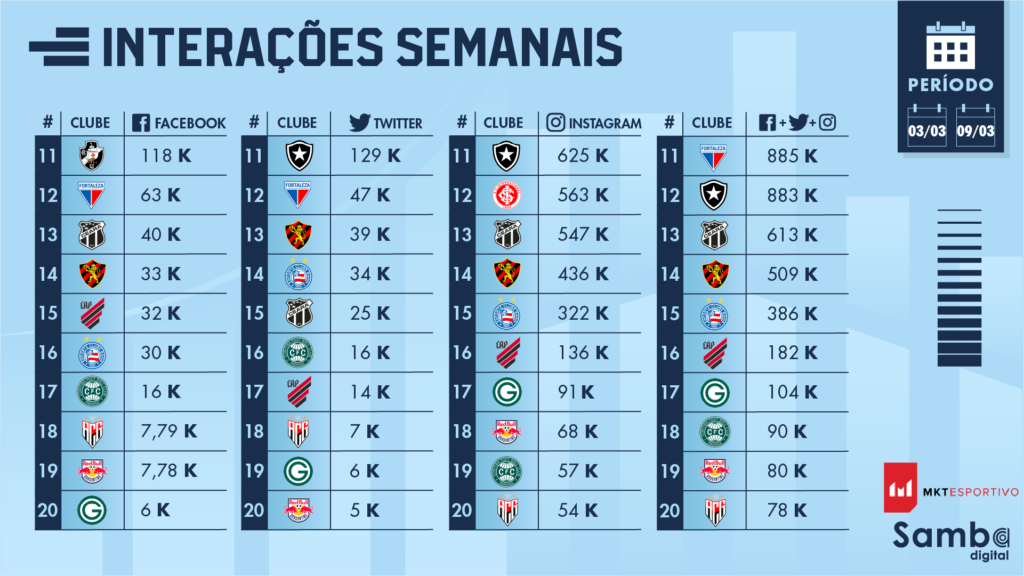 Digital Title Celebration – Direct Comparison
With two national titles secured in two weeks, a comparison of the clubs' digital power of the clubs is unavoidable. Flamengo has achieved an impressive number of 40 million interactions, with a loss of leadership in all social media analysed. Flamengo had 11.77 million interactions, while Palmeiras had just 10 million. Despite becoming Brazilian Cup champions on Sunday, Palmeiras is still a few steps behind, and will not overtake Flamengo this week. However, there is light at the end of the tunnel for Palmeiras as they defeated Flamengo on Facebook this week. Palmeiras gained 1.76 million interactions compared to Flamengo who received 924,000 this week.
Despite winning the Brazilian Cup on Sunday, Palmeiras is still a few steps behind Flamengo and will not be able to catch up this week. Palmeiras, on the other hand, saw some light at the end of the tunnel this week, as they beat Flamengo on Facebook, receiving 1.76 million likes to Flamengo's 924,000.
End of the Brasileirão x Start of the State Championships
Everything, including the Brasileirão, must come to an end, with some teams being impacted more than others. Thirteen of the teams saw a decrease in results from the previous week. With the start of the State Championship and a large rise of 62% in interactions for Palmeiras in the Copa do Brasil final, things are looking up. However, the runner-up, Grêmio was not so fortunate, as their performance fell by 30% from the previous week.
Stability
Santos has taken the term "consistency is key" very seriously, receiving 2.6 million, 2.57 million, 2.63 million, and 2.65 million in the last four weeks with very little difference. The club finished the last round in 5th, 2nd, 7th, and 5th place, respectively, thanks to their recent results. Santos isn't the only team that has remained consistent; Corinthians, despite a small decrease previously, has maintained a 3.5 million average since the end of January until now. The Corinthians saw a small rise in performance this week, rising to 3.78 million from 2.97 million the week before.
Together
This week, Vasco and Botafogo were both relegated to Serie B, but that isn't the only thing they have in common; their performances this week were very close. Vasco received 990,000 interactions, with Botafogo coming in second with 883,000. Botafogo had a victory this week in the State of Carioca's inaugural round, whilst Vasco was defeated. Vasco, on the other hand, has over 110 thousand Instagram interactions. On Facebook, Botafogo received 128,000 interactions compared to Vasco's 118,000. Vasco and Botafogo battled it out on Twitter, with Vasco coming out on top with 136,000 to Botafogo's 129,000 interactions.
Serie B
Starting next week, Series B will be evaluated and its teams will compete for a place in the Weekly Interaction Ranking. Cruzeiro will play another year in Serie B, and this week on Instagram, they will be in 10th place, beating Vasco with 697,000 interactions. Vitória would beat Athletico-PR, while CSA and Cuiabá would conquer Goiás, Bragantino, Coritiba and Atlético-GO.
GET IN TOUCH
To find out more about Samba Digital, get in touch with us via our Contacts Page.