Launch of Fan4all, the first experience platform dedicated to soccer fans!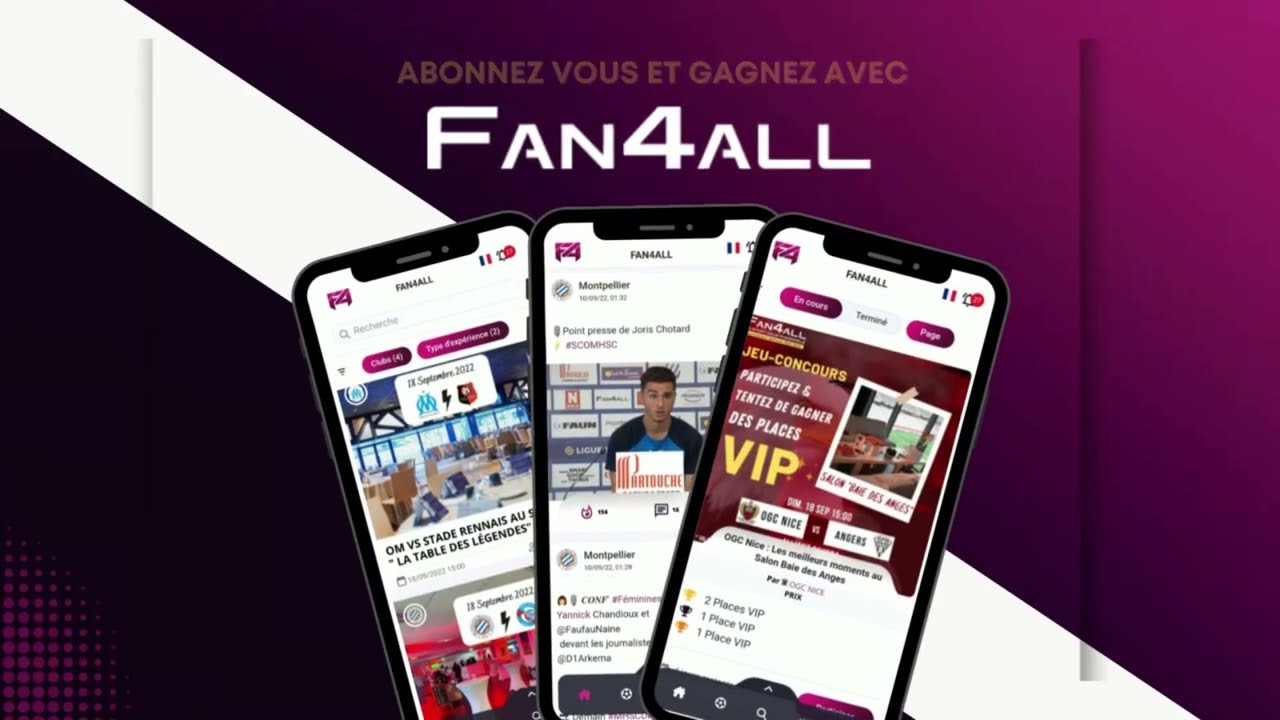 Attend your favorite club's games as a VIP, take part in an exclusive signing session with star footballers or train with the pros: these are the privileged fan experiences offered by Fan4All. Launched in 2022, the all-in-one platform, dedicated to soccer fans, has already attracted prestigious French clubs: Olympique de Marseille, OGC Nice, Montpellier HSC and Paris FC. Fan4all offers fans of these clubs a richer, more personalized and rewarding experience.
Bringing fans closer to their club
During the pandemic, when soccer matches were played behind closed doors, two brothers, both computer engineers and soccer enthusiasts, noticed two things. First, the very strong emotional attachment of fans to their clubs is not sufficiently rewarded in the digital world. Second, clubs generate very little revenue on social networks. All of this despite millions of monthly views on their different platforms.
"At that time, stores were closed while e-commerce was exploding" recalls Ahmed Hakkoum co-founder of Fan4all. It was impossible for clubs to create a personal interaction with each fan in the physical world, while the digital world was offering a lot of possibilities.
— Fan4all (@Fan4allOfficiel) September 23, 2022
The two brothers decided to create an all-in-one digital platform, available as a website and a mobile application, which would allow clubs to interact with their fans and diversify their revenues, notably through the marketing of their products and services on the platform. Already major League 1 Uber Eats clubs have been seduced by the concept and are now active on the Fan4all platform, while agreements in principle have been given by ten other clubs.
Initially focused on soccer and the French market, the founders plan to open the platform to other sports disciplines in the short term, and to develop in other countries.
Access to an all-in-one platform
On the user side, Fan4all simplifies the life of fans. It is a central platform that brings together all the news from the sports media and offers exclusive content shared by partner clubs. Fans can follow their favorite clubs and players, chat with other fans, buy match tickets or order exclusive experiences.
Dine with pro players
Combining physical and virtual experiences,
Fan4all
users have the opportunity to subscribe to exclusive and personalized services. Thus, fans can get VIP access to the games, meet the pro players, participate in autograph sessions or have dinner with star players. In addition, the platform offers immersive virtual experiences, such as fan conferences, a service that allows fans to put themselves in the shoes of a sports journalist and ask questions to players and professional staff members.
⚽️🤝 Nouveau partenaire du MHSC

📲 @Fan4allOfficiel est une nouvelle plateforme sociale dédiée aux amoureux du ballon rond
Vous pouvez suivre l'actu du MHSC, rejoindre une communauté de fans, participer à des jeux concours et vivre des expériences uniques 😍

RDV sur FAN4ALL pic.twitter.com/CCZ4YCzm3g

— MHSC (@MontpellierHSC) September 3, 2022