LA Rams debut augmented reality experience at SoFi Stadium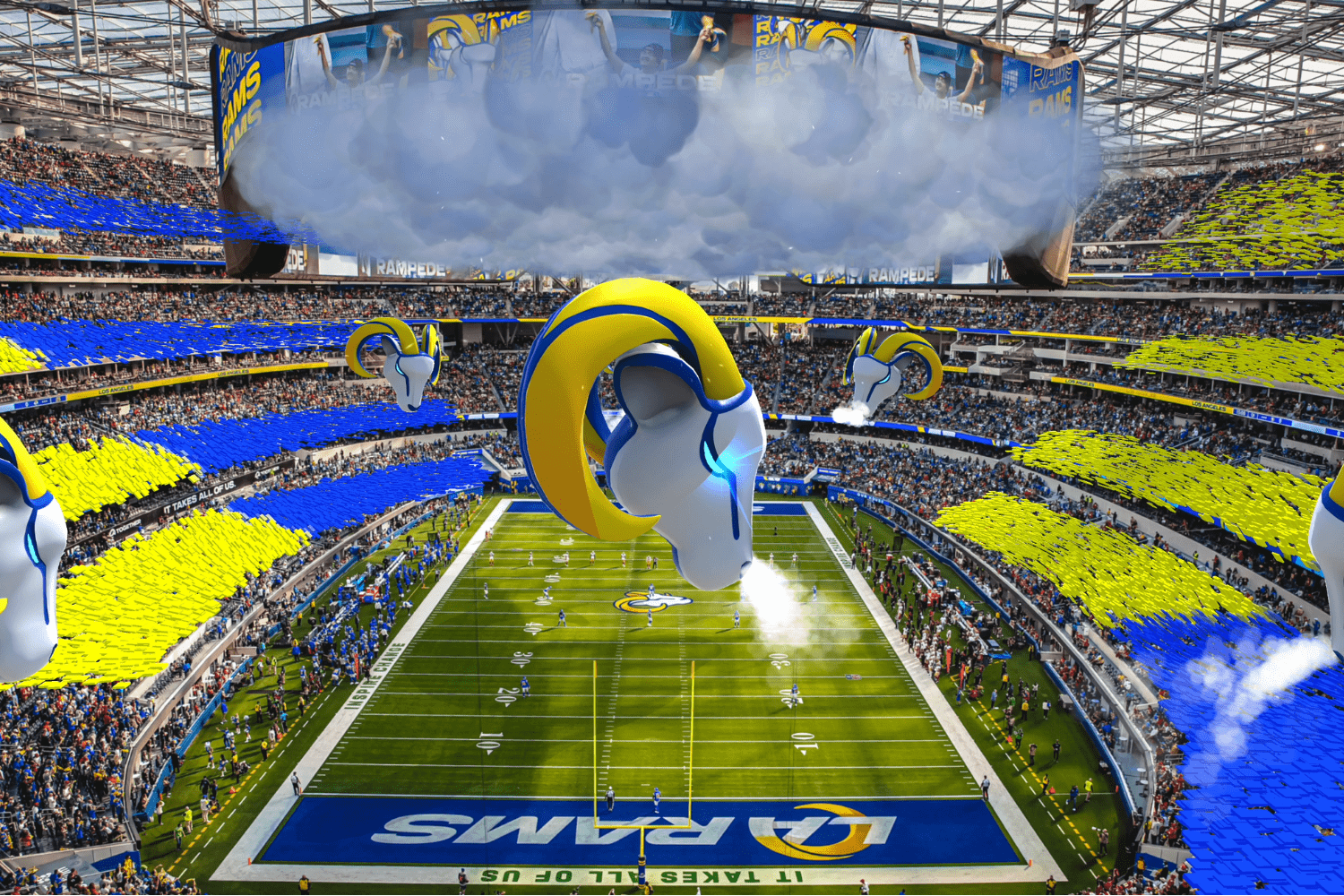 Despite a proliferation of platforms and devices upon which fans can experience live sport over the past twenty years, from laptops and mobile devices to smart TVs, the basic transactional experience has changed little in that time period. The content is broadcast by a provider and the fans watches it on a device, with the experience only varying across the platform in terms of the fan's physical location — their couch, a bar, on the go, or even at the game itself.
That paradigm may be changing, though, as the Los Angeles Rams have announced a groundbreaking new augmented reality experience. Branded as ARound, the technology, which was also trialed by the Minnesota Twins earlier this summer, allows fans to experience a shared augmented reality experience at SoFi Stadium, as well as at home.
The in-stadium experience allows fans, no matter where they are seated, to experience larger than life graphics and animations of current players by downloading a device on their phones. When the field is viewed through the device, these images appear, in concert with sound processed in the stadium, creating a more immersive, fan-centric approach. Fans can enter their seat location as well, which makes their view of the experience unique to their location.
"Fans come to the stadium to feel closer to the game, to the players, and to other fans. We developed ARound to enhance those feelings through highly immersive and interactive AR experiences that complement the action on the field," said Josh Beatty, CEO of ARound. The experience makes big plays come to life, and allows for a greater sense of excitement for fans around the success of their team, with key players appearing to be massive figures on the field after big plays.
A powerful experience at home or at the stadium
Fans can also interact with each other on the app, creating profiles with avatars and images, allowing a shared sense of individuals' presence and of community, even across a giant stadium. For those watching along at home, the experience is similarly boosted, only through their devices, rather than by using a seat-specific app. Named "The Best Seat in the House," the at-home experience allows fans to engage with fellow fans at the game, as well as with others who are watching along at home, like themselves.
What's more, even as this new platform shows plenty of promise, there is likely to be even more to come, with the further development of AR and VR (virtual reality technology) potentially providing a fully immersive experience for at-home viewers. Continued Beatty, "With products like Apple and Google AR Glasses already in development we're excited to open up the living room to blended TV experiences we know are the future of broadcast entertainment."
The next generation of fans?
Most importantly, perhaps, the technology, both at the stadium and for home viewing, has shown an incredible engagement rate among young people. Already used to engaging through apps like Snapchat which use filters and cartoon avatars as an "augmented" way of communicating, teens have taken to ARound eagerly, with the potential for teams to build lifelong fans. "Right now, tweens love this,'' Beatty said. "You don't have to sell them on it. They are already in this space."