FLAMENGO RETAIN LEAGUE TITLE AND THEIR FANS TAKE TO SOCIAL MEDIA TO CELEBRATE
We saw some huge results in our weekly look at the Campeonato Brasileirão Série A's performances and their clubs on the major social media platforms: Facebook, Twitter, and Instagram, with the final round of the Brasileirão taking place and the title decided.
Despite Flamengo nervous 2-1 defeat to Sao Paulo they still clinched the league title on the final day after challengers Internacional could only draw 0-0 at home to Corinthians.
Flamengo also remains the rightful ruler of the leaderboard this week, with a remarkable 40 million interactions! This performance accounts for a massive 54.35% of interactions this week, a week that resulted in a new record of 73.58 million total interactions.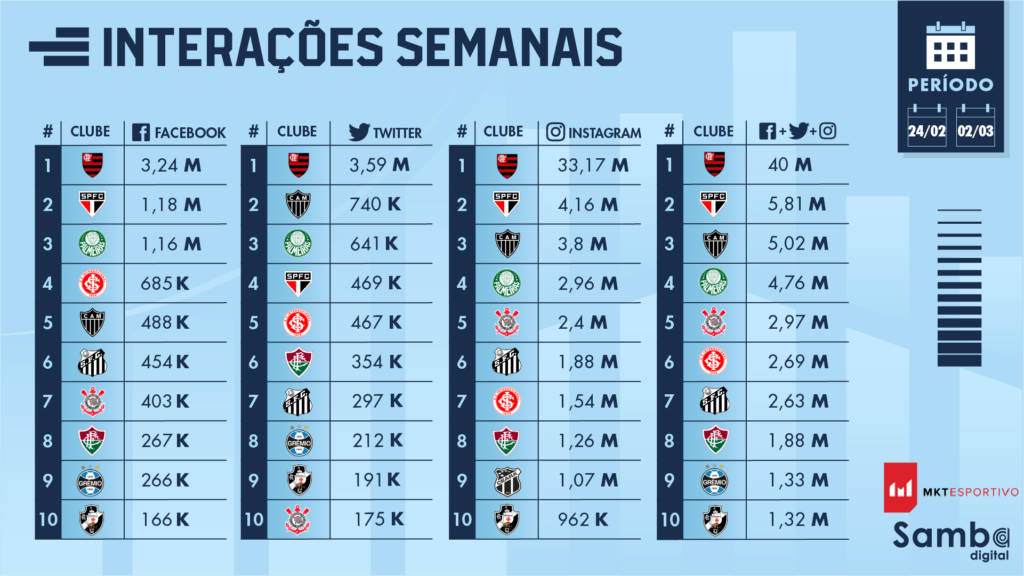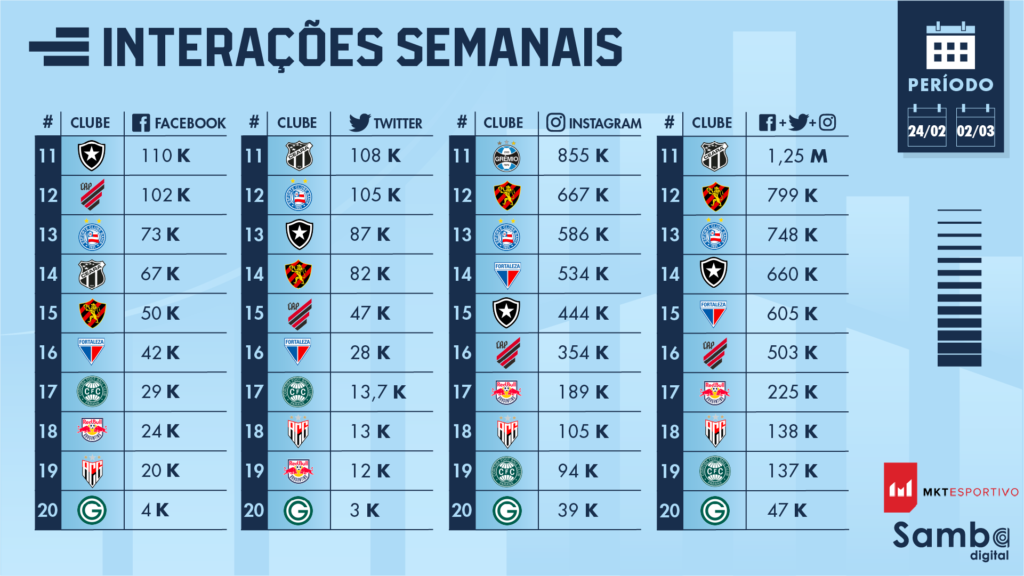 Instagram saw a massive rise of 49.2 % in interactions this week, more than double their interactions from last week. The progress doesn't stop there. Facebook saw a huge rise in interactions, from 28.1 million to 57.1 million, a 59.8% increase. This week, Twitter beat Facebook and Instagram to the punch, receiving a 69.2% increase in interactions from the previous week.
The end of this year's Brasileirão
The Brasileirão had to bid us farewell this week, with the final round taking place on the 25th and 26th of February. Fans took to social media to celebrate the fantastic season, resulting in 29.66 million interactions on Instagram alone. This result outperforms the overall interactions for the week of November 2nd to 9th, which reached 29.60 million across the three social networks combined.
Broad Growth
The decisive moment of the championship really made the fans prove their devotion to their teams this week. Thirteen of these clubs have been growing in the last seven days. In addition to Flamengo's growth of 239%, Grêmio increased by an impressive 427%. Then led by Atlético-MG with 315% and Botafogo with 307%. As we travel further down the list, we have Ceará with an incredible 223% and Atlético-GO with 130%. Bahia was able to hit double digits this week with 93%, International with 55.5%, and Palmeiras with 53%. Redbull Bragantino earned a 51% rise, and in the bottom three we saw Vasco with 36.6%, Fluminense with 36.2 %, and finally São Paulo with 26.5 %.
In the opposite direction
Unfortunately, it wasn't all positive news as the results of three unfortunate clubs declined. Fortaleza earned a slight decrease of 13.1%, followed by Sport with a decrease of 34.2 %. Goiás really struggled with a big drop of 55.7 % this week. At the same time, the three clubs entered the last round without any pretensions. Fortaleza and Sport were now exempt from relegation, while Goiás had already been demoted. Although Santos, Corinthians, Athlético-PR, and Coritiba didn't decline in results, their performance this week didn't lead to any growth.
Flamengo x The Rest
The peaks of the week are not shocking, as Flamengo features in every one of them this week due to their incredible performance. Flamengo earned 33.17 million interactions this week on Instagram, crushing all 19 teams that had achieved a total of 23.92 million.
Flamengo also had success on Facebook and Twitter, despite the fact that the team didn't outperform the other teams in terms of total interactions. On Facebook, Flamengo received 3.2 million interactions, while the other 19 teams received 5.6 million. On Twitter, it was a close call, with Flamengo gaining 3.59 million interactions compared to 4.05 million for the other teams.
GET IN TOUCH