FLAMENGO REMAIN ON THEIR GUARD AS PALMEIRAS CLIMBS TO THE TOP LEADERBOARD
Palmeiras have really cleaned up their act from last week as they climb to the top of the table for Facebook and Twitter interactions. This significant rise can almost certainly be attributed to their amazing last gasp win in the Copa Libertadores. Flamengo remains at the top of Instagram interactions, however they will have to be at the top of their game as Palmeiras climbs to second place.
In honour of our ongoing relationship with MKT Esportivo in Brazil, we will continue to publish a weekly update on the clubs at Campeonato Brasileiro Série A on Facebook, Instagram and Twitter.
Below are statistics for the 27th of January – 2nd of February 2021 on Facebook, Twitter and Instagram… with a near first place rivalry unfolding.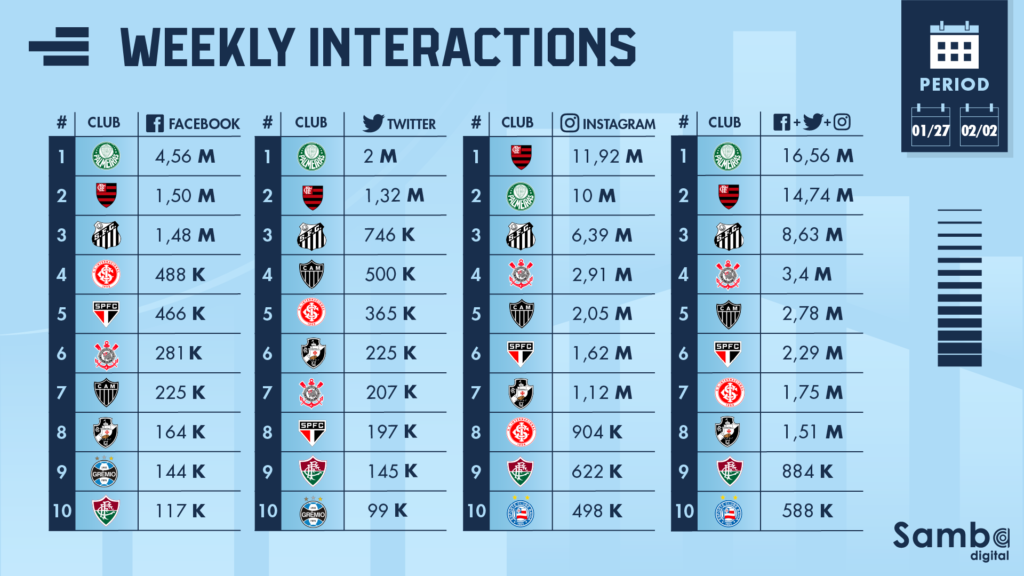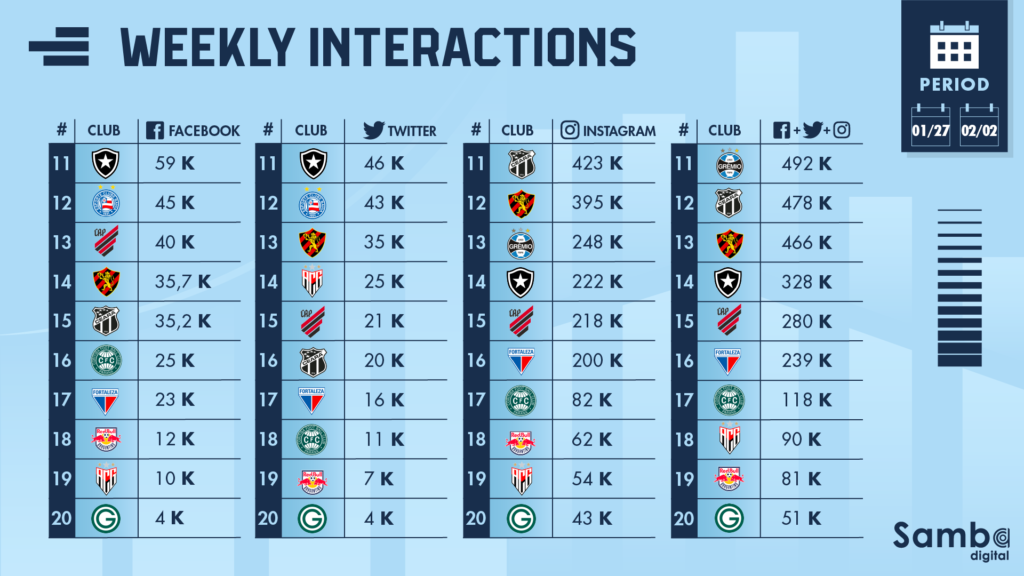 CONCENTRATION OF INTERACTIONS
Fifteen clubs are losing the fight for interactions, with just five clubs seeing an improvement in interactions over the past week. The Palmeiras, star club of the week and their opponent, Flamengo, were two of the successes. Followed by Santos, Atletico-MG and Bahia.
Palmeiras, Flamengo and Santos' interactions, when combined, increased dramatically by 22 million interactions compared to last week. Galo and Bahia followed suit with a subtle rise of 780,000 interactions over the previous week.
TITLE OF THE LIBERTADORES HELPED
Palmeiras may have the title of Copa Libertadores to thank for its performance in the Facebook and Twitter rankings. After this title, the club got an increase of 13.59 million interactions in the last week. In addition to this huge result, they have had an impressive 5.58% engagement rate with their Instagram followers.
DESPITE THE TITLE …
Despite Palmeira's performance in winning the Libertadores, this was apparently not enough to dominate the weekly ranking. Flamengo remains in at least one spot in the weekly ranking. Flamengo has retained its spot on Instagram with an astounding 11,92 million interactions. These results may have been attributed to their success against Grêmio. This match led Flamengo to cross almost 5 million interactions in just 24 hours!
THE RUNNERS-UP ALSO HAD A GOOD PERFORMANCE
While they were defeated in the final Copa Libertadores, Santos created an increase of 4.77 million interactions. Despite their loss, they should still be proud as they had the second-largest increase. Santos became the leader of the interactions on Wednesday, January 27th. The winning team earned 1 million interactions from images of the delegation heading for the deciding match against Palmeiras.
Saturday was the final in Maracanã, where Santos got 2.55 million interactions. Unfortunately, this was put in second place, with Palmeiras earning 3.24 million. Despite the unfortunate defeat on Saturday, Santos still had a reason to celebrate the weekend. As they had 223,000 interactions on Sunday, 329,000 on Monday, and 353,000 on Tuesday!
REGIONAL ANALYSIS
Ceará
In Fortaleza, Ceará upholds their reputation as they continue to dominate over its competition. It may seem a long time ago but in the last week of November, Ceará was loosing against their archrival by just a 1,000 interactions.
Rio de Janeiro
Vasco remains in second place, which may be a shock to some due to a 44% decrease in interactions. However, Vasco's weekly numbers are almost double of Fluminense, who reached 884,000 interactions in the last 7 days. Unfortunately, Botafogo performance continues to decrease with a total of 328,000 interactions. Therefore, resulting in their second-worst performance since these rankings were developed.
HIGHLIGHTS OF THE WEEK
Instagrams highlight of the week was Friday, January 27th. Flamengo's incredible victory against Grêmio led to Flamengo's having the best daily performance of a Brazilain club. Congratulations to Flamengo, who has got 4.51 million interactions! This isn't the only positive news for this team. They also defeated the winner of Libertadores, Palmeiras, who has a total of 1.65 million interactions.
On Saturday, the Facebook highlight included Palmeiras, the leader in Facebook interactions in our social media table. Palmeiras managed 1.71 million interactions on 28 January, followed by 1.65 million interactions on the following day.
Palmeiras is also the leader of Twitter interactions this week, making it fitting that they are the highlight of the week. This victorious team received 781,000 interactions on Saturday alone due to winning the Copa Libertadores.
WE CAN FINISH THIS WEEK ON A HAPPY NOTE
This past week saw a huge jump in interactions of 55.79 million, a rise of 38% compared to the previous week. The average interactions over the last seven weeks amounted to 38 million, indicating a major increase this week.
All three of the social networks have raised their overall interaction over the course of this week. For example, Facebook created a 57% increase to 9.7 million interactions. Instagram maintains its infamous reputation as having crossed over 40 million interactions. The result was an average rise of 37% compared to last week. Finally, Twitter is third, with a substantial rise of 19%.
GET IN TOUCH