Flamengo Dominate Social Media Interactions for Brazil's Série A
As part of our recently announced partnership with MKT Esportivo in Brazil, we take a weekly look at the performance of clubs in Campeonato Brasileiro Série A on social media platforms.
Clubs from the country often rank highly in the most engaged with clubs in the world. In March this year Soccerex shared their 'social media 'Top Scores' in which Flamengo, Corinthians and São Paulo all ranked in the top 25 globally. The fans in Brazil are very passionate!
Below are the statistics for the last week (15th – 21st September) for the 20 teams across Facebook, Twitter and Instagram…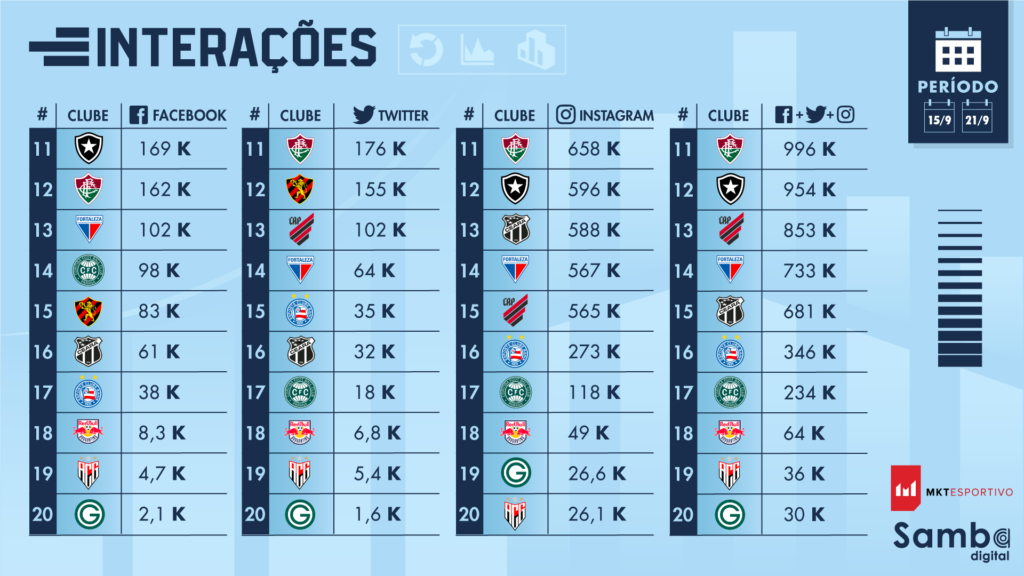 Flamengo top the charts (again)
Flamengo, unsurprisingly, came out on top on each of the three platforms and totalled 7.16m interactions. This despite not posting at all after their 0-5 defeat against Independente Del Valle in the Libertadores group stage.
One area of interest is the difference in interactions between the main Facebook platform and its sister company Instagram. In Brazil, the best performance from a club on Instagram was 7x higher than the number on Facebook.
Flamengo saw 275k interactions on Facebook on 17th September, versus the 1,47M interactions on Instagram on 17th September. A huge difference!
The best of the rest
Corinthians' performance in coming second was boosted by Instagram. Corinthians was 4th on Twitter interactions and 5th on Facebook, surging to 2nd on Instagram with 3.26m interactions. Though still less than half that of leaders Flamengo.
Sport Recife meanwhile saw a better week on Instagram compared to their performance other platforms. The signing of Thiago Neves made a big buzz with supporters, and the defeat of Fluminense certainly helped.
The on-pitch performances from Atlético-MG and Internacional, currently first and second in the table, have helped to deliver a social media boost for the clubs on Twitter.
Whilst on 15th September, soon after losing against bottom side Goiás, Internacional went silent on Instagram – coincidentally the day of Grêmio's bday – and it put Internacional in 9th place on the platform for the week. Even so, the numbers were higher than those for Grêmio numbers for the week.
GET IN TOUCH