Concacaf Champions League and Gold Cup rights secured by TelevisaUnivision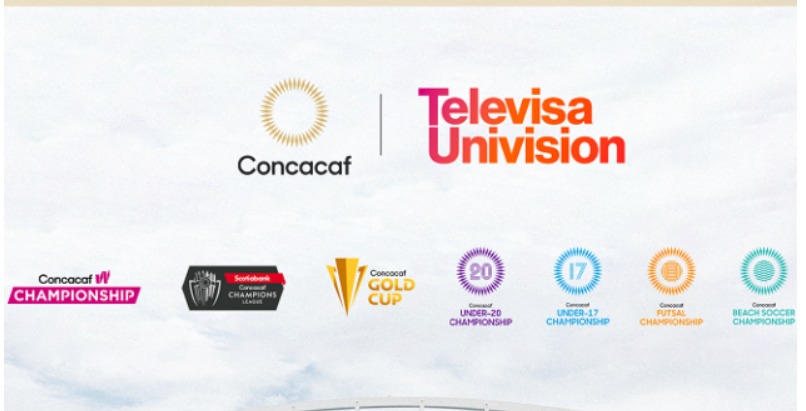 Concacaf has inked a multi-year US rights deal with Spanish-language media company TelevisaUnivision, covering various competitions run by the governing body in Central and North America.
The agreement includes the 2023 and 2025 editions of the Concacaf Gold Cup national team tournament and the Concacaf Champions League club competitions from 2023 to 2025. This time the summer's women's Concacaf championships, as well as 2022 and 2024's Concacaf Under 20 Championships, beach soccer, and futsal competitions, will be a part of this deal.
Concacaf's annual rights fee from TelevisaUnivision will increase by a 'mid-double-digit percentage' under the new deal.
However, it should be noted that this isn't a direct comparison as there are a few competitions not included in the initial deal, and with the Concacaf Champions League expanding from 16 to 27 teams in 2024, TelevisaUnivision's new deal will include more inventory.
The emergence of TelevisaUnivision
TelevisaUnivision was formed when Mexico-based Grupo Televisa and the US Univision holdings decided to merge in April 2021.
Last month, TelevisaUnivision's earnings report revealed that it had recorded US$1 billion in revenue for the first quarter of 2022, the figures reflect an upward trajectory as the company recorded US$896 million in revenue the year prior.
Univision's growing portfolio of US rights includes the UEFA Champions League, Major League Soccer and Liga MX.
While Concacaf was able to secure a deal for its Spanish-language media rights in the US, the organization is looking to land an English-language rights partner for a package that includes the Concacaf Champions League from 2023 to 2025 and the 2025 Gold Cup. The confederation's current deal with Fox Sports includes next year's Gold Cup, while CBS Sports holds the rights to this summer's Concacaf women's championship under a separate deal.
Learn more about IQIYI SPORTS ACQUIRES SERIE A RIGHTS