Brazil's Social Media Popularity
Brazil is the most populous Portuguese-speaking nation in the world and has become a huge representative of the social media game when it comes to numerous sports, particularly in football. The use of social media for many in Brazil proved to be a significant factor in how they have been popular but has also played in part to the significant number of Brazilians playing for some of the biggest teams in the world.
Here's a look at how Brazil has become a giant in the social media market for sports brands.
Passion And Competitiveness
Football is huge in Brazil. When you win five FIFA World Cups, the expectations are tremendous to try and display yourself as one of the best teams ever in the sport which means that these players of 2020 are under the microscope to try and emulate what stars of the past like Pele, Zico, Ronaldo, and Ronaldinho did. That same attention is now placed on current stars such as Neymar, Roberto Firmino, Alisson, Gabriel Jesus, Lucas Moura, and many other Brazilian stars around the world.
What helps these brands is to try and relate back to the players by promoting them for the respective clubs that they play for. Examples may include the likes of Neymar with Marquinhos at PSG and Alisson with Roberto Firmino for Liverpool.
Another crucial part has been being to stand out and promote the players by using different accounts for specific languages. Because of the popular name on a specific team, it has allowed many football teams to create their own social media built specifically for Portuguese-speaking fans of the team, be it from Brazil or Portugal. The ability for them to reach out to specific fans and allow them to create content that can be catered to a specific audience allows for the club to be more flexible and creative.
Culture Familiarization
A crucial part of these accounts is to allow them to be familiar with popular trends that continue to change in Brazil and keeping up with the things people in the country are talking about. According to a study, the country has the fourth-largest number of internet users in the world. A key example would be the popularity of the reality show "Big Brother Brazil" that has seen a lot of high ratings and has become the talk of the talk in the country.
What AS Monaco's Portuguese account did to capitalize on that was doing something so simple and use a Photoshop of two popular participants like Felipe Prior and Babu Santana of them in Monaco shirts and using the #BBB hashtag and a catchy tweet, which eventually led to a huge rise in outreach as it got 5,000 RTs and over 30,000 likes on Twitter.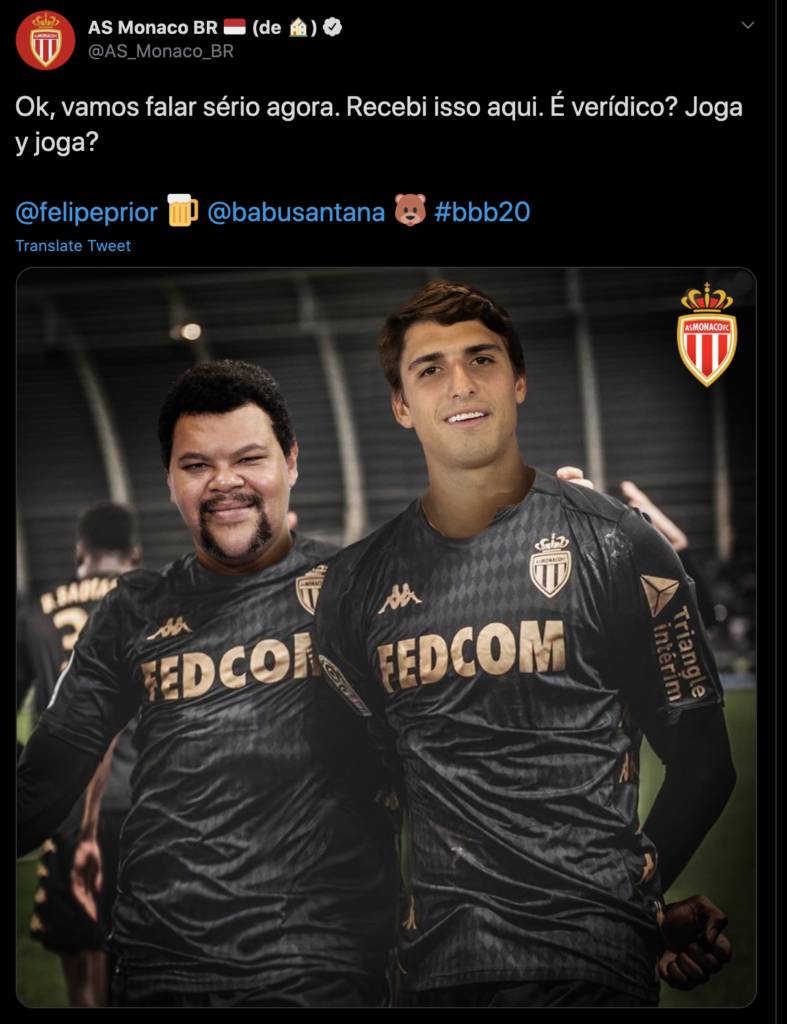 Wagner Leitzke, the Social Media Manager & Coordinator for Samba Agency spoke about this familiarity and how these brands can be original when it comes to finding the right trends at the right time.
« Our knowledge of the market is even more important than the content itself. For example, everyone can create the content in the same way, but perhaps they don't have an understanding of it, which I think is the most important thing, understand why it was created and the next steps after the community react to it."
For more information on how many of these Portuguese-speaking social media accounts have been able to capitalize on these trends, make sure to contact us at Samba Agency's contact page.