Atlético-MG celebrate Ronaldinho and São Paulo climb the rankings
In our analysis of Instagram, Facebook, and Twitter, the Brazilian Serie A saw a slight increase compared to the previous week. In total these three social networks generated 29.9 million, which is a slight rise of 2.32%. However it is not all good news in Brazil, as Serie B has seen a 15.1% decline in interactions.
Despite the rise in Serie A, their digital performance is the second lowest in 2021, with just a small improvement over the previous week. Is this how fans are voicing their frustration with the State Championships?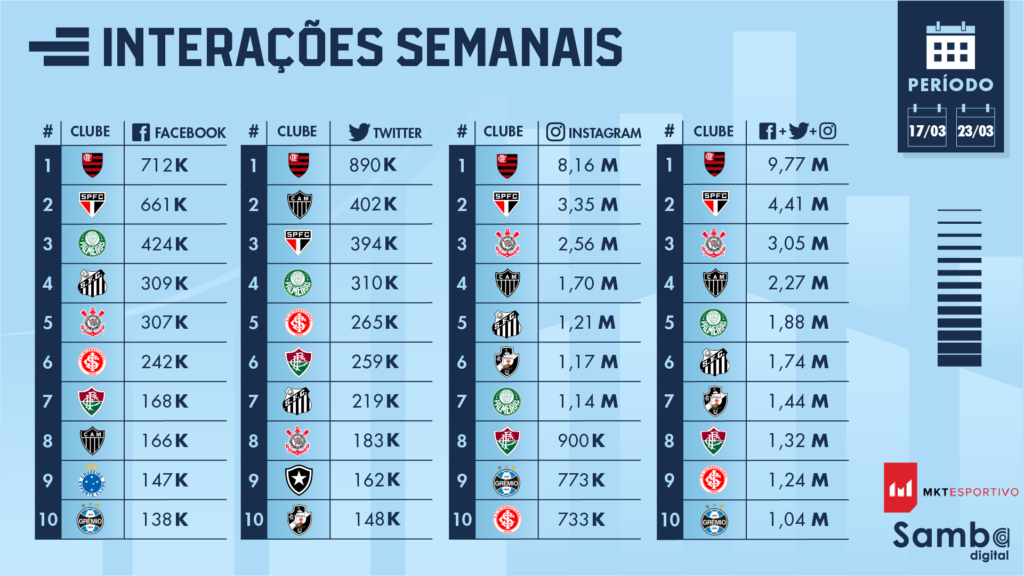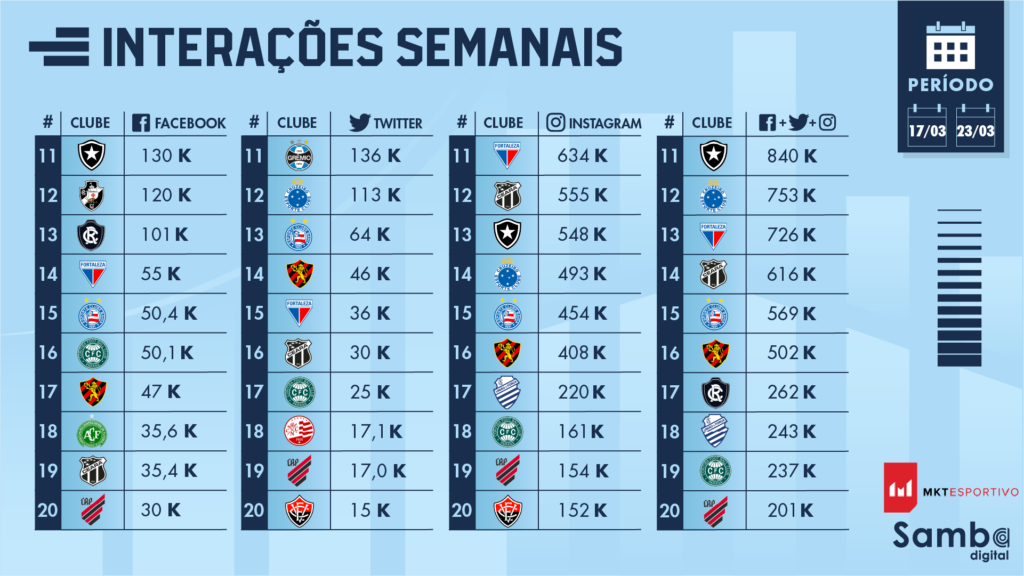 Facebook x Twitter – The difference has never been so small
With a 4% decline in the past week, Facebook saw Twitter exceed the total number of Serie A team interactions. In addition to increasing by nearly 10%, Twitter has narrowed the gap between these two sites by just 148,000 interactions.
Who fluctuated this week?
Flamengo must have put in a lot of effort this week as their performance has improved by 33% in that time. Not only has their performance improved, but so have their interactions, as they have passed 10 million in just seven days. Palmeiras looms in their shadow with a nearly 48% drop and Santos close behind with a 50% decrease.
Cruzeiro has had a mixed week, starting with a strong performance in the interaction rankings. However, after losing to América-MG, they have fallen 51% in the last week. Despite the limited number of interactions, the "Coelho" has increased from 59,000 to 90,000 this week.
Reinforcements leverages interactions
In just 24 hours on Wednesday, São Paulo got 1.55 million Instagram interactions thanks to the defender Miranda's announcement. This excellent performance accounted for over 46% of the SPFC's total of 3.35 million interactions for the entire week.
Reverence for the idol
The 21st of March will be memorable to fans as Atlético-MG paid tribute to Ronaldinho. Within a week, the club had produced 11 Instagram posts commemorating his career's most memorable moments and accomplishments. The club created 460,000 interactions as a result of these posts, earning them the second-best performance of the day.
Performance on Instagram keeps Vasco on top, but …
This week, Vasco received 1.14 million Instagram interactions. They were, however, ranked 12th on Facebook and 10th on Twitter. Despite their strong success on Instagram, they were only ranked seventh overall.
Caldense's fans created 310,000 interactions from all their hard work following a 1-1 draw in the Copa do Brasil. However, since the majority of these interactions were negative, this might not be good news. The fans' dissatisfaction with the team's recent results has resulted in these unpleasant interactions.
The classic match against Botafogo for the State Championship on March 21st, 2021, was another game that did not attract a cheering audience. Despite the fact that this game had 300,000 interactions, the team was not at its best. The club only just tied in the second half. With no reason to celebrate, the team was met with negative and anger-fuelled interactions from their once supportive fans.
GET IN TOUCH