5 hot cryptocurrency & NFT trends in esports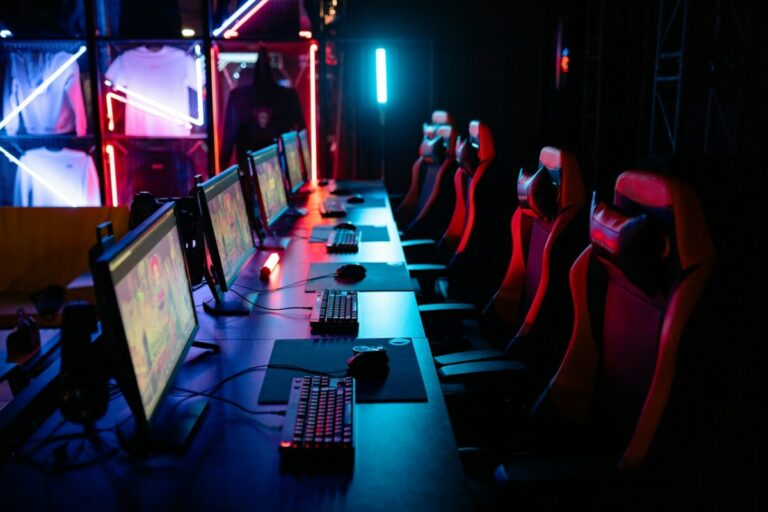 Without a doubt, one of the most significant developments of the digital age is the rise of esports.
The esports market currently stands at a value of over $1 billion with around 234 million dedicated fans around the globe.
Boasting the competitive nature of physical sports with the immersive excitement of modern gaming, esports has exploded in recent years. The growth of this space has created droves of new challenges, wealthy esporting heroes, and many more forward-thinking avenues in terms of promotion, sponsorship, and currency.
Here we're going to look at the evolution of esports while exploring how cryptocurrency and NFTs are set to shape the future of the industry.
The emerging cryptocurrency and NFT trends we're going to uncover will give you insight into an exciting new age for esports while ensuring your finger remains firmly on the digital pulse.
1.The Rise of tokenization in gaming
One of the most prominent NFT and crypto trends in eSports is the rise of tokenization in gaming.
Accelerated by the pandemic, the growth of tokenization in gaming has empowered players to take charge of their professional destiny by participating in challenges and trading free from the shackles of intermediary bodies.
Coin Poker, for instance, is a blockchain-based gaming platform that an increasing number of esports players are adopting to enjoy secure currency exchanges, lucrative promotions, and a wide-spread community of enthusiasts. This ever-growing platform is set to potentially expand its esports betting offering while adding to its portfolio of gaming opportunities—with other tokenization providers likely to follow suit in the not so distant future.
As tokenization adoption increases in esports, new NFT-based merchandising opportunities will emerge for professional teams and players as well as community-backed sponsorship and even token-based contracting. Here the key point will be moving away from governing gaming bodies and moving toward personal empowerment within the industry.
2.The broadening of the metaverse and web 3.0
The new age of the metaverse and web 3.0 is on the horizon. In this new digital world, immersive technologies like virtual reality (VR) and augmented reality (AR) will become a standard way of interaction on the World Wide Web.
A significant characteristic of the metaverse will be the gradual decentralization of the internet, with content and experiences governed by individuals and communities rather than controlling entities. This is a development that falls directly in-line with the concept of the blockchain, NFTs, and cryptocurrency.
As the metaverse and web 3.0 matures, mass eSporting events will explode, with droves of spectators able to tune in and become immersed in the action from the comfort of their homes.
This scope will create a potentially rewarding playing field where prize pots will skyrocket and decentralized sporting deals will thrive.
The Free Fire World Series 2021 and the League of Legends attracted a collective 10 million spectators alone—showcasing the colossal potential of eSporting spectacles early on. As we head towards the age of metaverse and web 3.0, the size, scope, and frequency of these events are likely to expand significantly.
3. The expansion of fan NFTs and in-game assets
Next in our rundown of cryptocurrency and NFT trends in esports is the potential expansion of NFT and in-game assets.
As blockchain-based platforms continue to influence the world of esports, NFTs and in-game assets have the potential to become powerful tools for driving fan engagement and attracting new teams, players or personalities into the global arena.
There has been a longstanding skepticism surrounding NFTs in the esports world—a reluctance that hasn't been helped by the recent cryptocurrency market crash. But, the success of in-game tokenization and the popularity of fan collectibles is likely to prompt esports NFT growth as the market recovers.
Esports fans do invest in NFTs, primarily to keep as collectibles. In the not so distant future, we're likely to see esports teams and personalities creating one-of-a-kind merchandise, autographs, exclusive access assets, and a host of other NFT-based commodities.
Respected esports model 100 Thieves, for instance, released 300,000 collectible NFTs to thank fans for their ongoing support—a strategy that sparked a healthy level of platform engagement. Proof that there is a valid (and potentially valuable) place for NFTs in esports.
NFT-style in-game assets are also creating a deeper level of value for esports players, presenting opportunities to buy or win unique tokens, limited edition player skins, and personalised branded content to treasure or trade at their leisure.
4.The introduction of community and team branding
Earlier, we touched on the community-developing power of tokenization in esports. By placing power into the hands of the people, cryptocurrency and NFTs have spawned the introduction of community and team-based branding within the industry.
For an esports agency or marketer, the decentralised playing field developed by crypto and NFTs presents priceless opportunities for reaching new audiences and developing value-driven branded campaigns at a community level.
By making fans and players a central part of the narrative, esports teams or brands can cement customer loyalty and improve brand advocacy. Using NFTs and crypto to add an immersive element to their content or experiences, brands can create personalised incentives that keep fans or players coming back for more.
We've already seen the success of NFT-based marketing campaigns within the traditional sporting industry. Athletic wear brand Asics, for example, launched a striking limited edition range of running sneakers in 2021 which they sold as NFTs.
Proceeds raised from the 189 digital assets went directly to Asic's 'Digital Artist In Residence' program and the forward-thinking initiative resulted in a healthy level of brand awareness. Asics described this triumphant campaign as "a celebration of sport and a first step in building a future where digital goods inspire physical activity."
As leading esports communities back these NFT and crypto branding initiatives, we are likely to see the launch of countless innovative campaigns this year, and beyond, with fans and players able to become ideators, content creators, and investors.
5.A rise of fan-based crypto adoption in esport
Last but not least, we're going to look at a trend that ties everything we've discussed together. As the digital and physical world continues to merge, an increasing number of traditional sports brands or teams will dip their toes into the gaming world, bringing their fans along for the ride.
The likes of Manchester City and Sporting Lisbon have expressed interest in getting involved with FIFA esports leagues or tournaments. America's prestigious National Basketball Association is also enjoying immense success with its immersive esports league, NBA 2K.
As traditional sports and esports collide, a spike in fan-based cryptocurrency adoption seems inevitable. Currently, the value of football club crypto tokens stands at $350 million (and that's just one small branch of this rapidly-growing industry).
With countless new fans, clubs, and brands waking up to the power of NFTs and crypto everyday, fan-based adoption will expand significantly in the near future (and beyond).
Final thoughts
Despite recent setbacks, cryptocurrency and NFTs have the power to shape the future of esports in a positive way. With the innate potential to enrich fan experiences, provide greater scope for individual as well as community development, and present a wealth of immersive marketing opportunities for brands, blockchain technology is set to take the industry to a new level.
Here are the attributes that are likely to boost the success of cryptocurrency and NFTs in esports in the coming years:
● Flexibility: With a choice of coins and tokens on offer, cryptocurrency and NFTs can offer fans and players the freedom and flexibility to participate without being bound to a restrictive, linear means of betting or trading
● Value: As crypto coins and NFTs are broader in their scope, values can often exceed that of traditional currency when the market is buoyant. This provides fans as well as players the potential for increased profits coupled with the excitement of trading
● Empowerment: As cryptocurrencies and NFTs exist on the blockchain, they are decentralised. This means that the owners of these innovative digital currencies have complete control of their assets without being governed by a bank or an official authority.
By keeping your finger well and truly on the pulse, you stand to reap countless rewards from this bold new chapter in esports.
If you're looking for ways to leverage the NFT and crypto esports landscape to your brand- boosting advantage, we're an eSport industry that can get you where you need to be.
Contact us and we'll be happy to answer any questions and launch an esports marketing campaign tailored to your specific goals and objectives.