YOUTUBE RELEASES UPDATED SPORTS PLATFORM AND ITS LATEST CTV OFFER
How many hours have we spent on YouTube? Like us you have probably spent far too many hours watching sports highlights and reels when you're supposed to be doing more important things. Now this experience has been made even better – introducing YouTube's latest way to watch sports and a new way for businesses to reach their virtual sports fans.
The popular belief that TV is our first choice for amusement is disappearing fast as we move towards a more tailored way of watching. As we continue to become loyal to streaming platforms such as YouTube, sports fans have a broader library of content to enjoy. In the words of the ISG, YouTube has been called the best-preferred streaming site for sports fans throughout the US.
During this time of lockdown and the inability to see live matches, our TVs have been the best alternative.  As a result, the time spent viewing sports videos on TV screens has risen by more than 65% in the last year.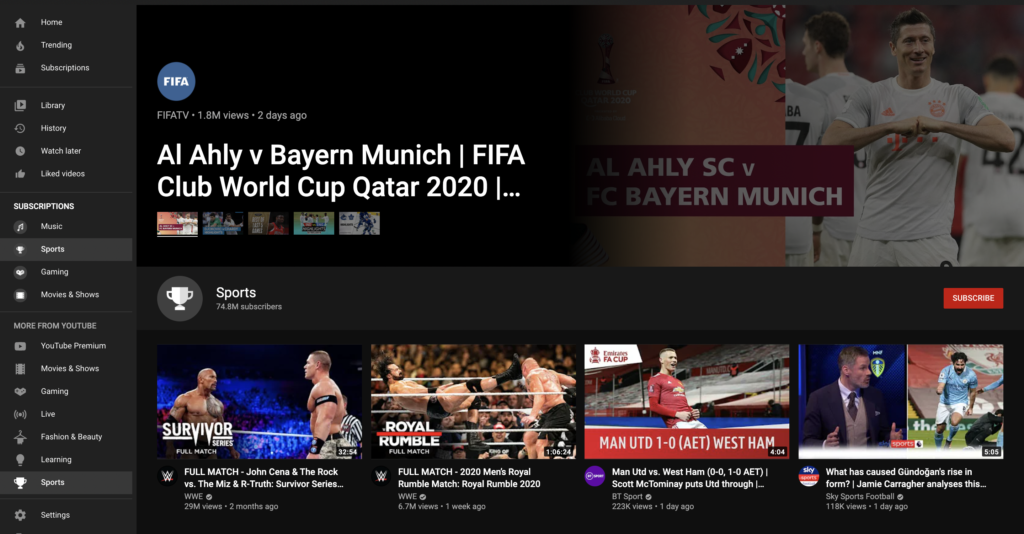 Youtube has taken these figures and ran with them as they developed YouTube.com/Sports. This new location devoted to all sporting activities helps users to find all the content they want. When entering the section, we are engulfed in fantastic clips and highlights from everywhere in the world. We can find live broadcasts or panels, including interviews with the greatest athletes, as well as material from popular sport-focused YouTube channels.
How can we find this new section?
We can discover all of our personalised content by clicking on the explore tab on our phones or by accessing the page on the left-hand navigation bar from your laptop. The latest highlights from recent games, popular videos based on your location, and even sports news from major channels will be made available. Every fan can find any video for a variety of sports, including but not limited to: the NFL, MBA, NBA, WWE, and LaLiga. You can access all the latest news, but if you'd like a trip down memory lane, you can access all the iconic clips from previous games of your favourite sports. Who doesn't love a bit of nostalgia?
Our content options, however, do not end there. We can also find players who have made their own content for their fans. We can obtain first-hand insights as to how players work and what they have planned for future games.
Great news for advertisers
YouTube's latest CTV offering, which is part of YouTube Select, enables marketers to access this new material to reach their demographic. This CTV has attracted a lot of attention. So much so that the CTV offer is now developing its reach to Australia, Canada, India, and Japan. But we can expect access to more countries to follow soon. What does this indicate to marketers? It makes it easier to match CTV advertising with the best YouTube sports material viewed on both YouTube and YouTube TV apps.
NordicTrack is one of CTV's success stories. Ryan Dunkley, Vice President of Marketing, explained that they were able to identify key demographics via YouTube Select CTV. Therefore, helping them to increase brand lifts by 91% and brand awareness by 4%.
CTV has the capacity to assist businesses in establishing key audiences in order to raise brand awareness. A fantastic tool, which I am sure will continue to grow in the future. This new dedication to sports will really allow us sports fans to keep up to date and have fun, especially while we can't experience the real thing. Everything is there ready for you to watch, just hop in!
GET IN TOUCH