Top LATAM clubs total 3.66 billion interactions in 2021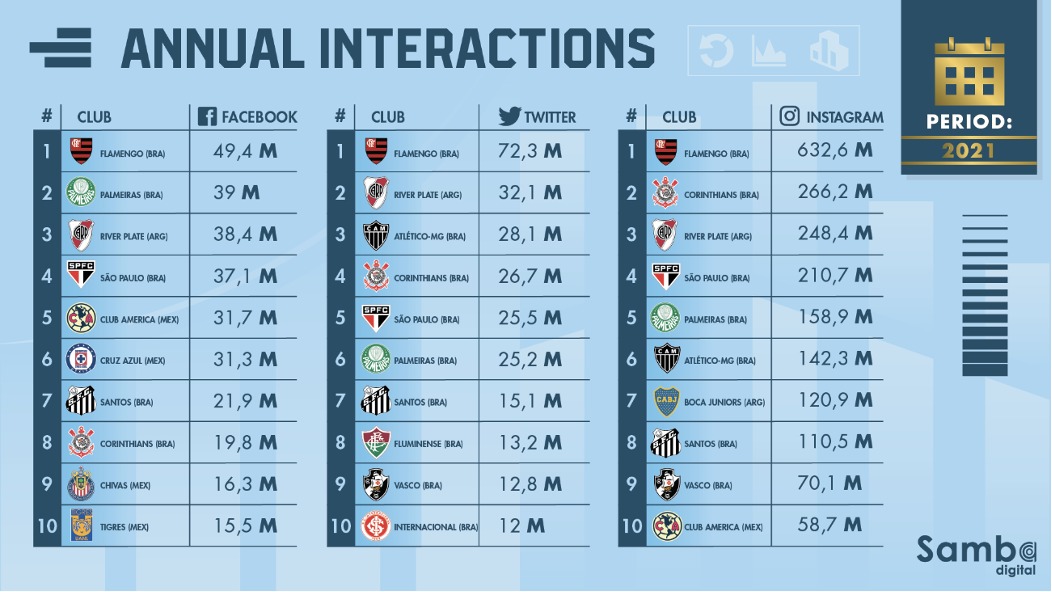 These figures take into account likes, reports, and comments on posts from clubs in six countries on the three major social networks.
There were 3.66 billion interactions in 862 thousand posts. This impressive figure represents the total number of interactions from first division clubs in Argentina, Brazil, Chile, Colombia, Mexico, and Uruguay on Facebook, Twitter, and Instagram, the three most popular social networks among supporters, throughout 2021.
Brazil, the most populous country among those studied – with 212.6 million residents – gained slightly over 2.3 billion and accounted for 62.8% of total interactions in the study. Along with Brazil, despite being more populated than Argentina, Mexico, with 129 million inhabitants, added up to 384.6 million interactions, trailing the 617 million interactions produced by Argentines, whose country has roughly 46 million individuals.
Flamengo's success
Flamengo really stands out among the clubs. The Rio de Janeiro club led the three major social networks with 754.3 million interactions despite failing to win the Brazilian Championship, Copa Libertadores da América, and Copa do Brasil, the three major competitions on the Brazilian club calendar.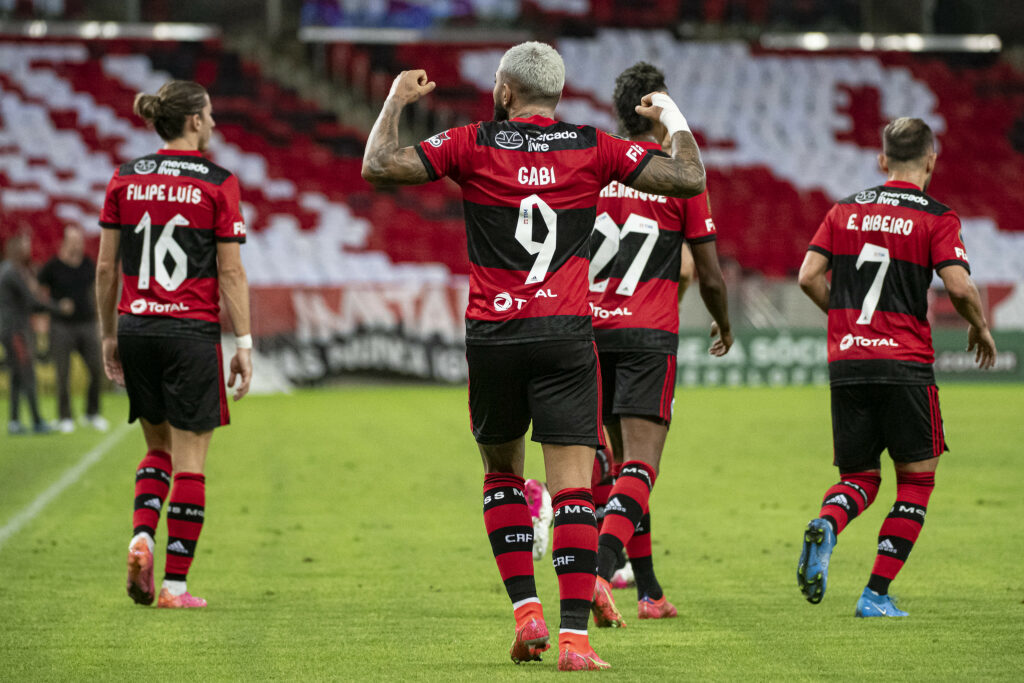 Of course, we couldn't forget Bernardo Monteiro, Communications Director at Clube de Regatas Flamengo, who praised the big numbers and spoke a little about the association's commitment to the digital universe:
"Since we took over the management of the networks, in January 2019, we were committed to consolidating Flamengo's hegemony in social networks. We have the biggest fan base in the world, with more than 42 million fans and we believe that, by delivering better quality content, in multiple formats of consumption and with increasing coverage, fans not only get closer to the club but also to use Flamengo's official channels as their main source of information and to be possible, the consistency of the work needs to be maintained", stated Bernardo Monteiro.
Bernardo highlighted that consistency of material in many formats, such as journalistic content and entertainment content, as well as other genres, ensure growth and audience retention.
"The results shown in the metric rankings are true reveals of the stratospheric engagement of the Flamengo fans!", he concluded.
River: the Argentinian highlight
River Plate of Argentina is another club that came out on top in 2021. When we consider that five out of every six persons are Brazilians and only one is argentine, the Argentine club has a strong engagement rate with 319 million interactions throughout the year.
In fact, River Plate, the second-most-interacted-with club on Twitter, is the only team to break through Brazil's domination on the social network. Surprisingly, Boca Juniors is the next team on Twitter outside the Brazilians, at 12th place.
Learn more about River Plate's rise in the LATAM standings by clicking here.
Mexico, with a population 2.6 times greater than Argentina, saw much higher numbers on Facebook, but not on Instagram, where it experienced 2.4 times lower numbers. Belonging to North America, unlike the other countries analyzed, Mexico experienced a change in behavior in interactions throughout 2021. In the first half of the year, Facebook typically had more interactions across the months than Instagram. However, the situation progressively shifted, and Instagram concluded 2021 with 194.3 million engagements, compared to Facebook's 151.1 million.
Video Views
It is vital to note that when we talk about interactions, we only take into account likes, reposts, and comments on posts and videos. Interactions are not counted for video views.
Using Instagram and Facebook, the six countries total 4.43 billion views of slightly more than 115,000 videos posted in 2021. It is wrong to believe that the number of views is bigger since Instagram interactions are considerably more.
Facebook has a superior track record with 2.53 billion views than Instagram, which has 1.89 billion. Mexico is primarily responsible for this disparity, as Facebook had 1.14 billion views compared to only 104 million for Instagram. In addition to Mexico, Chile and Colombia were among the countries with the highest number of users on Facebook. Brazil, Argentina, and Uruguay already exhibit the opposite pattern when it comes to video consumption