The NFL shows why Snapchat is a contender once again
Since the advent of Instagram Stories in 2016, Snapchat has dropped further down (if not off) the lists of many marketers and social media managers when they look at where to invest time and resource.
This could be because some see it more as an AR platform than a social network, and that it's main social features had been cloned by Instagram, which has a far greater reach.
But things are changing.
The fans are still there, and in Q2 this year Snapchat added 9 million new daily active users, pushing the total DAU up to 238 million.
Part of that increase can be put down to increased innovation and new features being launched.
One such innovation was the launch of Snapchat Minis, which allow for third-party developers to create apps within the ecosystem. Once teams, leagues and brands see that innovation and the increased growth then they are going to want to be part of it.
With its more user-friendly interface, something much-needed to attract new users, there is a much more positive feel towards Snapchat. One that can be bought into and the likes of the NFL are always going to be at the forefront of any digital innovation.
For the first time, Snapchat will be a source for official highlights of every game of the coming season. Add to that high-quality NFL shows and perspectives from players in the locker room with 'Our Stories' and you have quite a compelling case to tune in. Something that Snapchat and the NFL will be banking on.
But how do people use Snapchat when it comes to sport? In a survey commissioned by Snapchat for the 2020 Super Bowl it found that it was mostly used to share videos and images from the game and direct messaging friends and family.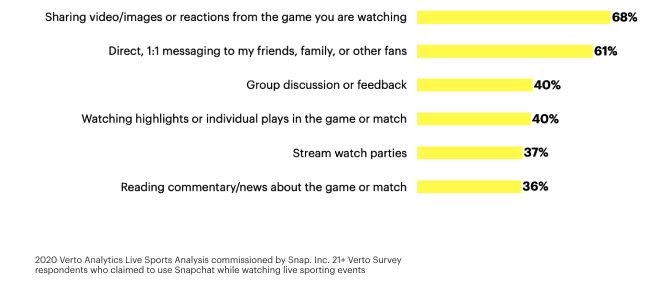 This engagement between fans and the way that they use are very much geared to what sports are looking to do in connecting with fans.
In 2019 a SportsPro Media article on Snapchat's sports content strategy had a core audience who spent 30 minutes a day on the platform and, more importantly, was more popular with teens in the US than Instagram. In the UK it was estimated by eMarketer that it would be more popular with 18-24 year-olds than Facebook by the turn of the year.
Tie together this knowledge and the maturing of the company after some difficult years, and the recently announced expanded programming deals with the NFL, NBA and ESPN make a lot of sense.
Sport is forever looking to and experimenting with how to attract young fans to their sport, and will go where the fans are. So if the NBA sees teen fans going to Snapchat then that is where they will go and will put resource into engaging with them on there.
Add to this the probability that much of the NFL season will be played in fan-less stadiums, then doubling down on the at-home experience is the way that sports, and the brands surrounding them, will be the way they have to go.
TO FIND OUT HOW YOU CAN ENGAGE WITH SPORTS FANS USING DIGITAL, GET IN TOUCH VIA OUR CONTACT PAGE.