SANTOS MAKES HISTORY WHILST BEING FIRST ON THE SOCIAL MEDIA TABLE
After a historic week for the club, Santos fans made themselves heard on social media, hitting record numbers and putting the club top of our league! In honour of our ongoing relationship with MKT Esportivo in Brazil, we will continue to publish a weekly update on the clubs at Campeonato Brasileiro Série A on Facebook, Instagram and Twitter.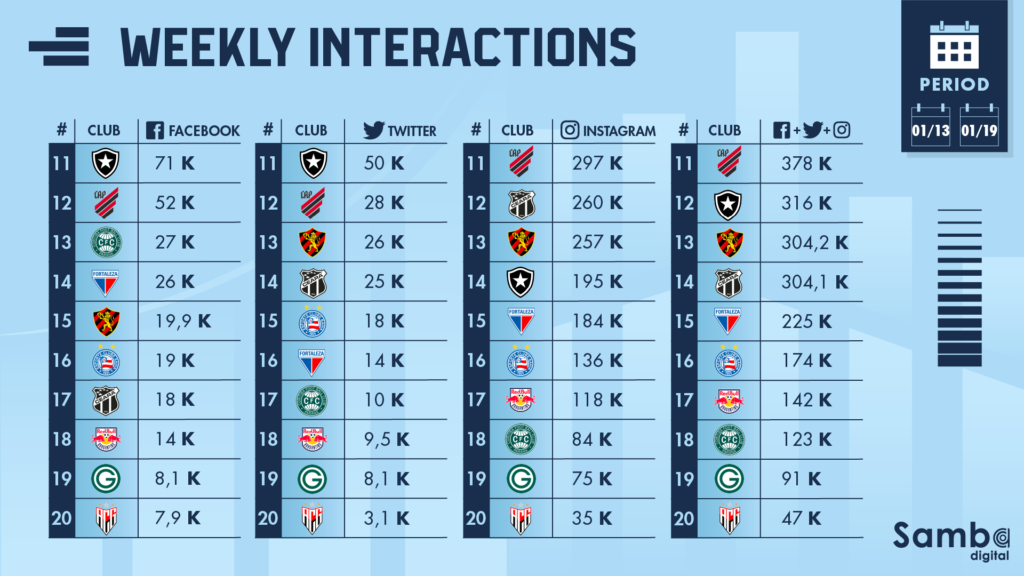 SANTOS TAKES THE LEAD!
This week Santos was channelling their mascot, the Big Fish, as they glided through to the Copa Libertadores finals. Santos, with 8.59 million interactions, was the fourth team to hit the top of the weekly metrics ranking since it was released.
The performance of Santos didn't just end there! They did the impossible feat by defeating Flamengo on Instagram. Santos achieved 6.05 million interactions this week, beating the Rio team by more than 345,000 interactions. Santos also set a new record on Facebook this week, with an 87% rise in interactions compared to last week.
SUCCESS FOR PALMEIRAS
Palmeiras was the opposition of Santos in the final of the Copa Libertadores. Not only did they hit a milestone of 2.4 million Facebook interactions, but they also set a new social network interaction record in just one week!
Thanks to the team's talent, they won 4-0 over their arch nemesis: Corinthians. This remarkable victory led Palmerias to cross 1.2 million interactions. While the football team is third on the Instagram leaderboard, they are still growing as they have since gained 87,000 extra interactions.
STRENGTH IN DEFEAT
The great victory of Corinthians against Fluminense on January 13th was not the only win for the club. They have seen a 143% spike across the 3 social networking sites.
While Corinthians have had great success, they have also suffered a great loss this week. Corinthians' loss against Palmerias will have hurt their confidence.
However, they have had some success through social media – receiving, in total, 4.86 million interactions on Instagram, and 2.05 million of those interactions, as a result of the losses they experienced. Corinthians humbly embraced defeat with a post and received 300,000 interactions from their patriotic fans.
Nine of the twenty teams analysed this week have encountered a decline in their social media interactions over the past seven days, casting a negative light on the performance of the North-Eastern Teams. For instance, Ceará and Sport experienced a decline of 64%, Bahia with minus 50%, Vasco and Fortaleza followed by a decline of 47%, Fluminense -45%, São Paulo and Botafogo -31% and finally Athletico PR with a slight decline of 25%.
HIGHLIGHTS OF THE WEEK
Flamengo was featured on Instagram's highlight of the week. This is due to their 3-0 win on the 19th against Goiás, inspiring their fans to interact with Flamengo's official online profile, leading them to 2.89 million interactions.
Facebook highlighted one of the stars for this week's social media table, Palmeiras. This is due to the 1 million interactions they've gained since leaving the Cotherinains game victorious. Although this may prove that we should take everything with a pinch of salt, as the losing team earned more than 2.05 million interactions after the game. Twitter highlighted 346,000 thousand interactions when Santos celebrated its place at the Copa Libertadores final on Thursday, the 14th.
OVERALL FIGURES CONTINUE TO CLIMB!
The statistics from 13 to 19 January 2021 were highly successful due to the 39.63 million cumulative interactions received. This is a significant increase of 14.62% compared to the previous week, courtesy of the following clubs:
Since we have more time on our hands, we tend to use social media more. This is certainly the case this week, particularly for Instagram, which had more than 28.05 million interactions. This was reported to be 70% of the total interactions this week and an improvement of 13.3% compared to the previous 6th-12th January 2021 report.
Facebook experienced the greatest percentage increase in interactions (18.5%), followed by Twitter (16.9%) and Instagram (13.3%).
GET IN TOUCH