Samba's Weekly Trends from LatAm and the US (21/08/20)
GREAT CONTENT
As the NBA playoffs get underway, this stunning video from the LA Lakers gets the heart racing and builds the anticipation beautifully.
A powerful video from ESPN earlier in the month as MLB started up again and one of the biggest rivalries took to the field with the New York Yankees hosting the Boston Red Sox.
For Children's Day in Argentina, Independiente put together this wonderful video showing young fans at the games and how they are an important part of the club.
And finally players from the biggest clubs in Argentina came together for a government campaign to support the continuation of COVID 19 restrictions in the country. #ArgentinaUnida
PLATFORM UPDATES
The top sports clubs on TikTok for July has been released by @deportfinanzas, a month in which most football leagues finished off their prolonged seasons. And the build up to the Champions League and Europa League knockout events started. Clubs are dipping their toes into the platform, and with Instagram Reels launching globally in August it will be interesting to see what effect this has on the platform.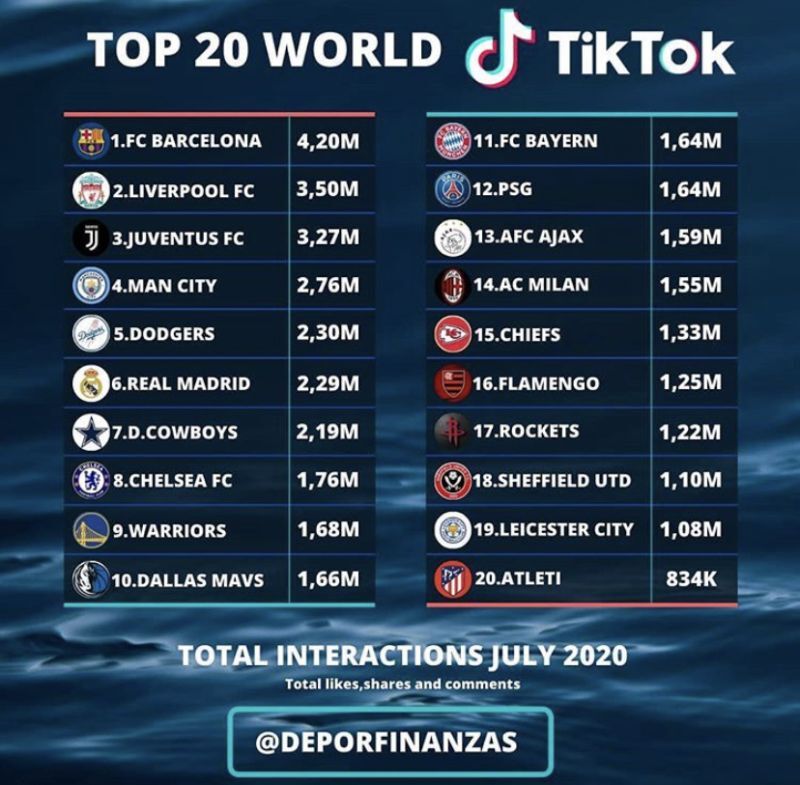 Facebook begins merging Instagram and Messenger chats in new update – Several editors at The Verge across the country — on both iOS and Android devices — noticed an update screen popped up in Instagram's mobile app with the message "There's a New Way to Message on Instagram" with a list of features including a "new colorful look for your chats," more emoji reactions, swipe-to-reply, and the big one: "chat with friends who use Facebook." (The Verge)
TikTok Provides an Overview of its Analytics Tools – TikTok has this week published some new pointers on how to make best use of its analytics tools, which are available on TikTok Pro accounts. (SocialMediaToday)
Facebook launches support for paid online events – Head of Facebook App Fidji Simo said that Facebook's Events feature was designed for in-person events, but with the COVID-19 pandemic and resulting social distancing orders, the company "really quickly pivoted" to supporting online events. (TechCrunch)
KEEP INFORMED WITH OUR SAMBA ARTICLES
👉 HOW NEYMAR ALMOST BROKE TWITTER AHEAD OF LAST WEEK'S CHAMPIONS LEAGUE TIE
👉 ONE WEEK IN, SO HOW ARE CLUBS USING INSTAGRAM REELS?
GET IN TOUCH