Numbers of interactions with football club profiles drops in Latin America this June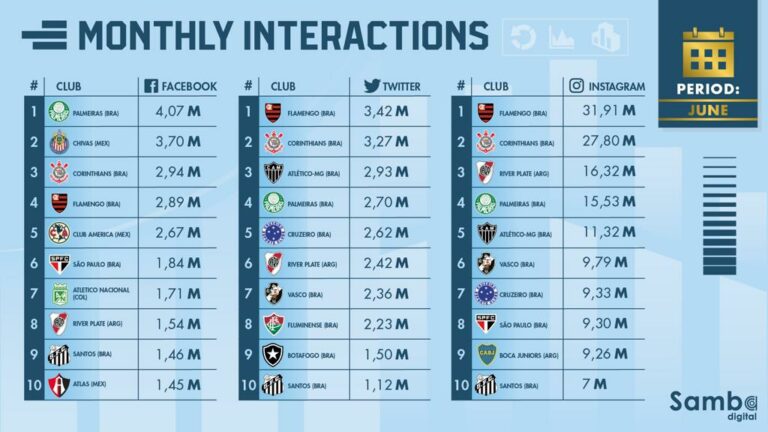 The month of June saw the participation of fans with the clubs' social media profiles drop in Latin America.
The average of 302 million interactions – including Instagram, Twitter and Facebook in six countries (Argentina, Brazil, Chile, Colombia, Mexico and Uruguay) – dropped dramatically in June: 274 million.
This trend was registered across all social media networks.
In direct comparison with the previous month (May), Facebook had a drop of 6 million interactions – a decrease of 12%. This drop was led by the Mexican clubs, that went from 20.53 million interactions to 13.41 million.
The performance on Facebook made Mexico fall behind Brazil on the platform. In May, Mexico had 20.53 million interactions, against 17.76 million for Brazilian Serie A clubs.
"Inactivity is the main reason for this drop. The tournament stopped for almost two months and during the pre-season there is not much content. Of course, when they announce signings or important dates for the semester, the interaction returns", said Juan Pablo López Villegas, editor of Bolavip, one of the main Mexican media outlets.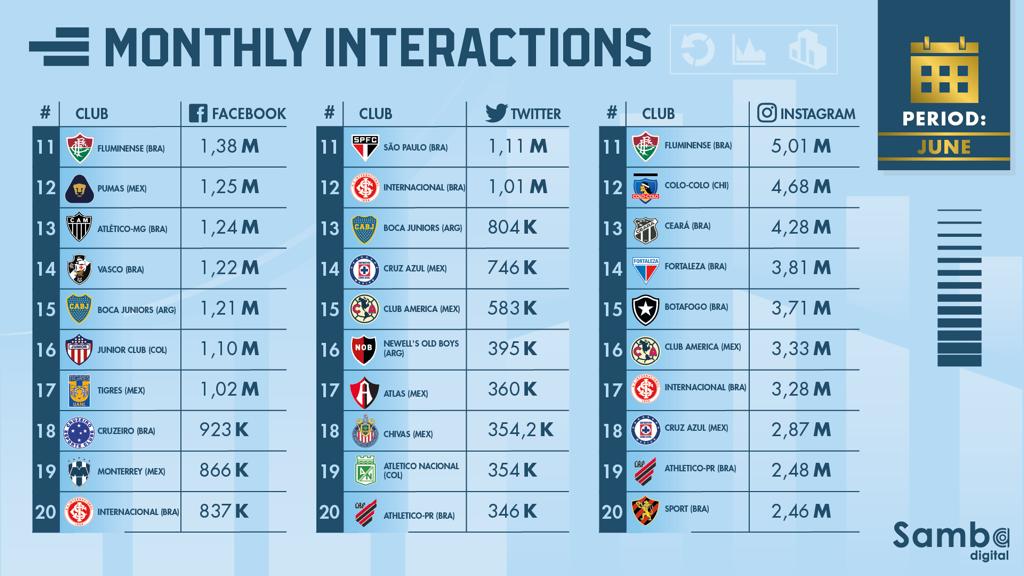 The main social media platform in number of interactions, Instagram also dropped for a few reasons.
The first is the fact that Brazilian numbers in recent weeks have been below expectations. The second downfall is technical: Instagram does not provide data regarding Reels.
"Today, Reels is one of the best possible strategies to generate reach. The platform's algorithm benefits this type of content, pushing it more prominently in the Explore tab and thus reaching people who are not yet your followers, but will be impacted by the content." explains Wagner Leitzke, Social Media Manager at Samba Digital.
As a result, the number did not grow proportionally to the number of posts.
Nonetheless, Flamengo kept the lead, and the post with most likes and organic comments was the fanaticism of one of its fans.
Finally, Twitter, despite the small drop in relation to the previous month, also remained in the monthly oscillation of the last few months.
"Twitter presents a very peculiar form of consumption. Consolidated in Brazil as the second  main social media platform, its format did not take off in the other countries analyzed. Chile, for instance, managed to enter the 20+ only twice, and the numbers of interactions between clubs and users never grow steadily", reveals Bernardo Besouchet, PR Manager at Samba Digital, responsible for the agency's digital performance analysis.