NBC Has Big EPL Weekend with Record Viewership and Fan Fest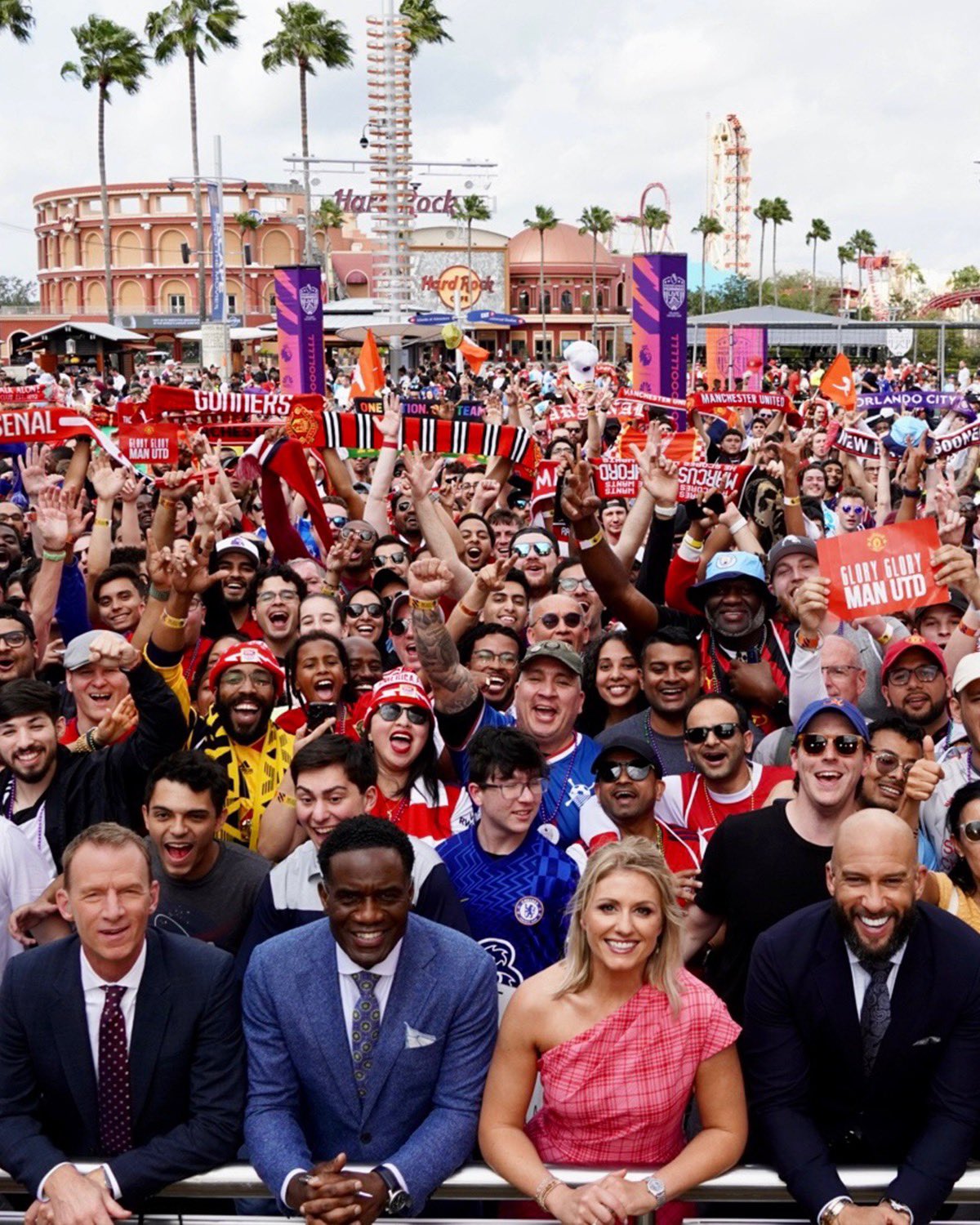 Familiar names like Manchester City and Tottenham Hotspur are in the mix for the top four in the Premier League this season, but a recent resurgence by of two legendary names in the competition — Arsenal and Manchester United — has been key to driving an ever-expanding appetite for the competition in the United States. Both teams have had difficulties at times since the departures of their legendary managers, Arsene Wenger and Sir Alex Ferguson, but each are now coming along well under Mikel Arteta and Erik Ten Hag, playing attractive, attacking football.
Arsenal are even the surprise league leaders, sitting ahead of Manchester City by five points, with a game in hand. Should they hold on, it would be their first title in almost twenty years. United are a further six points back of their derby rivals at the time of writing, but are locked in a fierce battle with Newcastle and Tottenham to secure a Champions League place, having missed out on the competition last season, and are also one of the league's form teams.
🗣️ WE ARE TOP OF THE LEAGUE! #MyPLMorning pic.twitter.com/IAMztQH2vH

— NBC Sports Soccer (@NBCSportsSoccer) January 22, 2023
Thus, a sort of perfect storm of two popular, in-form teams playing at a time that was ideal for American audiences came together on Sunday, with the two sides kicking off at 11:30 ET. What followed was a thrilling match with Arsenal's young striker, Eddie Nketiah, sealing a win for the hosts with a stoppage time goal. That this was a captivating encounter was also borne out in the ratings for the match.
NBC's presentation of the match was watched by nearly two million people, a record for a Premier League match across both traditional television and the network's Peacock streaming service. An additional nearly 400,000 fans tuned in to the Spanish-language broadcast on Telemundo, underscoring what has been an impressive season for NBC. The match also served to cap a weekend that centered around the network's eighth fan festival, held across Saturday and Sunday in Orlando.
BEST FANS IN THE WORLD! 🙌 #MyPLMorning pic.twitter.com/AolVfTe6sK

— NBC Sports Soccer (@NBCSportsSoccer) January 22, 2023
Featuring the network's well-know cadre of analysts, including former Everton and USMNT goalkeeper Tim Howard, host Rebecca Lowe, and more, the event, followed a similar one in October. It was held at the iconic Universal Studios and being staged at a theme park allowed plenty of space for fans to gather across the event's two days, as well as a unique and striking setting. It also allowed for the opportunity to create engaging content with the panelists, who were joined by special guests including footballers Alan Shearer and Gary Cahill, as well as WWE stars Nikki Cross and Santos Escobar and Olympic medalist Noah Lyles.
While the exact attendance isn't yet known, some 20,000 fans registered for the event, making it the most successful by that measure to date. However, in addition to this amount of registered fans, the placement of the event within Universal Studios meant that every one of the estimated 30,000 people who attended the theme park that day had to pass by it, adding an extra level of visual exposure that may not have been as possible at previous venues.
More than anything, though, the fan fest represents an important chance for fans to connect with each other, as well as with their teams. This is especially important for clubs that may not have local fan group chapters in different cities, such as Crystal Palace, the London-based club owned by American John Textor. The Eagles, as they are known, took the extra step of bringing not only their American-style costumed mascot  but also a live eagle, which was featured on the telecast.
.@CPFC mascots Pete and Challenger have landed at the Orlando Fan Fest! #MyPLMorning pic.twitter.com/KvgFwpKUBS

— NBC Sports Soccer (@NBCSportsSoccer) January 21, 2023
Events like these can give a curious fan or a fan of football who may not yet have a preferred Premier League team unique and new ways to connect with the league's clubs, something that isn't necessarily possible outside of the biggest cities. "The Premier League tells its clubs, 'If part of your strategy is growing your US fanbase, then this is the perfect opportunity to do so,'" explained Director of Consumer Engagement for NBC Sports Kristin Hurst. "Clubs do different things. Everybody wants to make a mark with that fanbase."
This appetite to position themselves as unique via storytelling or in-person engagement remains vital for all of the teams, and, ably supported by the network, we can only expect this sort of event to continue to grow in prominence and influence. This sort of growth is key for teams no matter their position in the table, and underscores the important role that NBC has played in growing the game in the United States to date, something which looks set to continue apace.
Header credit: NBCSportsSoccer/Twitter