Welcome to our LATAM club rankings, where we rank clubs from Brazil, Mexico, Argentina, Uruguay, Chile, and Columbia on a monthly basis. We saw some impressive results from their club's performances across the three major social media platforms in April, with Flamengo topping the leaderboards on Facebook, Twitter, and Instagram.
April Considerations
In comparison to March, there was a 14.14% rise in Facebook, Twitter, and Instagram interactions last month. The end of the Brazilian Championship and the start of the Regional Championships could be viewed as key factors in the significant decrease in interactions in March. However, the Brazilians' bad luck came to an end in April, when they staged a huge comeback. With 142 million monthly Instagram engagements, Brazil has hit the highest monthly engagement mark. This huge increase can be attributed to the launch of the Copa Libertadores da América. Flamengo, in particular, reaped the benefits of the competition's launch, with 22 million Instagram interactions alone.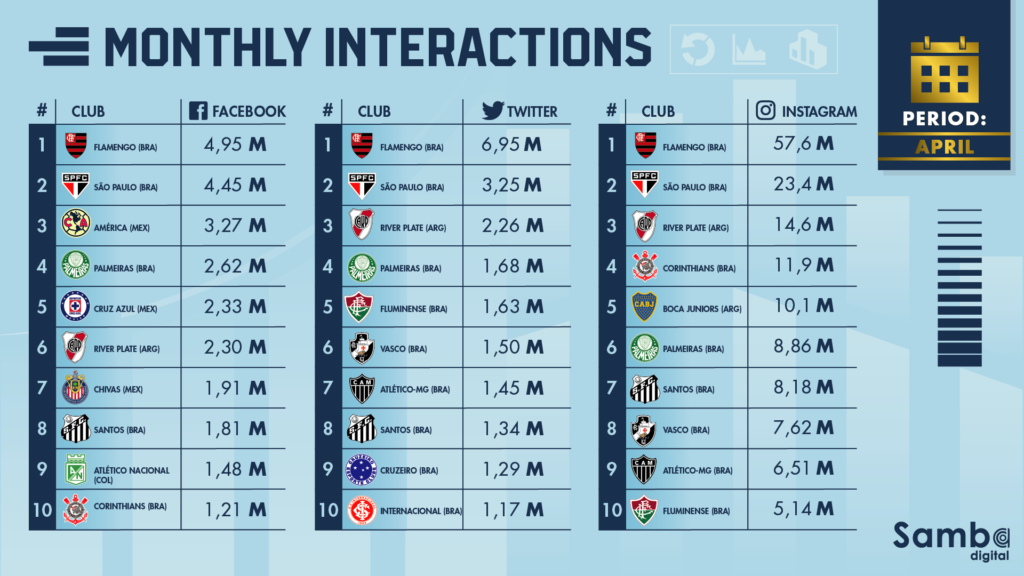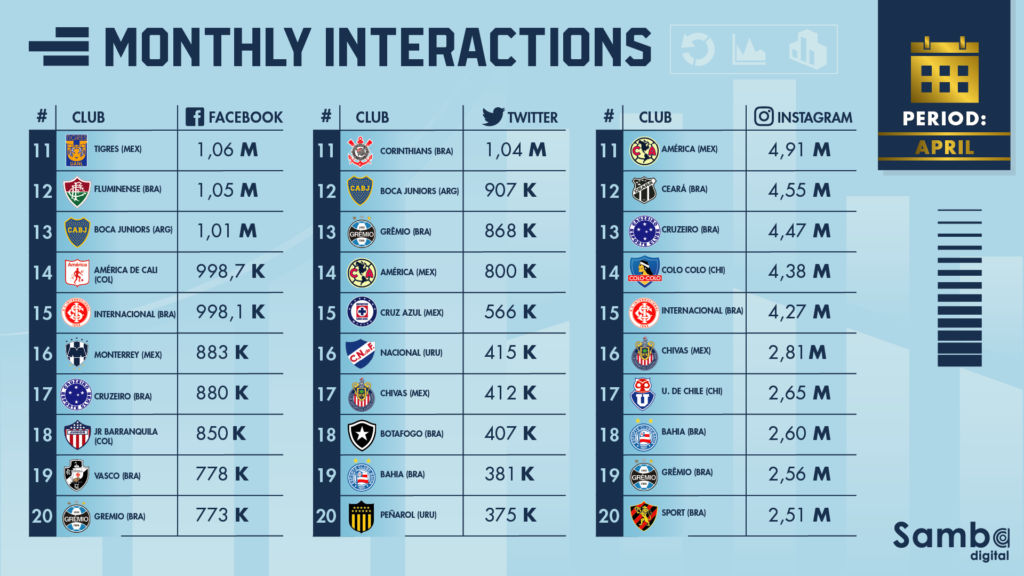 Uruguay and Mexico have seen an increase in their social media success on all three channels, following Brazil's success. The number of interactions in Uruguay has increased by 46.41%, to a whopping 6 million. Brazil isn't far behind, with 183.6 million interactions, up 25.1% from the previous year. Mexico's growth continues to rise, but at a slower pace. They increased by 9.02 percent, gaining 31 million interactions, a goal they had also reached in February.
Flamengo: a case of digital success in April
Flamengo has risen to the top of the charts on each of the three social media sites. They have not only been declared champions, but they have also accounted for 37% of all Brazilian interactions between the 20 teams in the first division.
You can not only read about their performance, but you can also see it. The video below shows Flamengo's celebrations after winning the Brazilian Super Cup on penalty kicks.
Shortly after the victory, this video received 618 thousand views. With 1.54 million interactions in just 24 hours, it rocketed to the peak of the month on Facebook.
This isn't the only video that has made it to the peaks of the month. After this video of the Super Cup victory over Palmeiras was uploaded – still on the Brasilia lawn – the number of interactions on Instagram skyrocketed. For a total of 2.55 million views, this video below gained an impressive 1.050 million interactions, consisting of a mixture of likes and comments.
Twitter Tupiniquim
On Twitter, our Brazilian clubs are well-represented, with nine of the top ten clubs in April being Brazilian. The only exception to this infiltration is Argentina's River Plate. This one squad, however, is no match for these nine teams. Brazilian interactions make up 65.2 % of all interactions, or 20.8 million of the 31.94 million total.
This isn't the only positive news from Twitter; the number of users in countries like Brazil and Argentina is now equal to that of Facebook. For its success in April, Uruguay deserves special mention. This is due to the fact that Uruguayan fans are nearly twice as active as Chileans (977 thousand x 536 thousand interactions). Given that Uruguay's population is 5.5 times smaller than Chile's, this is unexpected.
The difference in numbers
There is a large disparity in numbers from April; consider São Paulo to get a sense of the true gap between first and second place. With a total of 2.5 million interactions, São Paulo had the second-best social network score of the LATAM countries. This large total is due to its successful debut in the Copa Libertadores, which it won 3 to 0 against Sporting Cristal away from home. In contrast, Flamengo beat Velez Sarsfield 3 to 2 in Argentina on the same day, bringing in 4.42 million viewers.
Mexico in numbers
Mexico was the most divided in April when it came to interactions between the three networks. They've seen a slight increase on Instagram, but this hasn't been repeated across all platforms, as Facebook has seen a significant drop. In April, Instagram accounted for 49.45% of all interaction, while Facebook saw a 40.8% drop. Despite its mixed results, Mexico's overall Instagram user base remains small, accounting for just 7.25 % of the total 216.7 million interactions.
When looking at their Facebook performance, Mexico's success is also evident. With 12.98 million interactions, Club América (3rd), Cruz Azul (5th), and Chivas (7th) are among the top ten. Unfortunately, other social media sites have not followed suit, with their results falling short of Mexico's potential as compared to other countries.
In the Instagram analysis, Club América was in 11th, while Chivas was ranked 16th. On Twitter, things aren't any better, with Club América in 14th place with 800 thousand interactions and Chivas in 17th place with 412 thousand interactions.
In Mexico, Chivas Guadalajara produced the most engagement on Instagram. Although it does not seem to be a high point, Atlas got 612 thousand interactions on April 24th, a 1 to 0 win. Chivas hit a high of 360 thousand Facebook interactions, with Instagram being their most successful platform.
Argentina
In April, River Plate's interactions dropped by 8.4 million compared to March. This month's poor performance may be due to Marcelo Gallardo's drop from first to the seventh position on Facebook. Argentina's Facebook interactions are down 2.1 million, and the situation is only getting worse. They continued to lose 5.6 million interactions on Instagram in total.
There is, however, some light at the end of the tunnel: Boca Juniors hit a new high of just over 150 thousand interactions on Facebook, surpassing 1 million. Growth was also slow on Twitter, with just 53,000 interactions and only 10,000 more on Instagram.
The rapid decline of the River and the stability of Boca reduced the total number of Argentine interactions to about four million. In other words, there was a 9.21% drop in April compared to March. Despite the decrease, the number indicates that the other teams saw a small rise, which was insufficient to compensate for River Plate's decline.
They made an impression in March with 51 million interactions, but they fell short in April with just 46.3 million. The next day, they had their best result in Argentina, a thrilling 3-2 victory over Colón in the 9th round of the Argentine Championship. On this exciting day for Rover Plate fans, there were 1.92 million interactions. This success can be compared to Boca's best publication on the 28th, which had 1.3 million interactions on the day it beat Santos in the Libertadores Cup final.
GET IN TOUCH
To find out more about Samba Digital, get in touch with us via our Contacts Page.