RESULTS FOR JUNE 2021 TO JUNE 2022 SEE TRIPLE-DIGIT GROWTH An international marketing agency entirely dedicated to sports and entertainment, admitted to Euronext Lisbon on the 4th of October, has published its latest financial results, demonstrating accelerated growth
Lisbon, 20 October 2022 – Samba Digital, which debuted on the stock market with a valuation of €23.3M, now presents its financial results for the period from June 2021 to 2022.
From Frédéric Fausser, CEO of Samba Digital, "The results for the last full year, from June 2021 to June 2022, demonstrate an impressive growth trajectory in all financial respects and correspond to a period of expansion and expansion of our operation, which today has a portfolio of sports brands that is a global benchmark."

Financial Report through 30 June 2022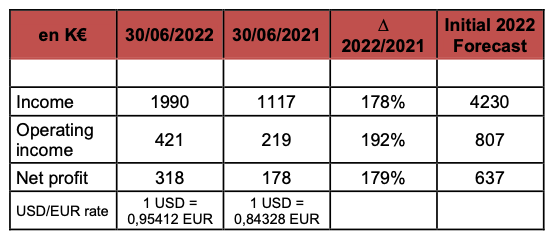 At constant exchange rates, SAMBA Digital recorded growth of:
• Invoices sent on June 30, 2022 compared to June 30, 2021: 156%
• Operating income on 30 June 2022 compared to 30 June 2021: 170%
• Net income on 30 June 2022 compared to 30 June 2021: 158%
Capital: €1.045M on 30 June 2022 versus €390k on 30 June 2021.
It should be noted that capital in 2018, from the date of creation of the company, was only $1,000 USD and the current value of €1.045M results from the incorporation of net income subject to fees and taxes.
The company has no bank debt and, despite self-financing the entirety of its operation, expects to have a net financial position at the end of the year in excess of one million euros.
Quarterly accounts ending 30 September 2022 will be published on 4 November.
However, it should be noted that the turnover on 30 September amounts to €3.311M, with the forecast that the annual target of €4.230KM will be reached and exceeded.
For more information: