THE NIGHT THAT EINTRACHT FRANKFURT CONQUERED BARCELONA AND THE WORLD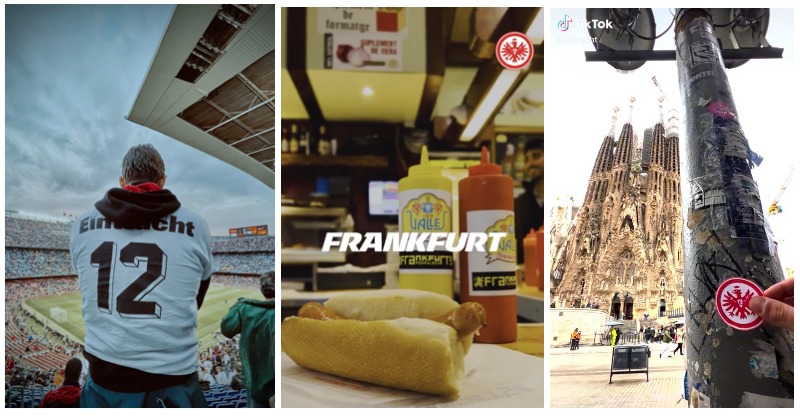 Mission
Eintracht Frankfurt had to visit FC Barcelona in one of the most important games in its history. After a 1-1 draw in Germany, the Eagles wanted to go through to the Europa League semi-finals but they would need an away win at the Camp Nou to get it. Spoiler alert: They won, on the pitch, in the stands and on social media.
Almost 30,000 Eintracht fans traveled to the Catalonian capital and went to the Camp Nou, a record number for away fans in European competitions. That huge support helped Frankfurt to win 3-2 over Xavi's team and make history.
From Samba Digital, we have the pleasure to help Eintracht Frankfurt on its international social media strategy in Spanish and Portuguese, and this occasion was special for the agency that sent a dedicated team to Barcelona to cover the game creating special content: 
👀 ¡No sabíamos que éramos tan populares en Barcelona! 😉

Hey, @fcbarcelona_es, ¿en cuál Bar Frankfurt encontrar el mejor 🌭 de la ciudad? #FCBSGE pic.twitter.com/RGOIRV6n5i

— Eintracht Frankfurt (@eintracht_esp) April 14, 2022
Actions
The result on the pitch was amazing, the support in the stands even more and the results on social media just OUTSTANDING! Look at these figures below.
Eintracht Spanish Facebook and Twitter accounts (April 13 to 15):
40M

 

impressions
997K

 

engagements
859k

 

video views
Eintracht Portuguese Facebook and Twitter accounts (April 13 to 15):
3.3M

 

impressions
89K

 

engagements
217K

 

video views
April 14, 2022 was the best day in the history of the Spanish social media channels of Eintracht Frankfurt.
14 of the best performing 20 tweets from all Eintracht Frankfurt accounts were from the Spanish one during the 2nd leg.
@Eintracht_esp is the best performing Spanish international Twitter account in the world in April (Engagement and Growth). Over teams like PSG, Manchester United, Bayern Munich.
Frankfurt Spanish channels achieved organic growth of 27.8k followers on Facebook and Twitter during the first 20 days of April
30 MIL DE VISITANTE pic.twitter.com/WJ8iHyM7Hv

— Eintracht Frankfurt (@eintracht_esp) April 14, 2022