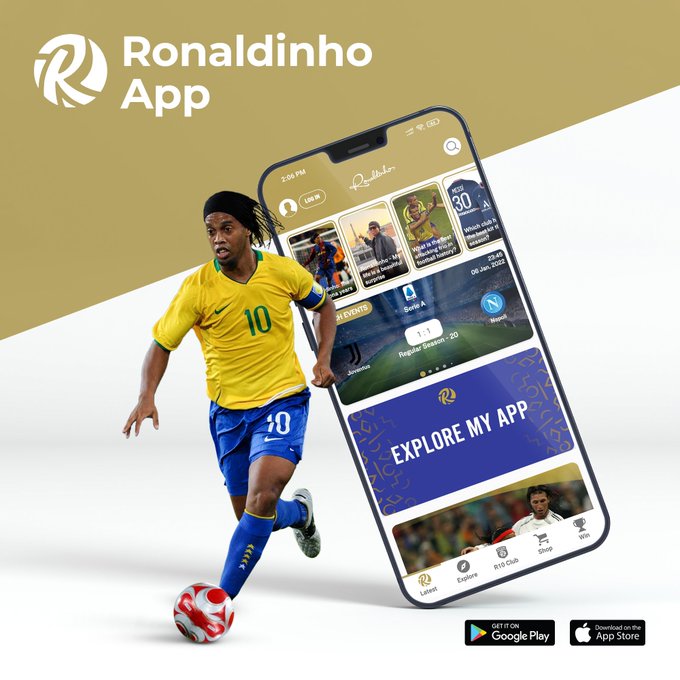 MISSION
Requested by JetMedia Network, company who has the License to explore and develop Ronaldinho's official app, Samba Digital was invited to plan the official announcement of the AI filter where Ronaldinho is able to be added to the content that his app user produces.
Samba Digital have negotiated and developed with ESPN an original content where Ronaldinho "appeared" in the middle of SportsCenter studios and interacted directly with Bruno Vicari and Mariana Spinelli, presenters of the morning edition of the TV show.
With an original script – 2 minutes long – developed together by Samba Digital and ESPN teams, Ronaldinho interacted organically and, in the end, after the "joke", the presenters announced the functionality and invited people to download the app with a specific QR code that direct the user for Apple Store & Google Play depending the mobile they have.
After the campaign on the TV, Samba Digital planned the following of the campaign where the activation moved from TV to the digital world.
Samba Digital agreed with Mariana Spinelli and Fernando Campos, sports journalists targeted with sports & funny & international football heavy users, to create original campaigns on their Instagram & Stories & Twitter profiles using the filter and inviting people to download the app and "to find Ronaldinho" everywhere they want.
RESULTS
The strategy of having Mariana Spinelli and Fernando Campos uploading original content on their official social media profiles impacted +500k Instagram accounts.
Linked with a PR strategy where, in the same day, a press-release was shared with 1,1k Brazilian sports journalists announcing the tool available inside Ronaldinho's app, the strategy impacted 1,2M people and had 3k views only on the social media profiles of media outlets who shared as UOL, Terra, MKT Esportivo, LANCE! and others relevant Brazilian sports & sports marketing media outlets.
In addition, some of the ESPN sports journalists have reposted the content organically and helped to increase the campaign impact.
O novo apresentador da @ESPNBrasil ? O que vocês acham @marianaspinelIi e @brunovicari? 🤣🤣🤣

Faça vídeos comigo! 👉🏾 https://t.co/6KBRTjT9DH pic.twitter.com/v84kspPfg8

— Ronaldinho (@10Ronaldinho) July 25, 2022