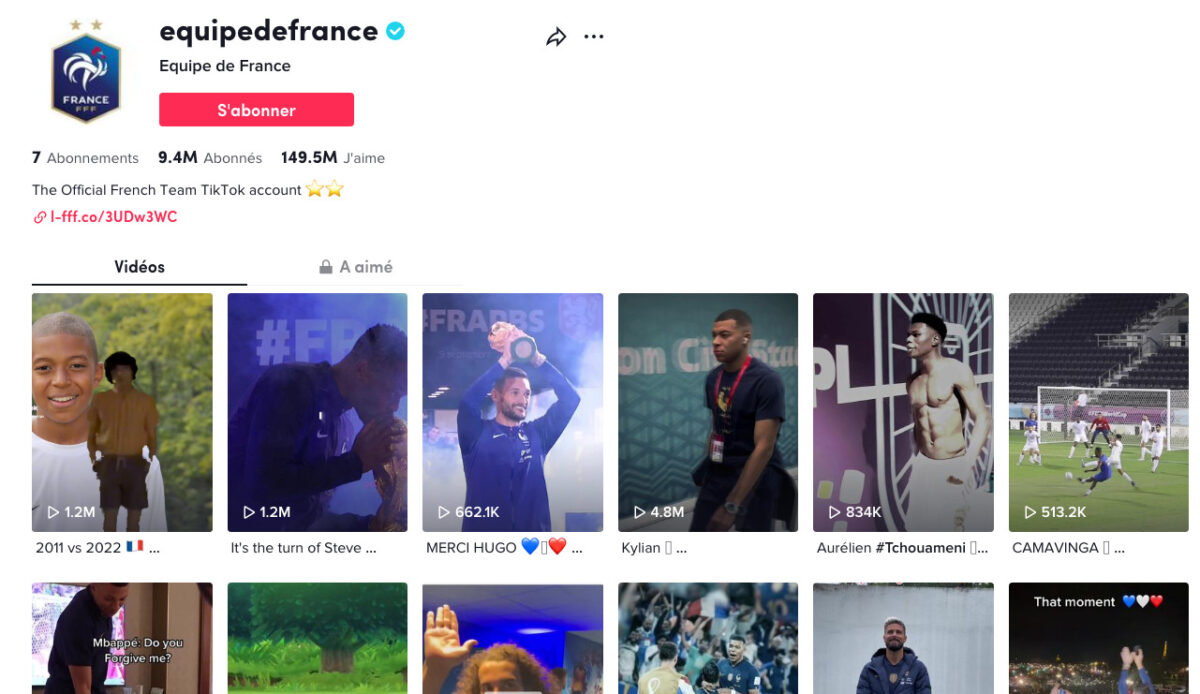 Mission
With their popularity ever-increasing after a 2018 World Cup win, and players like Kylian Mbappé and Paul Pogba playing key roles for their clubs, The French Football Federation has been keen to increase its global presence on social media. It has performed well on Instagram (link) and Twitter throughout (link) the 2022 World Cup, but where it has really shone is on TikTok, where the account saw a 50% increase in followers.
Over the course of the tournament, Samba Digital produced nearly 80 videos, and even if some of those were geo-targeted only for the French market, this represented a bigger challenge than the usual 15 videos per month. There was also the challenge of time with the players — there would be more access to them during an international break but this wasn't always the case, so creativity took on a bigger role in the success of the account.
Actions
Here, we see something that uses two strategies. The first is that this clip uses a popular audio track, one that has been used by some three million viewers, but it also sees the players doing the thing for which they are most recognizable, playing football. With match footage only the property of FIFA, we can see their skills at work.
Results
The key measure of growth was obviously in followers, where the account grew by some 50% over the course of the tournament. This was done without the availability of match footage or the rights for which remain FIFA's. It was also done without the presence of Paul Pogba and N'Golo Kanté, two players who are very popular and drive numbers. The results also saw an average view count of nearly 10M views per video over the course of the tournament on views which weren't geotargeted to France. Here is a further breakdown of the key metrics for the account:
3 MILLION NEW FANS
546 MILLION VIEWS
77 EDITED VIDEOS
54 MILLION LIKES