A EUROPEAN NIGHT'S DREAM FOR EINTRACHT FRANKFURT IN SEVILLE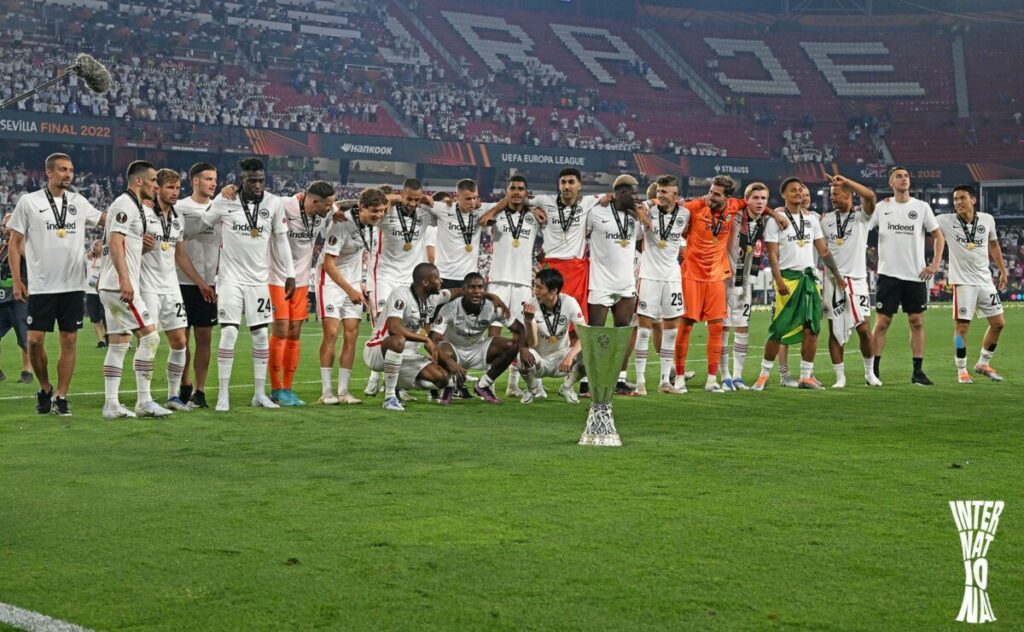 Mission
Eintracht Frankfurt were crowned champions of the Europa League on an unforgettable night after beating Rangers FC on penalties in Seville. Samba Digital was able to help them on their official social media platforms by creating content onsite in the city and the stadium, with high-level video pieces, and even with advertising in a local newspaper.
Using local music, Eintracht Frankfurt stickers, and the architecture of iconic Seville spots, Samba Digital was able to produce a creative video that was hailed by Seville fans as a great promotion for the city.
🎶 🇪🇸 𝐒𝐞𝐯𝐢𝐥𝐥𝐚 𝐭𝐢𝐞𝐧𝐞 𝐮𝐧 𝐜𝐨𝐥𝐨𝐫 𝐞𝐬𝐩𝐞𝐜𝐢𝐚𝐥… ❤️🖤🤍#SGEuropa pic.twitter.com/QO6UXVLjRF

— Campeones Europa League 2022 🏆 (@eintracht_esp) May 18, 2022
Another great piece that we were able to create was a video portraying the emotional career story of Colombian Rafael Santos Borre with a native Colombian accent voice-over. The video garnered more than 2.4 million impressions and 788k video views between Twitter and Facebook.
🇨🇴 De 𝑩𝒂𝒓𝒓𝒂𝒏𝒒𝒖𝒊𝒍𝒍𝒂 a 𝑺𝒆𝒗𝒊𝒍𝒍𝒂… 🇪🇸 ¡Nunca dejes de intentarlo! 💪

Con ustedes, la gran historia del Comandante @RafaelBorre_ 🫡#SGEuropa pic.twitter.com/wKqFWYTpTp

— Campeones Europa League 2022 🏆 (@eintracht_esp) May 17, 2022
Actions
The results on the pitch created history however the results on social media were outstanding
Eintracht Spanish Facebook and Twitter accounts (May 16 to 20)
34.2M impressions

 

1.8M engagements
3.2M video views
In April and May, @Eintracht_esp was the world's top-performing Spanish international Twitter account in terms of Engagement and Growth. They were ahead of teams such as PSG, Manchester United and Bayern Munich.
A mimir felices como nunca. ♥️🏆🦅 pic.twitter.com/r0Qbqslduo

— Campeones Europa League 2022 🏆 (@eintracht_esp) May 19, 2022