A mixed week for Palmeiras as we say goodbye to Vasco and Botafogo
The season in Brazil has been split into two parts. From the last week of January until the first week of May, teams will participate in State Regional Tournaments. With the Brazilian National Championship taking place from May to December.
Because of this split in the season, the National Championship, which ended with Flamengo winning the title, may receive less attention than in previous years. We will see a mix of top teams and teams from lower divisions participating in big regional tournaments such as the Rio de Janeiro State Championship and the São Paulo State Championship. As a result, we must bid farewell to Serie A sides Vasco and Botafogo, who will no longer be included in our performance analysis table.
THE NEW NUMBERS
With fewer interactions on Facebook, Twitter, and Instagram, the performance table has had a bad week. Palmeiras' title may be to blame, as Facebook declines by 39.4%. Twitter has also fallen by 40.9%, and Instagram dropping by 34.8%. The start of the State Championship, which will see Vasco and Botafogo drop out of the Serie A performance analysis, is another suspect for this decrease in interactions.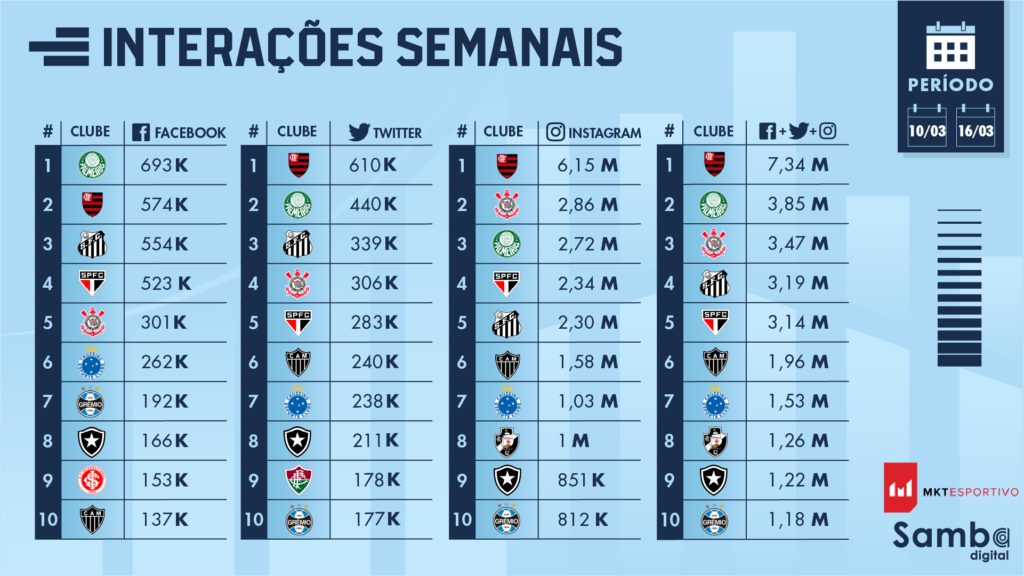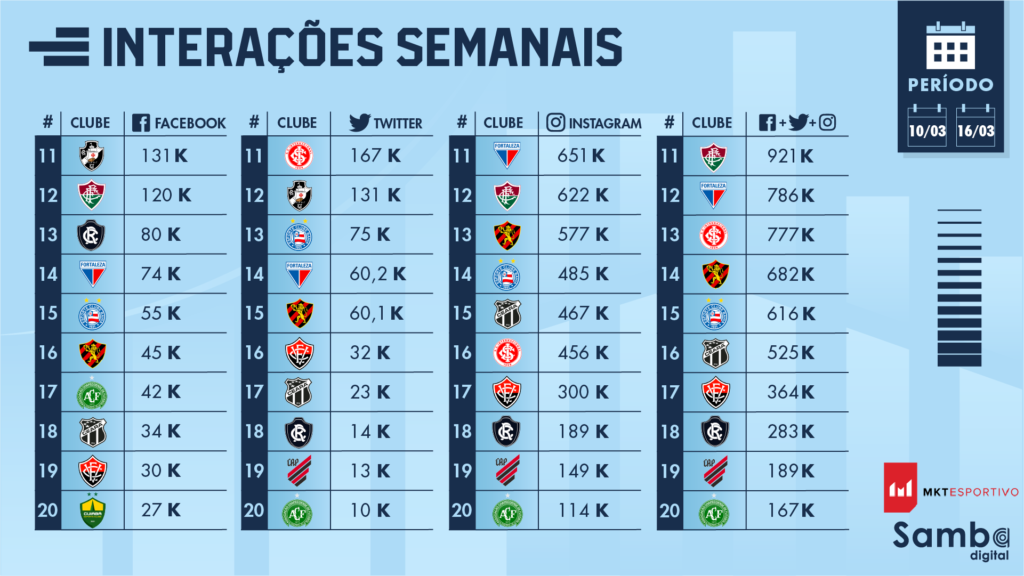 Expressive Brand
Despite their departure from Serie A, Vasco and Botafogo have proven their worth, as both teams, along with Cruzeiro, have produced 74.32% of all interactions between all twenty Serie B clubs in 2021 over the last few days.
Very disputed
Palmeiras, Corinthians, Santos, and São Paulo formed a tight rivalry between themselves at the start of the Paulista Championship. This intense competition resulted in just 700,000 interactions between the four big São Paulo clubs.
Only one of these four clubs improved on their previous week's results. Santos' performance had grown to the point that their matches were worthy of the Pre-Libertadores. The news this week was not all good, as Palmeiras' popularity dropped from 10 million to 3.85 million, despite their Copa do Brasil victory. SPFC was close behind, dropping from 6.35 million to 3.14 million this week.
New teams in the Ranking
With the rise of Serie B clubs, it's worth remembering Cruzeiro's real potential in contrast to its traditional competitors. To the disappointment of their fans, they were behind their rivals Atlético-MG in the networks. However, they performed well in the Top 10 on all three social media platforms. This isn't the only team improving; Remo has recently experienced a promotion to the second division, finishing in 18th position overall with a total of 283,000 interactions.
Shirt Success
Cruzeiro has a new shirt to add to their wardrobe, thanks to a collaboration between the club and adidas. And their success this week has been mainly fueled by this new shirt, which received 447,000 Instagram interactions in 24 hours on March 11th, accounting for 43% of the club's overall interactions.
GET IN TOUCH
To find out more about Samba Digital, get in touch with us via our Contacts Page .